Dear Artist,
A subscriber asked, "What about cerebral vs. expressionist painters? Is it in the genes? Is it a non-choice or can a person change? Any reason to want to change? Is there any benefit in specifically working in another way as a new and hopefully expanding experience?"
These are questions that used to haunt me when I was younger. These days, being older, I'm haunted still. To put the record straight, I believe in giving in to your instincts — no matter how seemingly wild or insignificant. In my experience, days wasted on foolish projects are seldom wasted. Giving in to change and experimentation permits an artist to process the new and pass it through an evaluation filter. Whether this is further acted on or not, we learn and grow.
Regarding genes, recent research seems to show that behaviour such as fight or flight, aggression, and the tendency to religious thinking may be programmed into some DNA and not others. It's possible that the type of art we like and do might just be hard-wired, too. If true, this could account for the religious-like fervour and argument that goes on between the various art camps. Whether we are programmed in this way or not, it's in the creative interest of all artists to test other waters. The future is change — change of emotion, imagination, myth, dreams, style, media, education, self-education, attitude, humour and, yep, even the things we've come to love.
While swimming near Ixtapa, Mexico, I ran into an octopus. At first appearing as the lower portion of a large rock, it suddenly withdrew its arms and formed its body into a formidable block that pulsated with colours rolling upward like a neon display. I almost jumped out of my skin. As I moved away, the creature, taking its primordial time, slowly morphed back into a drab grayish-brown. I had been witness to the remarkable body-art of an octopus — the way they disarm their enemies and confuse their prey. The surface of the cephalopod body is pixilated with chromatosphores that are capable of change by the simple act of will. We, too, are able to control who we are by what we think. When pressed with a new emotion, we, too, are capable of showing a new side to the world.
Best regards,
Robert
PS: "I believe that imagination is stronger than knowledge,
That myth is more potent than history,
That dreams are more powerful than facts,
That hope always triumphs over experience,
That laughter is the cure for grief.
And I believe that love is stronger than death." (Robert Fulghum)
Esoterica: Anyone who has ever logged onto an online chat-room will be familiar with the word 'avatar.' In the cyber-world, avatars are those little cartoony, often cute, alter-ego images that tell others who they're talking to. In cyberspace, as in real space, somebody by the name of Lillian may be known as Wonder-girl. In Hindu mythology, an avatar is another incarnation. The octopus I mentioned was its own avatar. The avatar re-jigs the way we are. The avatar is another side of the personality.
This letter was originally published as "Testing the waters" on April 4, 2006.
The Letters: Vol. 1 and 2, narrated by Dave Genn, are now available for download on Amazon, here. Proceeds of sales contribute to the production of The Painter's Keys.
"The artist fills space with an attitude. The attitude never comes from himself alone." (Willem de Kooning)
Featured Workshop
August 25, 2018 to August 31, 2018
Capture on canvas the vibrant autumn reds, mauves, greens and golds of the Arctic tundra. Distractions: Caribou migrating south from their summer feeding grounds to their winter shelter; magical nightly displays of northern lights; world-class fishing for Arctic char or grayling; hiking or boat trips to see ancient Inuit sites; or, after an excellent dinner, hear of the exploits of the owners during their adventures to the North & South Poles. An experience like no other!
Not a workshop but rather a group paint out under the guidance of professional oil painter and textile designer Mette Baker (http://mettebaker.com/). Mette has been painting at Arctic Haven, a wilderness lodge in the southwest corner of Nunavut, for the past two years. Her husband, former Canadian Ambassador and consultant Brian Baker, has been leading groups to Greenland and Northern Canada for many years.
For more details about Arctic Haven, see website: https://www.arctichaven.ca/
For information about the trip generally, contact Brian brian@businessbeyond.ca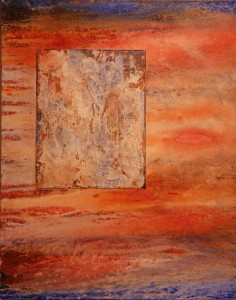 Transition
Featured Artist
Painting is my passion and joy.  My process is intuitive, though informed by good composition and design principles.  I paint what I remember, or think about, or feel, or just what comes off my hands to the brush to the canvas.  Texture and color are of primary importance to me.  I typically choose my support, texture it, select my palette, and go.  There is nothing more satisfying to me than watching paint run and move.  I love the surprises. I experiment and learn constantly.  It is a remarkable journey.  One I am pleased to share with you.