Dear Artist,
When asked if culinary school was a good route to celebrity chefdom, Anthony Bourdain, a graduate of the Culinary Institute of America, implored aspirants to first spend a year as a line cook. "You'll make no money for a very long time, it's physically demanding, you'll have no life, and if at the end you can't imagine doing anything else," he said, "you'll know it's the life for you."
I was reminded of an old New York friend who made most of her annual income modelling once a year at the auto show. One night after her waitressing shift, she confided that what she really wanted was to be a star. "After countless auditions, it's dawned on me that the job of an actor has nothing to do with standing on a red carpet," she said. "I realize that I have to be in love with the activity of being alone in my apartment running lines in the mirror." In painting, days spent solving problems at the easel are also lonelier than shoring up credentials, insecurities and connections at art school. Like the line cook, a year on the art line, unpaid and unsung, delivers the most sobering answer to the question at hand: "Can I be an artist?"
Here are a few extreme measures:
Save enough money to live like a hermit for one year. If this feels impossible, try a month. Your location need not be at the centre of a bustling art hub. In fact, a discount shed on the fringes of the uncool could be a better bet for solvency and focus.
Now, quit working on other things. Can you hurl yourself into the galaxy of nothing else?
Equip your workspace with enough supplies for wild experimentation, with the goal to produce failures for an impressive end-of-year burn-pile.
Tell the distractions you're unavailable, without going into detail about your plans.
Eschew participation in commercial activity.
Now, begin:
Follow organic developments.
Veer away from the obvious.
Avoid falling into stylistic rote.
Hone stylistic tendencies.
Develop flare.
Make a commitment to teaching yourself the basics.
Don't worry about finishing uninteresting things.
Bring promising stuff to completion.
Hang potential winners around your place for a second look.
Delay commitment to a direction.
Make the work you've always fantasized about.
Make the type of work you think you dislike.
Postpone extensive external feedback.
Invite only a tiny and select audience to comment.
If, at the end of your year on the line you cannot imagine doing anything else, it could be the life for you.
Sincerely,
Sara
PS: "In your light I learn how to love. In your beauty, how to make poems. You dance inside my chest, where no one sees you, but sometimes I do, and that sight becomes this art."
(Rumi)
Esoterica: Anthony Bourdain worked in restaurants for over 20 years before he submitted an article to The New Yorker called, "Don't Eat Before Reading This." After expanding it into the book Kitchen Confidential, his writing took him from struggling to pay his bills to executive chef; food, travel and fiction writer; and television personality. He held onto his grit, work ethic and sense of wonder in spite of a lifelong struggle with depression, which took his life on June 8 of this year. "The journey is part of the experience — an expression of the seriousness of one's intent. One doesn't take the A train to Mecca." (Anthony Bourdain)
The Letters: Vol. 1 and 2, narrated by Dave Genn, are now available for download on Amazon, here. Proceeds of sales contribute to the production of The Painter's Keys.
"Skills can be taught. Character you either have or you don't have." (Anthony Bourdain)
Featured Workshop
July 27, 2018 to August 1, 2018
Join internationally acclaimed award winning artist, teacher, speaker and art coach, Gwen Fox, and international speaker, author, psychotherapist and writing coach, Junie Swadron for 5 days of magical artistic expression.
These five days are devoted to igniting your creativity, imagination allowing you to reconnect with your personal sense of beauty and truth.
Both collage and writing have enormous power to invoke your muse and the invisible intelligence that emanates from your heart.
You do not have to have previous experience in painting, collage or writing. Cost of the Retreat…..$1395
For more information: https://gwenfox.com/workshop/creating-visual-memoir-using-writing-collage/
If you have any questions please email gwen@gwenfox.com or phone 575-751-0183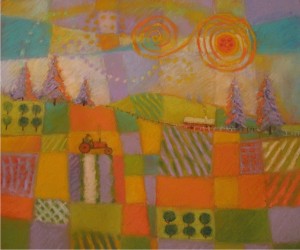 Sunrise Over the Farm #2
original pastel 15 x 15 inches
Featured Artist
Mary's interest in pastel painting began during her years at Whitworth College in Spokane, WA where she majored in art and elementary education. Though she has worked in watercolor and oil as well as calligraphy, her interest has consistently turned primarily to pastel because of the medium's potential for glowing, vibrant color and the harmony achieved in bringing together lights and shadows.