Dear Artist,
A burgeoning screenwriter recently told me about a side-hustle in her industry called, "pay to play." For $30, a writer can book 10 minutes of Skype-time with a producer or distributer looking for new projects. After narrowing her pitch to seven minutes with three minutes for questions, her Skype ends abruptly with, "thanks!" and she awaits feedback by email. New to this system, my friend has already received a follow-up request from a global network for her latest script. When I asked how she knew about "pay to play," she told me it's a common path for actors looking to audition without an agent, or if their agent can't get a meeting with a desired casting director. "Sometimes it works — I have colleagues who've been successful with this method," she said. "And it's often the only way to get in front of certain people."
If your nose is crinkled, consider the art world's equivalent — the benevolent, food-chain staple, "call for entry." For a stomachable fee, you can upload a handful of digital images to be looked over by a vetted slew of curators, jurors or gallerists. Public art, competitions, fundraisers, community shows, thematic one-offs, artist's groups, even representation by non-profit or commercial galleries in hot spots are up for grabs. Extra images will cost extra dough, and you'll need to upload a PDF of your CV. In comparison to a decade ago, when preparing a stickered slide pack, self-addressed, postage-paid return envelope and money order was standard for a chance at breaking the sound barrier, today's online submissions are cheap and spontaneous. Websites that store your images, allowing multiple applications with one click, send email updates and keep track of submissions, make it all but irresistible.
"Some people say it's a cash-grab for casting agents," my writer-friend offered, as caveat. "Schedule ten 10-minute Skypes per week and you've made a few hundred bucks." "Get a hundred online submissions for an art show and you've made three grand," I replied, thinking it a route for an aspiring curator, perhaps. I also quietly recounted what I'd spent on the slide packs and bubble-lopes of my twenties, remembering the epic, bloated binder of typed-on-letterhead rejections I only recently bulk-shredded at Office Depot. Time to travel light.
I went home and perused the online art classifieds: Photographs of water, travel drawings, non-profit seaside community show, watercolour society, glass, New York Chelsea, International art fair, The Appalachian Pastel Society, hospital mural, foreign gallery roster, juried pop-up, the best painting of a sheep dog. My finger twitched and before long, I was pulling at the penny slot.
Sincerely,
Sara
PS: "I've learned that opportunities are never lost; someone will take the ones you miss." (Andy Rooney)
Esoterica: If you're thinking of playing, you might browse the bulk entry site CallForEntry.org, or the bona fide bible for jobs, calls, studio spaces, awards and residencies for artists, the New York Foundation for the Arts website at NYFA.org. Established in 1971 as an independent organization for artists in New York state, in 2009 the NYFA expanded to include services for artists across the United States and internationally. Among the dreams dangled are invitations from all over the world, just waiting for your reply. "Anything is possible. It's all about risks, deliberate risks." (Helen Frankenthaler)
Download the new audio book, The Letters: Vol. 1 and 2, narrated by Dave Genn, here. Proceeds of sales contribute to the production of The Painter's Keys.
"For us, there is only the trying. The rest is not our business." (T.S. Eliot)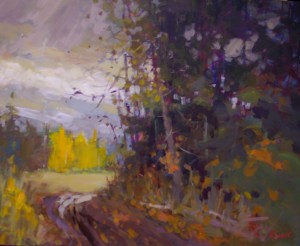 Turn In The Road
24x30 acrylic
Featured Artist
My art represents an artistic journey that has been on-going for more than thirty-five years with help and guidance from many wonderful artists. Now, with years of plein-air painting experience, study and solo exhibitions, I believe that my current work has reached its highest level, reflecting the depth of my absorption in the wonder and beauty of the world around me.  I have learned that, as an artist, I will never stop looking for better ways to express my feelings in art and that struggling to more fully understand myself is integral to my painting; a philosophy that was part of every workshop I taught. Still is.