Dear Artist,
It seems that a struggling young composer asked Wolfgang Amadeus Mozart to give him a few tips. Mozart told him to go home and work at composing for a few years. "But," said the young man, "you didn't have to work at it for years." Mozart replied, "Yes, but I didn't have to ask for tips."
Whether this story is true or not, my memory of it was prompted by a subscriber who wrote to say that many would-be artists confuse interest with aptitude. Interest alone does not a great artist make. Otherwise, art museums would be full of artists. Most of us who would make art need a bit of talent, a dose of character, and good work habits. Having said that, we've all noticed how some go far with little, just as others go nowhere with lots. That's one of the reasons why those of us who like to encourage others must be even-handed in our distribution of tips. One never knows from where the stars are going to arise and shine.
To find potential in someone we must look for an intrinsic something called "attitude." The artist's attitude determines how she acts as her work is in progress. "Thinking while on a roll" invites ease, audacity and derring-do. Engrossed in a self-anointed process, these artists become part of the terrain they're attempting to render. They accept the gift of art, surrender to its puzzles, and know that their own solutions, if not perfect, will be appropriate. For some reason, they're often nuts about their jobs. "Writing music is my one and only passion and joy," said Mozart.
"Respect" is another word for those who might excel. This means respect for the stars that have gone before, as well as current travellers in the Brotherhood and Sisterhood. "Follow the advice of the masters, but do something different," Edgar Degas wisely asserted. Our own Resource of Art Quotations is a community of masters — yours and mine. A human frailty, perhaps, but we do tend to respect the ones we admire.
And then perhaps creative excellence is a brain thing, like the ability for math or spelling. Some have it, and some don't. In my private searches among my masters, many I've admired have simply and smartly divined the mother of all tips: It's the work itself that gives the best tips.
Best regards,
Robert
PS: "Neither a lofty degree of intelligence nor imagination nor both together go to the making of genius. Love, love, love, that is the soul of genius." (Wolfgang Amadeus Mozart 1756-1791)
Esoterica: The image of Mozart as a divinely inspired effortless creator, dramatized by the film Amadeus, is an unlikely one. The idea that he never changed his compositions is refuted by looking at Mozart's many heavily-revised manuscripts. Mozart was studious and a hard worker. His extensive knowledge and abilities developed from his study of European musical tradition. Nevertheless, the myth goes on. Albert Einstein said, "The music of Mozart is of such purity and beauty that one feels he merely looked around and found it — that it has always existed as part of the inner beauty of the universe." Good tip though.
This letter was originally published as "The mother of all tips" on June 27, 2006.
The Letters: Vol. 1 and 2, narrated by Dave Genn, are available for download on Amazon, here. Proceeds of sales contribute to the production of The Painter's Keys.
"All I insist on, and nothing else, is that you should show the whole world that you are not afraid. Be silent, if you choose; but when it is necessary, speak – and speak in such a way that people will remember it." (Wolfgang Amadeus Mozart)
Featured Workshop
August 26, 2019 to August 30, 2019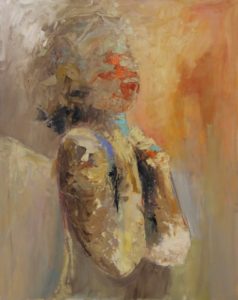 Have you ever wanted to take the essence of the figure and present it in a way that is sensual and thought provoking? When you are abstracting the figure you don't have to worry about anatomy but are more concerned about shapes, value and color.
Held at Gwen Fox's private Art Sanctuary in Taos, New Mexico.  Her 100-year-old adobe home is the perfect environment to inspire and renew your creativity.
There will be private critiques that empower, glorious breakthroughs while basking in a safe environment in which to grow as an artist.
This workshop will fill fast. Limited to 10 artists. Each artist will have their own table.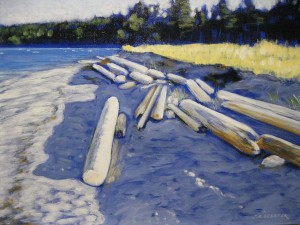 The late afternoon sun on the tip of Savary Island's Indian Point highlights the design elements of the logs and the summer surroundings of the island.
Featured Artist
My enjoyment in representing the beauty of our world with strong design and bold colours is what drives my passion for my landscape painting of Savary Island and other parts of our amazing planet.