Dear Artist,
A letter came about a small painting done by my dad when he was 27:
"My mum bought it from the Art Emporium in Vancouver in 1964. It fascinated me when I was a kid. There is a red object/figure on a rocky island. Is it a person or a building? …And at the right there is an aircraft flying away. It might be a Canso but I'm not sure. I haven't seen it for many years and just came across it helping my mum (age 93) clean up her basement. She gave the painting to me because she is blind and said, 'Well I can't see it anyway, you may as well have it,' (Bless her heart.) I still really like it and am still puzzling over it's story, if there is one."
She included a couple of snapshots, including of the back of the painting, which had been affixed with my Dad's bio, circa 1964, detailing his young art life up until that point. At the end, it said he had pulled strength from his travels to return to British Columbia to find and paint the perfect village.
I studied the painting and felt the continuity of themes I had watched my dad explore until his final work: Roschach-like foreground reflections, solitude in the wilderness, active weather, rocky forms, peacefulness, the nobility of trees. The painting's lonely islet, real or imagined, sheltered a tiny, abstracted figure in a red jacket facing the horizon, perhaps holding a fishing pole. In the distance, a few strokes suggested a floatplane, taking off into an inclement dusk. "There is a great good in returning to a landscape that has had extraordinary meaning in one's life," wrote Kiowa Plains Native American poet and novelist N. Scott Momaday. "It happens that we return to such places in our minds irresistibly." Over time, Dad's perfect village grew strength as he painted it — a symbol of both solo respite and global connection. As artists understand, the village painted has a chance to expand and link a community of fellow travellers. Thank you for being in touch.
Sincerely,
Sara
PS: "You need a village, if only for the pleasure of leaving it. A village means that you are not alone, knowing that in the people, the trees, the earth, there is something that belongs to you, waiting for you when you are not there." (Cesare Parvese)
"It takes a whole village to raise a child." (African proverb)
Esoterica: "There are certain villages and towns, mountains and plains that, having seen them walked in them, lived in them even for a day, we keep forever in the mind's eye," wrote N. Scott, who, at age 84, continues to teach as a visiting professor at the University of New Mexico. "They become indispensable to our well-being; they define us, and we say, I am who I am because I have been there."
The Letters: Vol. 1 and 2, narrated by Dave Genn, are now available for download on Amazon, here. Proceeds of sales contribute to the production of The Painter's Keys.
"We are what we imagine. Our very existence consists in our imagination of ourselves. Our best destiny is to imagine, at least, completely, who and what, and that we are. The greatest tragedy that can befall us is to go unimagined." (N. Scott Momaday)
Featured Workshop
February 20, 2019 to March 6, 2019
I am very happy to be teaching two workshops at Casa Buena Art Retreat Center again next year.  Register for one or stay for both.
THE FIGURE – Feb 20 – 27, '19. Enjoy working with a live model using dry media. We will deal with proportion, measurement and likeness.
PLEIN AIR – Feb 27 – Mar 6, '19. Paint authentic Mexico – village life, beaches and landscape. We will deal with composition, light & shadow, color, value and more.
Cost: CAN $1800 + GST. Includes instruction, some art supplies, accommodation, all meals, transportation to and from Puerto Vallarta airport, visits to surrounding areas, a jungle boat ride and a lot of fun.
Contact Jane Romanishko janerom@shaw.ca for the extra 3 day "no-pressure" painting option.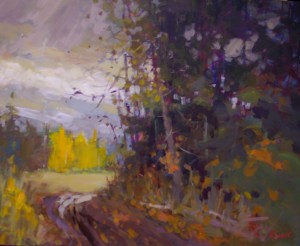 Turn In The Road
24x30 acrylic
Featured Artist
My art represents an artistic journey that has been on-going for more than thirty-five years with help and guidance from many wonderful artists. Now, with years of plein-air painting experience, study and solo exhibitions, I believe that my current work has reached its highest level, reflecting the depth of my absorption in the wonder and beauty of the world around me.  I have learned that, as an artist, I will never stop looking for better ways to express my feelings in art and that struggling to more fully understand myself is integral to my painting; a philosophy that was part of every workshop I taught. Still is.