Dear Artist,
This week, 500 women, mostly artists, teachers and art professionals, met online to discuss working together to understand their role in a racist society. In an effort to unburden people of colour from educating everyone else on a centuries-long struggle for equality and justice, those participating in this event were white. I included myself because, although I am half-white and half-Japanese, my life experience feels heavily weighted towards a person who benefits from white privilege.
Our moderator organized the meeting in response to the murder of George Floyd, a black man and father of three who was suffocated by a Minneapolis policeman while his fellow officers watched. The event, filmed on a cell phone, was one of dozens of horrific acts of racially motivated hatred and police brutality in recent weeks. Following this flashpoint, devastated citizens are searching for ways to listen, learn, support, and ultimately dismantle an all-pervasive system designed to oppress people of colour.
Because we were mostly art people, our moderator proposed a structure that modelled an art critique. "In no other professional model that I know of, does a person expose herself to her peers so wholly in order to learn." Crits are collaborative activities that require vulnerability and the respectful and honest discussion of an artist's work-in-progress. Crits, while often difficult, make better artists. In the giving and accepting of feedback, we can learn to explore concepts to better understand and then advance or redesign ideas. While the crit itself is not activism, it sparks consciousness-raising — a bud of transformation and action-taking. Most important, the crit functions to serve the work, not the person who makes the work. Ours, guided by a handful of thoughtful leaders, began with the questions, "What is white supremacy?" and "What does it mean to be anti-racist?" and included the telling of personal and professional narratives around the subject of race, then invited feedback, offered a reading and resource list and finally, provided a discussion of a relevant artwork. It was uncomfortable, loving and powerful, as a crit should be. It was just the beginning.
Sincerely,
Sara
PS: "It's the system, and our complacency in that system, that gives racism its power, not individual intent." (Ijeoma Oluo, So You Want to Talk About Race)
"Love recognizes no barriers. It jumps hurdles, leaps fences, penetrates walls to arrive at its destination full of hope." (Maya Angelou)
Esoterica: What can 500 white women art professionals, or anyone, do to move the needle of humanity away from racism and its systems? It may begin with inquiry — something artists have been doing all their lives. The desire to crit the art world and our role in it speaks to the very nature of art. And women now comprise some 60 percent of museum staffs and make up 20 percent of the curatorial, conservation, and education roles — roles that can be pathways toward leadership positions and therefore structural change. In fact, as of 2018, the percentage of women in museum leadership positions, such as Director, CFO, and CEO was 62 percent. As roles diversify, so do the ideas and lenses through which we value and engage with art, the stories we tell and what our institutions can be. As of 2019, black artists continue to have the lowest share of museum representation, with just 1.2 percent. In curatorial roles, representation of black voices has moved from 2 percent in 2015 to 4 percent in 2018, according to a survey conducted by The Association of Art Museum Directors, The American Alliance of Museums and The Andrew W. Mellon Foundation. "Courage is the most important of all the virtues, because without courage you can't practice any other virtue consistently. You can practice any virtue erratically, but nothing consistently without courage." (Maya Angelou)
"An artist must bear a special responsibility. He must be accountable for the content of his work. And that work should reflect a deep, abiding concern for humanity." (Charles White)
Director Ava DuVernay's 2016, Oscar-nominated documentary 13th is an examination of the U.S. prison system and how America's history of racial inequality drives the high rate of incarceration in America. It has been made available to everyone by its distributer, here.
"This is precisely the time when artists go to work. There is no time for despair, no place for self-pity, no need for silence, no room for fear. We speak, we write, we do language. That is how civilizations heal." (Toni Morrison) 
Featured Workshop
September 12, 2020 to September 17, 2020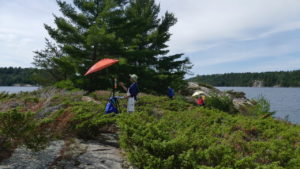 The Killarney are of Ontario is in what is called the 'near north'. The landscape is wild and rugged. Giant granite cliffs plunging deep into the glacial lakes. There are no roads leading to our painting locations. We travel by a large, sturdy pontoon boat. This is a self-catered retreat. You bring your own provisions and cook your own meals in our fully equip cabins at a northern camp. Our instructor, Keith Thirgood, has been teaching artists his own unique approach to painting for over 12 years. Learn how to find order in the chaos, control your colours and create paintings that work. Learn modern colour theory, values, shapes and lines, what makes for a good painting. This retreat is suitable for beginners wanting to learn to paint in a fun, outdoor location, as well as more experienced studio artists who want to try plein air, plus artists who are looking to loosen up and paint in a more post-impressionist style. To find out more and register, please visit www.wilsonstreetstudios.com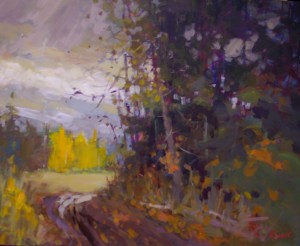 Turn In The Road
24x30 acrylic
Featured Artist
My art represents an artistic journey that has been on-going for more than thirty-five years with help and guidance from many wonderful artists. Now, with years of plein-air painting experience, study and solo exhibitions, I believe that my current work has reached its highest level, reflecting the depth of my absorption in the wonder and beauty of the world around me.  I have learned that, as an artist, I will never stop looking for better ways to express my feelings in art and that struggling to more fully understand myself is integral to my painting; a philosophy that was part of every workshop I taught. Still is.