Dear Artist,
"There is no agony," said Maya Angelou, "like bearing an untold story inside of you." Coaxing the physical shape of this story into art can be painful. As a solo act, it's all on you. Arriving at this minor miracle, day after day, invites a special kind of struggle, though we understand, as artists, that ours is a privileged suffering. Bestowed upon us by ocean-deep urges and childhood sparks, the process could at times be described as what Wassily Kandinsky called "a painful duty." Perhaps we're also simply propelled by the fantasy of an independent life, and it makes sense that this ought to be a bit costly. "If the path before you is clear," wrote Joseph Campbell, "you're probably on someone else's."
Many years ago, a friend came to plot some arty ideas at my Greenwich Village walk-up. He was a talented writer clocking regular hours at a Fortune 500 and settled in an outer borough with a lovely wife. When he reached the sixth floor and took the last few steps into the apartment, he slouched onto my bed and took a survey of the room. "I didn't make enough sacrifices for my art," he sighed. I checked his view from the bed: light shaft, fire escape, duct-taped linoleum, ceiling hole, easel, piano. For a moment I saw not my tiny, perfect, creative aerie but a badge of the suffering myth. Or, perhaps, he wasn't looking at my room at all. Perhaps it was me.
The studio and furnishings, like unhelpful habits and a bad temper, are among a realm of possible accessories to any kind of life. Art does not take credit for these markers of pain. Work — your own — is the source of what Monet called the "torture." He wondered if it wouldn't be easier as a hobby. "If I could find something else I would be much happier, because I could use this other interest as a form of relaxation," he wrote. "Now I cannot relax." Does the darkness of the cycle of creation know the difference between devotion and dabbling? Do the stakes determine the intensity of discomfort? Is struggle's endurance what sets one on the path to heroism? "Character cannot be developed in ease and quiet. Only through experience of trial and suffering can the soul be strengthened, vision cleared, ambition inspired, and success achieved." (Helen Keller)
Sincerely,
Sara
PS: "Where you stumble, there lies your treasure." (Joseph Campbell)
Esoterica: American writer and lecturer Joseph Campbell taught comparative religion and mythology in upstate New York between 1934 and 1972. For most of this time he lived with his wife and former student, Jean Erdman, a dancer and choreographer, in a two-room apartment in Greenwich Village. Babies were not in the mix. Before this and after being denied approval to study for a doctorate in Sanskrit and Modern Art, Campbell spent five years in a rented shack in Woodstock, New York, where he divided his days into four four-hour blocks, all devoted to reading except one. In 1949, Campbell wrote The Hero With a Thousand Faces, an explanation of the archetypal hero's journey found in all world mythologies: a hero embarks on an adventure and encounters obstacles along the way that reveal human truths that he can then share with others. "Each time, there is the same problem: do I dare? And then if you do dare, the dangers are there, and the help also, and the fulfillment or the fiasco," he wrote. "There's always the possibility of a fiasco. But there's also the possibility of bliss."
Download the new audio book, The Letters: Vol. 1 and 2, narrated by Dave Genn, here. Proceeds of sales contribute to the production of The Painter's Keys.
"It has done me good to be somewhat parched by the heat and drenched by the rain of life." (Henry Wadsworth Longfellow)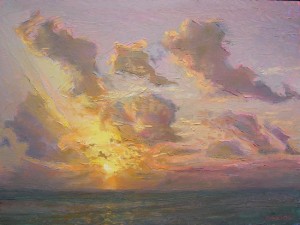 Shining Through
oil 12 x 16 inches
Featured Artist
Capturing the beauty of nature and expressing those impressions in oil paint is a joy. Every hour of the day presents new possibilities and keeps even the same landscape location, same composition, an ongoing and beckoning challenge. For this reason, I love painting series: it is exploration made visual.