Dear Artist,
Yesterday afternoon, a group of old friends carefully gathered to celebrate my Mum, Carol's life. We were perched upon a hill in a light-filled space, while late summer's Scotch-mist dabbled at the landscape outside. Among those who spoke were my Mum's oldest friends. While each relationship possessed its own unique intimacy, a central theme emerged: "She took pleasure in my triumphs." "She shared in my heartaches." "There were so many hilarious moments." Here, in part, is what I added:
A hobby painter my Dad used to tell me about by the name of Winston Churchill, said, "When I die and go to heaven, I want to spend the first million years painting – so I can get to the bottom of the subject." Ideally, we need about the same amount of time to get to the bottom of the similarly mysterious and magical subject of motherhood. As a woman, as an artist, and as the child of a very good mother, it has long been a central question. Where does it begin? Where does it end? What is it, exactly? Like art, it comes from a primal drive. Like art, it takes over your life. Like art, it seems to morph quickly into a kind of extremely effective emotional hostage situation. And while it's a slow-burn, it appears to claim its all-emcompassing role by way of destiny. It's the kind of dream that requires a one-way embarkation into heartache and ineffable devotion.
In British English, the beginning of motherhood is signified with the word, "falling," as in, "she 'fell' pregnant." It is, of course, the same word we use to signify the beginning of love. For both, at the threshold and thereafter, there is work. Motherhood is, quite literally, and most often by necessity, labour. But regardless of how one arrives within it, it is most certainly willed into being by way of love, by way of surrender, of suffering and heroic grit. Through all of this, it is the choice of joy. Like painting, many do it, but to do it well, requires something very special.
And the thing about motherhood is that it is never the beginning of the story. The story begins with a person. It just becomes everything, because by doing it, this person becomes someone else's everything. Much later, if we are lucky to have our mothers for long enough, and if we are curious enough to inquire and participate, their roles as mothers become intertwined with a wider and longer adventure of existence and human expression.
David and James and I grew up in a house where Dad worked in his studio from 5am until 8pm with a snooze at 5:40 and dinner at 6. Mum did everything else. That everything else, while life-defining and family defining, now softens into an embodiment of character and values, and lingers, drenched in gratitude, as simply a part of her enduring gifts. Every detail of her allegiance to us is, indeed, an important stone in the cathedral that is our family. But we are all, and she is, more than just a million music lessons. Than a million trips down the King George Highway in the rain, or her wet and muddy shoes on the sideline of the Crescent Park soccer field, or her ears, her eyes, her care and witnessing in recital, adjudication, prize-giving; the middle of the night, bad news, good news; a winter coat, swimming lessons, the doctor's office, tears. More than a million bacon and eggs and packed lunches and late nights at the sewing machine.
Indeed, I've long believed that every family has a culture, and is therefore, a kind of mini-cult. Some families fracture, or at least part of the orthodoxy is rejected and new allegiances or systems are formed. Most often, one parent may more strongly define the culture and everyone orbits their sun. Our Dad was easy and inspiring to follow. But it was our Mum who engaged with her own humanity by engaging with the world; who hopped into her '66 Austin Healey Sprite, her babies in cuddle seats, and drove down to the community tennis court. There, she modelled what it means to flesh out a life of participation, community, friendship and sportsmanship. My Dad would often tell me, when describing my Mum's superior intelligence and grace, that she never dropped the ball. "Not once," he said. I knew this to be true. I had never seen her drop it, either.
Sincerely,
Sara
PS: "Motherhood is the biggest gamble in the world. It is the glorious life force. It's huge and scary — it's an act of infinite optimism." (Gilda Radner)
Esoterica: Art, it is said, is a good path to immortality. But it is motherhood that is eternal, that lives forever, glimmering within the humanity of a courageous and devoted person, and sparkling in the lucky beneficiaries of such a profound love. This spring, ours found a lump in her armpit. Early on the morning of July 31st, I held her in my arms. "You are the light of my life," she'd whispered to me. "You are my purpose and meaning," I wept into her. "I'm going to miss you so much." At her highest expression of the grace, practicality, beauty and elegance that she lived every day of her life, her eyes replied, "You can do it."
"One's art goes as far and as deep as one's love goes." (Andrew Wyeth) 
Featured Workshop
January 23, 2022 to January 30, 2022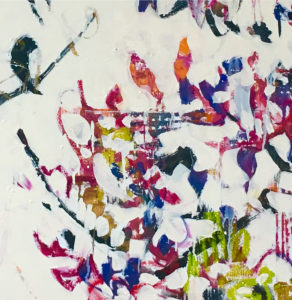 Join Ellie Harold for "Intuitive Painting: Permission to Paint Expressively," designed especially for mature women artists of all skill levels who wish to explore this medium for soulful exploration. The retreat provides attractive accommodations (your own room!) along with lightly structured activities for centering, relaxation and low stress art-making. You'll have plenty of free time to muse, paint, write and reflect while enjoying the colors, textures and flavors of San Miguel. This Retreat has the potential to transform not only your art but your life! You'll return home with a specific art "care plan" to assure support for further creating. Details at www.EllieHarold.com.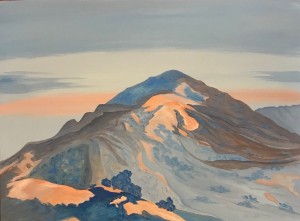 Cow Mountain View
30 x 40 inches
Featured Artist
The move to Northern California spurred my desire to paint the landscape – motivated in part by the fear that I would wake up one day and it would all be gone! I had some kind of doomsday concern, tantamount to extreme climate change or bombs going off like Hiroshima —something drastic.
The Wildfires of 2017 were traumatic, we experienced three on our land that year.
In processing the fire experiences and living with the constant awareness that what happened then can happen again.  I produced  a short film entitled:: From the Ashes – Fire, Survival. and Renewal, about how our community responded to the Redwood Complex Fire 2017.The is film available for free screenings to community fire councils and art institutions.  I am working on part two.
In 2020, largely due to the ensuing California wildfires, we chose to sell our 195 acre place and move back to the East Coast, where our families live and we are creating a new life and farm.
I am still witnessing and interpreting the landscape.
Jaye Alison Moscariello