Dear Artist,
Around 1723, Johann Sebastian Bach composed his Two-and-Three-Part Inventions, the keyboard exercises he wrote for his students and his growing brood of kids. Bach described these call-and-answer, contrapuntal inventions as a means of obtaining and carrying out good ideas by learning to play clearly separate voices. Wanting to give his students a taste of how to build compositions, Bach arranged the Inventions in progression, ascending in major and minor keys. The result is a structure that serves as a backbone for understanding the melodic variation possible while hinged on one musical theme.
Around 2003, 17-year-old future composer and bandleader Jon Batiste left his musical family and band in Kenner, Louisiana to study piano at the Juilliard School in New York City. Wanting to develop uniquely from the New Orleans influences and styles of his upbringing, Jon searched for something he had not quite identified, he admits, knowing only that he wanted to "go out and risk failure apart from the community that knew me." One evening at a jam, Jon heard a composition by Thelonious Monk, performed by a band in the vibe and flavour Jon knew he'd been searching for in his own playing. Full of dissonance, question-and-answer, articulation and pathos, the composition struck Jon with the realization that here was an artist who "had cultivated a sound that I was intuitively reaching for, 50 years before I existed — I didn't even know that what I was reaching for had already been developed." And there began the evolution of Jon's own sound and style, with Monk at the centre as forefather.
Here are a few ideas for finding your own "sound," whether at the piano, the easel or somewhere else inventive:
Make phrases that ask questions. Then try to answer them.
Leave space, let things ring out and become filled with new implications.
Find artists you can return to for inspiration, while developing your own contemporary tone and articulation.
Think of a place and put yourself in the story. Be authentic when conveying an emotion and vibe.
Set the scene and feel the urgency of what's going on and what's going to happen.
Keep nostalgia subtle, so that it can give you excitement without being overwhelming. Avoid hysterics, opting instead for what Jon calls "an intelligent excitement."
Be conscious, then unconscious, about your reference and explorations.
Sincerely,
Sara
PS: "You can only be what you are." (Jon Batiste)
Esoterica: "There's so much there," says Jon, when describing Bach's sound. "Bach is the mysticism of music, the spirituality of music." According to Jon, Bach was able to be so systematic, logical and symmetrical because of a kind of musical game he played that harboured a depth of human feeling and a range of human emotions. He believes Bach was asking questions in his music about the afterlife. "It makes you realize what's possible," says Jon. "He's arguably the best at a thing that anyone's ever been in the history of doing a thing."
Jon Batiste's 2018 album Hollywood Africans, named after the painting by Jean-Michel Basquiat is available on Amazon, here.
J.S. Bach's Two-and-Three-Part Inventions is available on Amazon, here and here.
Terry Gross' 2018, at-the-piano interview with Jon Batiste on NPR is here.
"Question, answer and all of a sudden moving, just two melodies playing, a conversation, call and response, harmony and dissonance. That's life, that's our journey; exemplified in a single piece that he wrote for his kids." (Jon Batiste, describing Bach's Two-and-Three-Part Inventions.)
Featured Workshop
June 20, 2019 to June 23, 2019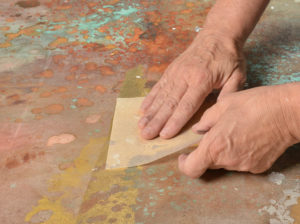 Traditional Japanese mineral pigment painting with Judith Kruger. Make water-based paint from cured shells, minerals, soils, pine soot, indigo and cochineal with natural glue. Learn to stretch Kumohadamashi paper and prepare wood panels. Metallic leafing and oxidation techniques will be covered. Emphasis on the creation of purposeful, multi-layered paintings stemming from ancient practices that embody the power to nurture the spirit. Historical information and powerpoint presentation included. Traditional and abstract painters are welcome. All levels.
More info on http://www.judithkruger.com
Featured Artist
I am a painter. I am delighted to be a painter.