Dear Artist,
Women artists may be knowingly or unknowingly practicing a creative system called, "cycle-synching." Neuroscientists have concluded that the two main female reproductive hormones, estrogen and progesterone, do not only rule the body's fertility but also have a powerful effect on our neurochemistry. Add to this that new fertility-tracking apps like Clue are enabling women to predict the onset of productivity tools like high energy, sex drive, boldness, tiredness, sensitivity and body pain.
The idea is that there are four hormonal phases, and if their unique features are understood they can be harnessed for optimal artistic effect. Here are the phases:
Phase 1. Follicular/Creativity Phase: Dr. Kecia Gaither, Director of Perinatal Services at NYC Health and double board-certified physician in Ob/Gyn and Maternal Fetal Medicine, says that a plan for producing life can also be a plan for producing anything, and the first two weeks of the hormonal cycle are the "Superstar Phase" of creativity. This is the time to think big and plan new projects, while estrogen and testosterone are on the rise, fueling women with verbal power, receptiveness and drive while they feel most optimistic, confident, energetic, masterful and daring.
Phase 2. Ovulatory/Communication Phase: At around the third week of the cycle, there's another little spike in estrogen, coupled with a rise in a second female hormone, progesterone. As a woman ovulates, testosterone dips and she become more sensitive to emotional nuance and subtleties, including feelings of acceptance and rejection. Studies have shown that the faces of ovulating women soften and become more symmetrical, while the timbre of their voices rises. The consequences were illustrated in American psychologist Geoffrey Miller's 2007 study asking exotic dancers to keep track of their tips during hormonal phases in order to test a theory about cyclical magnetism. Progesterone, in spite of its bad rap for causing everything from the blues to crime sprees, is actually more closely akin to a sedative — allowing for a deeper dive into emotional exploration and communication and, apparently, attractiveness. Cycle-synching experts insist this is the time to seek understanding of your creative concepts and dig deep into their meaning. It's also a good time to ask for a raise.
Phase 3. Luteal/Power Phase: Performance expert Alexandra Mysoor, in a recent article on productivity for Forbes Magazine, wrote that the Luteal Phase is the getting-it-done phase — a time to bring tasks to completion and revel in attention to detail. She also suggested that this is the time to do paperwork.
Phase 4. Menstruation/Reflection Phase: Move your work to the secondary easel and let it tell you what it needs. Get comfortable. Evaluate and make corrections at an unhurried pace, while pulling back to get the bigger picture. "Come quickly," said Georgia O'Keeffe to her guests at Ghost Ranch. "You mustn't miss the dawn. It will never be just like this again."
Sincerely,
Sara
PS: "Think of it as just one of the dynamic tools that adds to the diversity of skills sets in the workplace." (Dr. Larry Tiglao, Ob/Gyn at the Los Olivos Women's Medical Group at Stanford University)
Esoterica: Non-female artists or those women artists who are not currently in the fertile stage of life need not feel left out of cycle-synching: apparently, the method's creative powers can rub off on those merely in the vicinity of the hormonally-charged. Studies have shown that fathers, for example, produce their own higher levels of estrogen than non-fathers, allowing them deeper levels of connection and intuition. It's been my experience that artists of all levels of hormonal enrichment seem to possess a heightened awareness of the sources and fluctuations of their creative productivity — perhaps we simply know her as our "Muse." "All things have been given to us for a purpose, and an artist must feel this more intensely," wrote Jorge Luis Borges. "All that happens to us, including our humiliations, our misfortunes, our embarrassments, all is given to us as raw material, as clay, so that we may shape our art."
"By synching our professional life to our females cycle it allows us to be more efficient, productive and to stay in peak creative flow." (Dr. Kecia Gaither)
The Letters: Vol. 1 and 2, narrated by Dave Genn, are available for download on Amazon, here. Proceeds of sales contribute to the production of The Painter's Keys.
"I decided to accept as true my own thinking." (Georgia O'Keeffe)
Featured Workshop
September 23, 2019 to September 27, 2019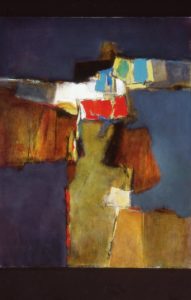 Never be without a design from which to create an abstract painting. Taking images you see on your daily walk, while shopping or in your home… dissecting them into shapes and value to produce abstract paintings that sell.
Held at Gwen Fox's private Art Sanctuary in Taos, New Mexico.  Her 100-year-old adobe home is the perfect environment to inspire and renew your creativity.
There will be private critiques that empower, glorious breakthroughs while basking in a safe environment in which to grow as an artist.
This workshop will fill fast.  Limited to 10 artists.  Each artist will have their own table.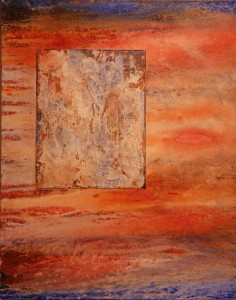 Transition
Featured Artist
Painting is my passion and joy.  My process is intuitive, though informed by good composition and design principles.  I paint what I remember, or think about, or feel, or just what comes off my hands to the brush to the canvas.  Texture and color are of primary importance to me.  I typically choose my support, texture it, select my palette, and go.  There is nothing more satisfying to me than watching paint run and move.  I love the surprises. I experiment and learn constantly.  It is a remarkable journey.  One I am pleased to share with you.