Dear Artist,
A remarkable study, Endogenous Steroids and Financial Risk-Taking on a London Trading Floor, has implications for folks in other professions, including ours. According to the study, stock traders build testosterone on days when they are successful. Apparently, the additional hormones can cause higher levels of confidence and risk-taking, while too much of it can include feelings of omnipotence and even carelessness. Conversely, a trader who has experienced successive losses will have higher levels of the downer cortisol, leading to risk aversion and sloppy choices.
"Traders apparently don't know they are being manipulated by their hormone fluctuations," says John Coates, co-author of the study. The uppers, he finds, tend to happen in market bubbles, while cortisol prevails during downturns. Managers are advised to whip erratic traders off the floor and devise various means to soothe them. The study says little about the hormones of lady traders, presumably because there are not many of them, but it does recommend hiring women as they are less likely to fluctuate.
Very interesting. I always wondered why, on the odd times when I do something rather good, I'm immediately hyped up and do yet another. Hormones, eh? Sometimes I get into a veritable orgy of good art and become some sort of painting athlete.
On the other hand, when I do lousy work, my confidence suffers and my prowess wilts. The work gets worse and worse. I leave the studio in shame.
Questions arise: Would it be best to always maintain a positive but modest balance of testosterone by doing neither too good nor too bad? Or should one take advantage of the bonanzas and jump on them when they occur? How does one avoid getting cortisol in the artistic veins? Does clothing affect things either way?
We are all familiar with those wonderful days of hot marathons where quality seems to stay high. The idea of "winning streak," like "scoring," pervades most cultures. Good breeds good. Perhaps this is one of the reasons we feel the need to be particularly careful with the first of a series — to make sure standards are high at the beginning. Even higher levels may follow as the testosterone kicks in.
Best regards,
Robert
PS: "We found that a trader's morning testosterone level predicts his day's profitability. We also found that a trader's cortisol rises with both the variance of his trading results and the volatility of the market. Our study suggested that higher testosterone may contribute to economic return. Further, testosterone and cortisol are known to have cognitive and behavioral effects, so if the acutely elevated steroids we observed were to persist or increase as volatility rises, they may shift risk preferences and even affect a trader's ability to engage in rational choice." (John Coates)
Esoterica: Are there positive creative juices that run through our bodies? Or is it, as Emerson suggested, simply a matter of building self-trust? Pablo Picasso, no stranger to the concepts of marathon and libido-driven confidence, thought creative success was based on the simple surrender to the ultimate seduction of work itself.
This letter was originally published as "Testosterone in the studio" on September 16, 2008.
The Letters: Vol. 1 and 2, narrated by Dave Genn, are available for download on Amazon, here. Proceeds of sales contribute to the production of The Painter's Keys.
"My mother said to me, 'If you become a soldier you'll be a general; if you become a monk you'll end up as the Pope.' Instead, I became a painter and wound up as Picasso." (Pablo Picasso)
Featured Workshop
September 9, 2019 to September 13, 2019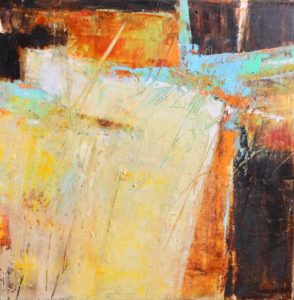 The use of cold wax merging with collage material reveals a rich surface filled with depth.  Learning when and how to add your personal marks enhances the painting while telling a story.
Held at Gwen Fox's private Art Sanctuary in Taos, New Mexico. Her 100-year-old adobe home is the perfect environment to inspire and renew your creativity.
There will be private critiques that empower, glorious breakthroughs while basking in a safe environment in which to grow as an artist.
This workshop will fill fast. Limited to 10 artists. Each artist will have their own table.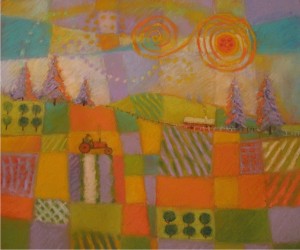 Sunrise Over the Farm #2
original pastel 15 x 15 inches
Featured Artist
Mary's interest in pastel painting began during her years at Whitworth College in Spokane, WA where she majored in art and elementary education. Though she has worked in watercolor and oil as well as calligraphy, her interest has consistently turned primarily to pastel because of the medium's potential for glowing, vibrant color and the harmony achieved in bringing together lights and shadows.