Dear Artist,
With the unmistakable breeze of authority, Dad said, "Never underestimate the power of a little pressure." At the time, I took it as many aspiring artists would — that production pressure was a gift from the outside world, a reprieve from the echo chamber of your solitary room. But what he meant was that you need to put pressure on yourself. By doing so, you override the helplessness of creative dependency on external minders and convert yourself magically from a reactive artist into a proactive one. Here's what I mean:
Pressure is really just a training ground for developing work habits. And pressure can be manufactured. Are you willing to answer to the authority that is you? If you're looking for a template, refer to something familiar: economic or physical pressure, pressure to improve quality or ideas, pressure to get it done in time and making the time to do it. If pressure to be good is tripping you up, remember that you don't have to be good to begin, but you have to begin in order to get good.
First, approach your creative life not as a response to external assignments or collaborative accountability, but as a complete and perfect one-man or one-woman universe. It exists because you will it into being with your love and toil. It ceases to exist if you ignore it.
Embrace the idea of course correction. Almost all the actions in life can be safely altered. Scrap the lists, pros and cons, and simply begin, knowing you can abandon, find better tools or pull a 180 if you need to. This action requires some bona fide self-belief. The secret is that you build up faith in yourself through accomplishment, which requires action — there is no other way that I know of to get it. If you're low on accomplishment, fantasize as best you can what it's going to feel like — and begin.
If you're waiting on someone or something in order to start work, complete a project or promote your latest, rethink how to better serve your calling. "To delay," wrote French philosopher Jean de la Bruyere, "is injustice."
Sincerely,
Sara
PS: "Do not wait to strike till the iron is hot; but make it hot by striking." (William Butler Yeats)
Esoterica: Dad called it, "Relaxed Pressure Scheduling" — a little bit relaxed, a little bit pressured, a little bit scheduled. By designing it yourself, you make it fun and sustainable. Break your creative process into parts and arrange them in a circle, understanding that you can begin at any part. Recently, as if channelling, I've had flashbacks of my dad at his easel, early to rise, staying late, always calm, solving problems at his creative altar, often humming to himself in a kind of impenetrable state of self-anointed independence. The idea of freedom for an artist comes with great responsibility — and a good share of pressure.
The Letters: Vol. 1 and 2, narrated by Dave Genn, are available for download on Amazon, here. Proceeds of sales contribute to the production of The Painter's Keys.
"Keep busy while waiting for something to happen." (Robert Genn)
"Make a delivery." (Robert Genn)
Featured Workshop
August 26, 2019 to August 30, 2019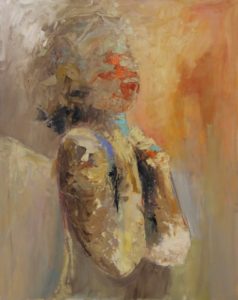 Have you ever wanted to take the essence of the figure and present it in a way that is sensual and thought provoking? When you are abstracting the figure you don't have to worry about anatomy but are more concerned about shapes, value and color.
Held at Gwen Fox's private Art Sanctuary in Taos, New Mexico.  Her 100-year-old adobe home is the perfect environment to inspire and renew your creativity.
There will be private critiques that empower, glorious breakthroughs while basking in a safe environment in which to grow as an artist.
This workshop will fill fast. Limited to 10 artists. Each artist will have their own table.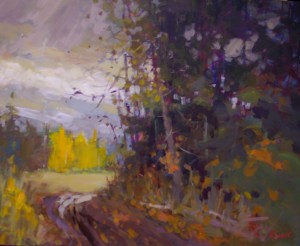 Turn In The Road
24x30 acrylic
Featured Artist
My art represents an artistic journey that has been on-going for more than thirty-five years with help and guidance from many wonderful artists. Now, with years of plein-air painting experience, study and solo exhibitions, I believe that my current work has reached its highest level, reflecting the depth of my absorption in the wonder and beauty of the world around me.  I have learned that, as an artist, I will never stop looking for better ways to express my feelings in art and that struggling to more fully understand myself is integral to my painting; a philosophy that was part of every workshop I taught. Still is.