Dear Artist,
Just when I thought we might have maxed out on syndromes and disorders — attention deficit disorder, highly sensitive persons, etc., yet another has shown up in the studio inbox. Among the forest of responses to my letter on trees, "Nature Deficit Disorder" was mentioned by several artists. As webmaster Andrew Niculescu has gone mountain climbing, Michelle Moore, a high school student who is helping in the studio over the summer, spent last Friday trying to sort your letters out. From every viewpoint, artists identify with trees, endow them with spirit, wish to honour them, and bemoan their loss. To many, they remind us of our estrangement from natural places.
Two months ago I was hanging out in Gorky Park in Moscow. Signs warned not to walk on the grass. Kiosks offered all manner of food and souvenirs, a Ferris wheel plied the sky, and beyond the manicured trees, buildings, like those around Central Park in New York, watched. As the kids were screaming up and down the pathways in front of me, I asked, "Where's the nature?"
Journalist Richard Louv has given this condition some thought. In his book, Last Child in the Woods, he notes that sensationalist media and paranoid parents have scared kids out of the woods and fields. Safe, regimented sports are favored over imaginative play. Kids may know about the Amazon rain forest's endangered species, but have little or no personal contact with the world of nature. Technological advances, while opening up a wealth of virtual experiences to the young, have kept kids indoors. In his research, Louv found a growing body of scientific research that suggests children who are given early exposure to nature thrive in intellectual, spiritual and physical ways that others do not. By reducing stress, sharpening concentration, and promoting creative problem solving, play-within-nature is emerging as a promising therapy for some current childhood conditions. A dose of nature is what kids need. He also notes that considerable harm has already been done.
It's my take that nature-oriented media helps kids of all ages to inhale the outdoors. The quality of this stuff is getting better and better, but we have to remember that it isn't the real thing. Nevertheless, through sensitized vision, the artist draws attention to our greater universe — and to the magnificent diversity and specificity of the wild kingdoms. Step outside. We are needed.
Best regards,
Robert
PS: "Families too can show the symptoms — increased feelings of stress, trouble paying attention, feelings of not being rooted in the world. So can communities, so can whole cities. Really, what I'm talking about is a disorder of society." (Richard Louv as told to Sarah Karnasiewicz)
Esoterica: Artists are a bridge to the greater world of nature. Painters, photographers, filmmakers and writers can choose to be nature's advocates. With increased urbanization, the inner city and the ghetto are the most in need of nature and the art of nature. A frog in hand breeds no evil. We artists work for a higher purpose. A remarkable film, March of the Penguins tells the story of the Emperor penguin in Antarctica. The demonstration of tenderness, familial care, group cooperation and mutual well-being within the circle of life and death is a metaphor of what humanity might be. To be witness to this march is to begin to understand why we all must be one.
This letter was originally published as "Last Child in the Woods" on July 19, 2005.
The Letters: Vol. 1 and 2, narrated by Dave Genn, are available for download on Amazon, here. Proceeds of sales contribute to the production of The Painter's Keys.
I devour nature ceaselessly. I exaggerate, I sometimes I make changes in the subject; but still I don't invent the whole picture. On the contrary, I find it already there. It's a question of picking out what one wants from nature. (Vincent van Gogh)
Featured Workshop
August 12, 2019 to August 16, 2019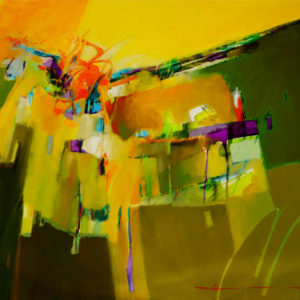 Neutrals enhance your paintings, edges provide sensuality color adds excitement and value holds the paintings together. Successfully combing these elements guarantees a painting that is dynamic.
Held at Gwen Fox's private Art Sanctuary in Taos, New Mexico.  Her 100-year-old adobe home is the perfect environment to inspire and renew your creativity.
There will be private critiques that empower, glorious breakthroughs while basking in a safe environment in which to grow as an artist.
Limited to 10 artists. This workshop will fill fast.
Featured Artist
My aim as a painter is to bring to life a slice of the world as I experience it. Light, color and form are my vocabulary.