Dear Artist,
Once, while on a two-hour stopover in Houston, I took a cab to the Rothko Chapel, sat alone beneath the baffled skylight cupola and blinked into the fourteen inky canvases until it was time to go back to the airport. My long-dreamed-of pilgrimage had overwhelmingly confirmed not only the immersive drama and eye-filling trickery of Rothko's surfaces, but the power of context. Like the Sistine and the Guggenheim, the Rothko is, perhaps, the highest achievement in spatial devotion to art and its spiritual purpose.
All these years later, with the chapel closed for a $30 million, years-long upgrade to tweak its skylight for a more perfect ambient light filtration, my Mum and I are settling instead for the dappled shade of a nearby Southern Live Oak. Just knowing the paintings are close but inaccessible is almost as mythical an experience as being under them inside. I'm imagining the transcendence as a museum guard passes by from the neighbouring Menil Collection and in a hushed gravitas mentions the Rothko's leaky roof.
Commissioned in 1964 by French-American oil magnates John and Dominique de Menil, the Rothko Chapel was the original house of art worship in a museum project devoted to the Menil's 10,000 object-strong art collection — a campus now comprising five purpose-built galleries, a bookstore, restaurant and parkland, all nestled in a middle-class residential Houston neighbourhood. Committed to trying to achieve a kind of spiritual event in his paintings, Rothko had recently cancelled the largest commission of his career — forty paintings which were to hang in the Four Seasons restaurant on Park Avenue — when Dominique de Menil suggested he design and paint for a temple instead. The resulting fourteen paintings would be the last of his life, which he ended by suicide a year before the chapel's completion, in 1971. He never saw his paintings installed there. "The picture must be a revelation," Rothko said of his spiritual quest, "an unexpected and unprecedented resolution of an eternally familiar need."
Sincerely,
Sara
PS: "The reason for my painting large canvases is that I want to be intimate and human. To paint a small picture is to place yourself outside your experience, to look upon an experience as a stereopticon view or with a reducing glass. However you paint the larger picture, you are in it. It isn't something you command." (Mark Rothko)
Esoterica: In 1958, Mark Rothko gave an address to students at the Pratt Institute. In working out his own ideas about his paintings' purpose and how to achieve it, he riffed on a personalized formula:
1. There must be a clear preoccupation with death — intimations of mortality. Tragic art, romantic art, etc., deals with the knowledge of death.
2. Sensuality. Our basis of being concrete about the world. It is a lustful relationship to things that exist.
3. Tension. Either conflict or curbed desire.
4. Irony. This is a modern ingredient — the self-effacement and examination by which a man for an instant can go on to something else.
5. Wit and play — for the human element.
6. The ephemeral and chance — for the human element.
7. Hope. 10% to make the tragic concept more endurable.
"The gifted artists are the great benefactors of the world," said 79-year-old Dominique de Menil at the opening of the Menil Collection in 1987. "Life flows from their souls, from their hearts, from their fingers. They invite us to celebrate life and to meditate on the mystery of the world. They bring us back to the essential."
Sara Genn: New Alphabet is on view until October 17th, 2019 at Dimmitt Contemporary Art, 3637 West Alabama Street, Houston. 
The Letters: Vol. 1 and 2, narrated by Dave Genn, are available for download on Amazon, here. Proceeds of sales contribute to the production of The Painter's Keys.
"We are cluttered with images and only abstract art can bring us to the threshold of the divine." (Dominique de Menil)
"A painting is not about an experience. It is an experience." (Mark Rothko)
Featured Workshop
February 26, 2020 to March 4, 2020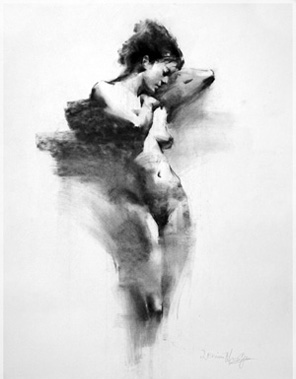 Learn from the Master! The way to do accurate drawing with painterly approach. Join us for this 7 day retreat with 4 day workshop in magical settings of Mexican back country with one of the best instructors of drawing the human figure. From short pose gesture and anatomy studies, to long pose painterly approaches, students will learn step by step the drawing methods, human proportions, anatomy and much more. Live model with small class size will insure lots of personal attention.
Henry Yan has been teaching at Academy of Art University in San Francisco for more than twenty years. His book, "Henry Yan's Figure Drawing – Techniques and Tips" published in 2006, has been widely used by art students and professional artists in the US and internationally.

Casa Buena Art Retreat is a calm and beautiful place to relax and explore your creative energy. Non painting partners welcome.
For more info check http://www.casabuenaartretreat.com/Retreat_HenryYan.htm
or contact Jane at janerom@shaw.ca
Featured Artist
A professional painter in both watercolor and oil for over 35 years, I have been creating plein air workshops in Europe for artists to join me since 1996. Plein air is one of the most exciting methods of painting, and I teach a very easy to learn way of capturing the light quickly, that any artist can apply to their own work during our adventures to Europe. Travel for artists is a great way to immerse yourself in painting and make great advances in your techniques by watching other professionals work, and by sharing your own ideas with other artists we all grow! Authentic locations, such as a 12th Century Castle in Ireland, a French Maison in the countryside of France, or an Italian Villa in an historic hilltop village in Italy are carefully chosen. We want our artists and non-painting guests to feel relaxed and at home, with en-suite bedrooms, excellent chef prepared cuisine, and convenient transfers to painting and exploring locations so you can be where you want to be to create. Join me on our next exciting journey!