Dear Artist, Yesterday, Robert Revak Dublac of Unionville, Connecticut wrote, "I am an under-recognized artist. It's a frustrating time of my career. I'm astounded how arrested our culture has become. There doesn't seem to be any concept of art evolving from representational to abstract. Museums are even giving Impressionist painting classes. My sales started to drop in the mid-'70s, just as my work became stronger and more substantive. Galleries no longer choose artists with conviction; they've become art shops. Fortunately the granting programs have been most generous through the years, but they too have their financial challenges. Even "Art in America" has become appalling! The imagery looks like something from my design classes in the '60s! I need to find exposure or a gallery affiliation. At present I'm in a backwater — just vegetating."
William Shakespeare
) "It is only the modern that ever becomes old-fashioned." (
Oscar Wilde
) Esoterica: We're not about to give up on abstract art just yet. Abstraction still has so much more to explore, and so much more to contribute, even in our pursuit of great realism. With its brilliant combination of an inner and an outer life, abstraction is also the one genre that adds true magic to surfaces and even thrives in photographic-based techno-art. Abstractionists of the world arise; we have not yet begun to paint. "Abstract Art is part of the constant change and vital searching that energizes every true art." (
Leonard Brooks
)
Time to explore
by Bobbo Goldberg, Orlando, FL, USA Sorry that Mr. Dublac has such a sad view of the world. But his description of himself as "under-recognized" gives rise to a couple of questions. By whom is he under-recognized? Based upon what standard or expectation of recognition? What does he desire or interpret as recognition? If it's sales or gallery acceptance, which is what it seems, then he might view this as a challenge to the commercial desirability of what he's painting. No offense intended and no critique of his paintings should be inferred; I'm not qualified for that. But if you're painting in a certain style, in a "backwater," while "vegetating," and aren't in a gallery because they're "art shops," what is one to expect? Maybe the gentleman needs to get over his somewhat petulant conclusions and be more willing to explore what's behind this lack of recognition.
Don't complain
by Deborah Elmquist, Port Orange, FL, USA Robert Dublac's perspective about his work and the current state of art is an all too common discussion. I live in the other camp of defending classical realism and art that is created out of finding beauty in everyday life. What has helped me to live in the fickle world of art since the '60s is to step back and look at it from its theory and historical content. I recommend two online videos that give both sides of this issue. Both can be found on my website under Links or you can Google each. The first is Scott Burdick's presentation at Laguna Beach for the Weekend with the Masters event entitled "The Banishment of Beauty." The other is a presentation entitled "When Art Became Ugly." Robert Dublac obviously paints the way he does because it feeds his soul. I applaud anyone who continues to stick with what they believe is true and right. But don't complain. To loosely quote St. Francis…"Strive to understand rather than to be understood."
There are 4 comments for
Don't complain
by Deborah Elmquist
Right on time
by Terry Mason, Sarasota, FL, USA Contemporary art is now representational. It's what's happening. When I tried to learn painting in the '70s at one of the finest art schools in the nation, it was "Anything goes" and "Who needs skills?" I went through four years without anyone mentioning the word "value." It wasn't pretty. When I went back to paint, I found an atelier-trained person who had my same experience but was ahead of me in finding out how to paint, really paint. Finally, I learned to paint and I'm still learning. Now I watch with great eagerness the unfolding drama of representational painters taking the center of the stage and more of the money and exposure. Does this mean that abstract art is dead? No, there is always a lovely circle of both. But right now, I am watching a great drama unfold despite a recession as representational painters become the contemporary art of this time. And it is right on time.
Keeping a balance
by Tommy Barr, Banbridge, N Ireland For me, standing in front of the easel is a balancing act, as I respond completely intuitively to the developing icon. With every stroke of paint I am making a decision on each of six balances. In effect getting the balance I require between: Recklessness and craftsmanship Reality and abstraction Texture and finish Completeness and space Symbolism and vagueness Movement and stillness I find that if I can achieve a good balance in all six, I have something worth keeping. If an icon is a failure, I can usually see why by checking these balances. I don't concern myself much with all the other stuff — perhaps they are subsets of these headliners. Or perhaps different styles have different needs. For example, folk musicians don't get concerned about rhythm and rappers don't worry much about harmonies. It works for me. I can only keep so many balls in the air.
Justly 'under-recognized'
by Paul deMarrais, TN, USA Mr Dublac's stance is to say the market is too dumb to understand his sort of painting. This elitism is very common with abstract painters. We're all too dumb to 'get it' and if we don't get it, it's due to our ignorance and lack of sophistication. Thirty years ago it would have been the traditional painter singing a sad tune of rejection. Traditional painters had to weather the storm and carry on until the tastes of the market changed. Dublac needs to buck up and do the same. Why should grants be provided so artists can create work no one cares to see? I think artists cannot just cry and moan when they refuse to adapt to the market. We are all involved in marketing if we intend to make a living at painting. Art schools in the sixties cranked out thousands of untrained abstractionists and still send them out by the trainload. Overall, quality suffered and worse yet, the sense of what quality was in this style of painting became blurred. The public, in the end, rejected much of abstract painting as Manhattan lobby art for over the modern couch. Oddly there is a current trend and a niche for abstract work in many of the mainstream galleries, but the work has to be truly special to grab hold. If it's not, it is going to be "under-recognized"!
What the world needs now
by Carol Weiss, VA, USA Thank you for sharing Robert Dublac's work. I mostly paint representational landscapes but would love to move in a more abstract direction and it is hard to find that kind of work to see, so I really appreciate seeing his work — his passion is quite inspiring to me. That said, I'm wondering if the reason that abstract is out of favor now has something to do with our aging society, the emergence of a peace-seeking organic/spiritual subculture in the face of a worldwide 24/7 explosion of passionate violence. What I am trying to say is that art often gives people what they want but don't have. In the '50s and '60s/'70s we were looking for energy. Drawn to the creation of chaos, we wanted to tear down the old and restructure society. I think the abstract projected our desire for that. Now that we are older and can barely stand to turn on the TV, we are looking winsomely for that peaceful (and quickly disappearing) landscape or memory we barely noticed when we were young and rebellious. I most love Dublac's more serene and somewhat less geometric river scenes. They are the perfect combination of abstract and a touch of representational.
There are 5 comments for
What the world needs now
by Carol Weiss
An artist's three choices
by Skip Rohde, Asheville, NC, USA I think the vast majority of artists would put themselves in the category of "under-recognized." We're all individuals and what we create may or may not fit into the current hot style. There are three alternatives: find the niche where your art might be recognized, create what people want to buy, or find another source of income. If the first alternative isn't big enough, you'll have to do the second or third, anyway. That's the boat I'm in. I am driven to paint strong images that people appreciate but nobody buys: injured warriors, the stress of deployments, and people and landscapes affected by war. I seem to be genetically incapable of painting pictures just to sell. So I'm going back to work full-time. Not only will this pay my bills, it frees me up to paint what I must paint. And I'll continue to be a happy, under-appreciated artist.
There are 2 comments for
An artist's three choices
by Skip Rohde
Be flexible; be creative
by Brenda Swenson, South Pasadena, CA, USA In times of weak economy and shifting tastes, we need to remain creative. Sometimes this creativity may take on the form of finding new ways to keep our art in the public eye and generate income. I am represented by two galleries, hold signature status in numerous societies, participate in national exhibitions, have a website, blog and still, I need to do more. I do not consider myself a writer but I have a voice when it comes to talking about my art. I have found creative expression in writing about my artwork for magazines. I instruct workshops nationwide and abroad. When I first began, I thought all I had to do was be a good painter. How wrong I was! I have learned to be flexible, and creative in other ways. This process has worked for me and I am so busy I do not have time to feel sorry for myself. This journey has taken me down many different roads, all of which I have come to enjoy.
There are 3 comments for
Be flexible; be creative
by Brenda Swenson
Choose to be unknown
by Joseph Jahn, Nibe, Denmark Ha, I started painting in a backwater and still live and paint there. Money and Art are in NYC, Berlin, Paris or London. Painting is in your head, wherever you are. Maybe you're tired of your own art? These times are no representation of a robust art market that will take on all comers. Today is a real pick-and-choose market with masses of choice on the low end of the scale, with supermarket art and pastime artists selling weekend work for a penny an inch. You cannot think about money and art; it's a modern myth. Painting today is choosing to be unknown; it's part of the job description. Needed to Make Money: Luck, a patron, a gallery with trust, heart, and patience. Otherwise stop painting or paint for your own pleasure and need.
There are 4 comments for
Choose to be unknown
by Joseph Jahn
In praise of abstraction
by Lynda Lehmann, NY, USA If we are going to discuss the validation of art by virtue of "skill" or "meaning," we have to give abstraction a fair shake. To my way of thinking, abstract art is more interesting (if not more beautiful) than realism, because it presents a visual experience that has no precedent in reality. It presents something totally new and is its own reality. Realism refers to a single point in time and space even when it is arresting, compelling and speaks to universals. But abstraction can be richly layered and full of ambiguity and mystery that yields fresh nuances of visual experience with each viewing. To me, abstract art comprises a rich, multi-dimensional experience because it doesn't cater to the constraints of time and place. The new visual experience it presents is of value in and of itself, and does not require a literal meaning in the usual sense. As a matter of fact, it may call on the viewer to be a more active participant in the viewing, because it reaches beyond our usual scope of perception and lends itself to the subjective reality of each viewer. Art does not need to refer to political or religious ideologies, or even the continuum of human emotions and experience, to garner its meaning. It simply is, and therein lies its meaning. And to me, abstraction is very compelling in its visual (and emotional) richness. As for the "skills" part of the equation, Kandinsky (among others) manifested a high level of both imagination and skill that many realists don't possess. Good abstraction is difficult to achieve, often involving both concept and great discipline that match or exceed many realist paintings. Abstract art is often devalued because, to many people, it "looks" easy.
There are 3 comments for
In praise of abstraction
by Lynda Lehmann
Stamina to float your boat
by Robin Shillcock, Groningen, Netherlands As a budding artist, I grew up in an extremely anti-realism in art atmosphere in Netherlands. Officially, representation and illusionism in contemporary art was dead, but not if you wanted to exhibit a trash stood up on three bamboo poles "as a comment on modern society" and that kind of crud. I went to a traditional art academy, one that got down-the-nose-looks from all involved in the "new revolution" that was supposed to wash away all that was staid and passé: illusionistic art. Abstract and conceptual art became the official art. Artists working in those fields were getting all the state subsidies as well as all possible corporate funding. I felt myself like a latter-day Impressionist, looking up at the bastion of a modern version of iron-fisted Academism. It gave me a somewhat cynical regard of the whole art market, but it gave me a tough hide, too. (I believe we artists need a thick skin, be it one with pores that lets in all that nourishes our art but keeps out all that pollutes our sensitivities.) In 1980 I cast myself against this tidal wave, trying to make my small mark as a professional artist in a climate that favoured non-representational art. I was not alone of course; there were hundreds of artists out there, some floundering, others enjoying the solitude of backwaters. Somehow we found each other, we got together to talk, show our work, and complain about the way things were deteriorating. It was great for a puppy like me to spar with older, experienced artists. We gave and got support, advice, ideas and basically we had a good time. Sometimes I pine for those "us" against "them" years. But boy, it was lean times to strike out as an inveterate realist painter! It was grand to see the first cracks appear in the abstract/conceptual bastion in the late-1990s. Within a few years the fissures widened until the bastion simply crumbled in on itself. I think you were gentle with Mr. Dublac, Robert. I would have responded more stridently: stop griping and get on with it! Yes, the art market has changed, it has become tougher, more businesslike, and there are a lot of sharks out there. It's a worldwide phenomenon. But culture has not become arrested. It's in full flow even if the current has changed direction for some artists. Perhaps it's you who has run aground. You sound like a person who has shed ideals, or simply lost them along the way. If your boat won't float, get out and shove it across the sandbar you're on. The lesson I learned in those years of sometimes bitter adversity is that what impassions people like us is never at a standstill. It may follow a circuitous route that is hard to follow but it develops, inexorably. You might not see it at first. Rub your eyes and look again! Personally, I'm totally uninterested in abstraction in art, except where pure and beautiful decoration is concerned. It is simply an element in painting, nothing to go bananas about. I do believe artists working in different approaches have a part to play in making contemporary culture as diverse as possible. You do need some stamina to float your boat and get it over the rough stretches.
Archived Comments
Enjoy the past comments below for An under-recognized artist…
 Featured Workshop: Sharon Rusch Shaver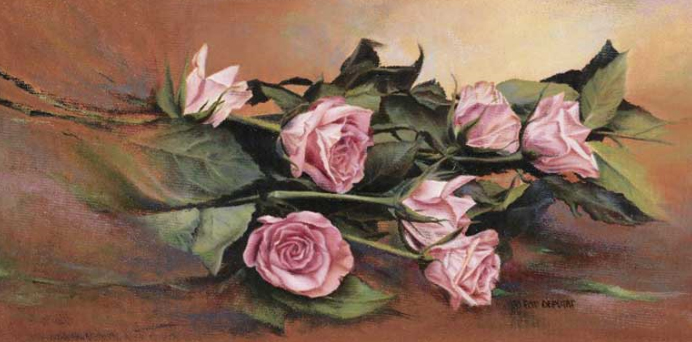 Roses For You

oil painting, 12 x 24 inches by Pat Deputat, Edmonton, AB, Canada

You may be interested to know that artists from every state in the USA, every province in Canada, and at least 115 countries worldwide have visited these pages since January 1, 2013. That includes Bill Skuce of Sooke, BC, Canada, who wrote, "Sometimes artists are, either of inner necessity or outward circumstances, obliged to reinvent themselves. In such instances, flexibility helps and versatility develops, extending the artist's range of expression while enriching his/her confidence and capability." And also Loraine Wellman of Richmond, BC, Canada, who wrote, "A lot of us are 'under-recognized' but I also think artists need to realize that selling is one thing and making art is another." And also Gilles Mauve of Limoges, France, who wrote, "Anyone can paint anything if they want to."
Thanks, Robert. Robert Dublac is a victim of the tides that ebb and flow in fashionable art. Robert is right; there is a significant return to varieties of representational work. The tide could just as easily turn again. Many art schools during the '60s and '70s disdained realism and favoured the kind of work Robert still does. The result is an overabundance of abstraction and thousands of disappointed painters who are unable to secure grants and now find themselves driving taxis. Artists need not be so appalled when they understand the fickle nature of the art market. Under-recognized they may be, but the bandwagon of the '60s turned out to be the stalled donkey-cart of today. Perhaps not surprisingly, it's often abstraction that now seems old fashioned. Part of this change came about because of the facile nature of a lot of '60s abstraction. Collectors demanded more than imagination. They wanted something that appeared to them to have more skill and meaning. They wanted to connect. Conservative these collectors became, and they began to trust history more than the new "wunderkind." More than anything, dealers and critics wanted something they could talk and write about. Backwater? Vegetating? It's been my quiet but persistent observation that the most anti-creative pills an artist can take are, "Poor me," "Art has gone to pot," and "The world owes me a living." Best regards, Robert PS: "Fashion wears out more apparel than the man." (