Dear Artist,
Yesterday Leslie Kimball of Tehachapi, CA wrote, "I paint with a bunch of wonderful women. We are a tight group, no envy, etc., but I have begun to understand my needs better. I need more but I'm afraid to hurt feelings. Plus, if I leave I have no place to go. I don't fit into any mold. In the group my style is all over the place. I'm not satisfied. What do you advise?"
Thanks, Leslie. I've noticed that it's often the artist with the courage to leave who makes the most headway. But "voluntary graduation" can be difficult. There's something to be said for a group of like-minded friends. However, clubs are not for everyone. It sounds like you want out.
You do have a place to go. It is the place that all evolved artists must at some time go. It is to the world of your private imagination and personal development. This place is not lonely and it does not prevent you from having friends. Actually, you'll make another kind of friend who will bring you just as much joy. You need to say to your group, "I dearly love you all, but I'm going into retreat for a while to see if that might beef up my quality." Some will think you have rejected them, but down deep they will know that in the big picture a group is only a passage. I believe your decision will be respected.
When artists decide to go it alone, they have different stuff to think about. The ideal is to identify your particular and unique needs and then try to fulfill them. Outsiders can't help you very much. Some artists need to shake off aspects of their art training, poisonous pedagogy or habitual methodology. Others need to reapply what they already know. Some just need to buckle down and build a pile. Some quickly learn they are not cut out for the job and need to get on with something else. In a way, this is success as well.
Ideally, you ought to have an audacious understanding of your own direction. Successful loners are folks who are able to find out what turns them on and how to become their own best critics. The private studio becomes the school, the clubhouse and the laboratory. Setbacks can be expected, but graduation ceremonies will take place every day. Self-anointed diplomas will be issued frequently.
Best regards,
Robert
PS: "I am now quite cured of society, be it country or town. A sensible man ought to find sufficient company in himself." (Emily Bronte)
Esoterica: Proficiency in art is a contract with your self and the empowerment of your self. Not all of us demand or even desire proficiency, but for those who do, it's necessary to temper the influence of groups. And while some artists think history is bunk, the historical evidence is overwhelming: "In my isolation I grow stronger," said Paul Gauguin. "My work is always better when I'm alone and follow my own impressions," said Claude Monet. "If the artist is serious he must sink himself in solitude," said Edgar Degas. "Solitary trees, if they grow at all, grow strong," said Winston Churchill.
This letter was originally published as "Voluntary graduation" on April 25, 2008.
Have you considered a Premium Artist Listing?  With each letter, an artist is featured at the bottom of this page. The Premium Artist Listings are a means of connecting artist subscribers through their work. Proceeds from each listing contribute to the production of The Painter's Keys. 
In solitude, we give passionate attention to our lives, to our memories, to the details around us. (Virginia Woolf)
Featured Workshop
January 23, 2022 to January 30, 2022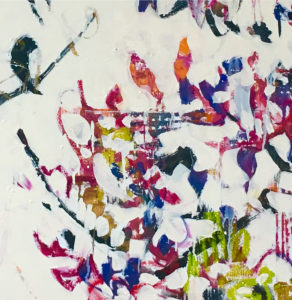 Join Ellie Harold for "Intuitive Painting: Permission to Paint Expressively," designed especially for mature women artists of all skill levels who wish to explore this medium for soulful exploration. The retreat provides attractive accommodations (your own room!) along with lightly structured activities for centering, relaxation and low stress art-making. You'll have plenty of free time to muse, paint, write and reflect while enjoying the colors, textures and flavors of San Miguel. This Retreat has the potential to transform not only your art but your life! You'll return home with a specific art "care plan" to assure support for further creating. Details at www.EllieHarold.com.
Featured Artist
I am a painter. I am delighted to be a painter.