Dear Artist,
Zorana Ivcevic Pringle, director of the Creativity and Emotions lab at the Yale Center for Emotional Intelligence, recently surveyed artists to learn what emotions they feel when working. While love, happiness, sadness and nostalgia were heavy hitters, the top and most consistent answer, she discovered, was frustration. Adding to this, when Dr. Pringle expanded her survey to the general population, frustration fell down the list behind things like boredom and anger from people in non-creative fields while it remained, alongside happiness, at the top for people who were highly creative in their jobs. It seems when it comes to creativity, "frustration," as Elizabeth Gilbert wrote, "is not an interruption of your process; frustration is the process."
What I've noticed about the daily frustrations in my own work is that they've forced me to release my attachment to any immediate outcome for my ideas. I just can't get there efficiently and instead must make a few stops along the creativity trail.
These interruptions might almost make me a Buddhist. During the wax-on, wax-off motion of staple extraction, unrolling, cutting and restretching, for example, something happens inside; I call it, "reappraisal."
In psychological terms, reappraisal is the act of re-evaluating one's thoughts in response to a situation. When a desired outcome can't be reached, says reappraisal, one can identify alternative ways of thinking and manage unpleasant feelings more… manageably. In this way, this letter is a form of reappraisal. The irksome disruption of an otherwise creative good time can, instead of ruining everything, spark the contemplation of better ways to make better art.
Here, while perhaps obvious, are a few tested and proven ideas for moving from frustration to reappraisal, from a bona fide expert:
Find yourself a welcoming chair. Stop the work at hand and sit across the room.
Or
Switch to another work. You'd better have something else  going on.
Or
Clean, tighten or swap out the tool you're working with. I like a fresh flat brush, springy and straight from its packaging.
Or
Declutter your work area and decrease the visual and audible noise in your space. Just clean up your space.
Or
Take a 10-minute walk, drive or ride. Breathe while doing it.
Or
Drink a glass of water. "When things are shaky and nothing is working," wrote Pema Chodron, "we might realize that we are on the verge of something."
Sincerely,
Sara
PS: "Frustration is one of the great things in art; satisfaction is nothing." (Philip Guston)
Esoterica: "Where you stumble, there lies your treasure," wrote Joseph Campbell of his Hero's journey. Reappraisal is less about examining the work to see how it can be improved than allowing the mind to focus on another task while it digs into the subconscious for new, less obvious and therefore more imaginative solutions. Your frustration is just a way of reminding you to go there. During reappraisal, I burn a large, English pea-sized blister into the palm of my hand with the handle of my yellow staple gun. I don't know it's happening because I'm meditating. Staple removing, while excellent for reappraising, also produces, eventually, freshly stretched canvases. "No pressure, no diamonds." (Thomas Carlyle)
Have you considered a Premium Artist Listing?  With each letter, an artist is featured at the bottom of this page. The Premium Artist Listings are a means of connecting artist subscribers through their work. Proceeds from each listing contribute to the production of The Painter's Keys. 
"All the trials we endure cannot be compared to these interior battles." (Saint Teresa of Avila)
Featured Workshop
January 23, 2022 to January 30, 2022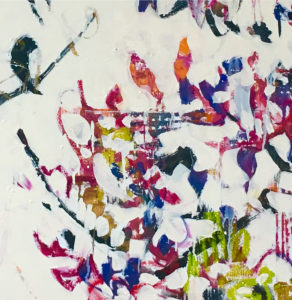 Join Ellie Harold for "Intuitive Painting: Permission to Paint Expressively," designed especially for mature women artists of all skill levels who wish to explore this medium for soulful exploration. The retreat provides attractive accommodations (your own room!) along with lightly structured activities for centering, relaxation and low stress art-making. You'll have plenty of free time to muse, paint, write and reflect while enjoying the colors, textures and flavors of San Miguel. This Retreat has the potential to transform not only your art but your life! You'll return home with a specific art "care plan" to assure support for further creating. Details at www.EllieHarold.com.
Featured Artist
Shawn's paintings evoke the feelings of the West Coast, its shores and islands, ponds and lakes.