Dear Artist, Here in Sydney, Australia, paint colours have names such as Australian Ghost Gum, Australian Sky Blue, Southern Ocean Blue, Travelling light: Ray Bradbury in wandering studio mode, a common sight since he didn't drive. Australian Sienna, Mars Grey, Ash Pink and Australian Salmon Gum. Signature moves feel stale. Opportunity signals from the golden crescent of Tamarama Beach, beneath a tunnel of eucalyptus at the Centennial parklands, and on a summer square of lawn in the back garden of a friend's cottage.
Yogi Bhajan
taught his followers to "travel light, live light, spread the light, be the light." As artists, we either wait for perfect conditions and get nothing done, or we cultivate a serendipitous imagination tool-kit and carry it within for ideas and productivity on-the-go. This "wandering studio" gathers and stores experiences, takes chances with the unfamiliar and requires a measure of self-trust. Mistakes are part of the change of scene. Refreshing failures roll off the travel-easel like ants from a picnic blanket. "Half the fun of travel," said
Ray Bradbury
, "is the esthetic of lostness." Many years ago, not long after leaving university, I went to France to stalk my heroes and paint from the hatchback of a 1980 Alfetta GTV.  I wondered if I could do it — as if there might be some kind of magic air at home that switched on the muse and made things happen. Would it be possible to dream and work and hope for happiness without the security of a familiar set-up? Without a posy of pointed hog hair sashes nearby or a talisman above the door? Fading now were the components of art school — the visual chatter, the heavy, airless rooms, the menacing shuffle of incoming faculty Birkenstocks. In a Bordeaux campground the maritime pines applauded with a cheerful rustle. "A traveler am I and a navigator, and every day I discover a new region within my soul," wrote
Kahlil Gibran
. Over time, over years, the wandering studio builds quiet confidence. With the exception of travelling to the most remote locations, supplies can be picked up at the nearest art shop. Once, my Dad came home from a trip to Egypt with a stack of papyrus. Artists are everywhere and ready to share their local colours. Sincerely, Sara PS: "It's not the destination that matters. It's the change of scene." (
Brian Eno
) "When you don't know where to start, just go to a place you miss so much." (
Toba Beta
) Esoterica: Growing up and to this day, a sign hangs above the door that leads from the writing area to the painting area in Dad's studio. The sign reads, "Be here now." Today in Sydney, "be here now" means under these dappling gum trees. A pair of sulphur-crested cockatoos have a chin-wag. A brown-lashed dog exhales a contented hum from the nearby shade. Soon, it'll be time to wander. [fbcomments url="http://clicks.robertgenn.com/wandering-studio.php"]
Featured Workshop: My Art Trip: Paint in Monet's Gardens, uninstructed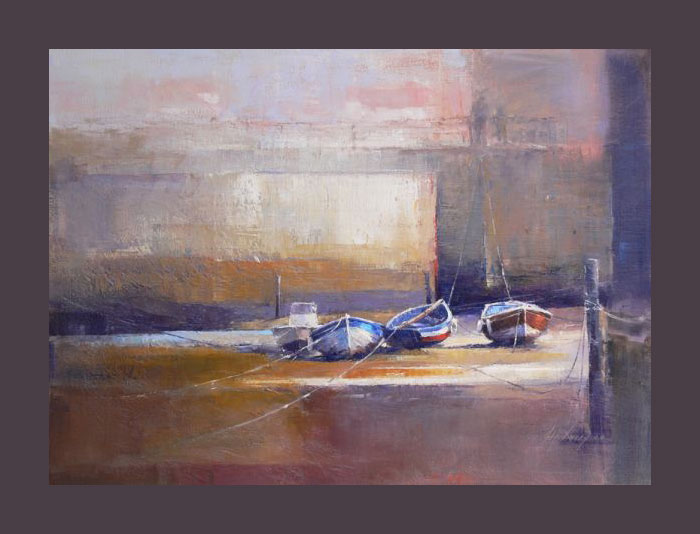 Tides Out – Staithes
oil on canvas 60 x 76 cm by John Lacey, South Australia
You may be interested to know that artists from every state in the USA, every province in Canada, and at least 115 countries worldwide have visited these pages since January 1, 2013.
Spiritual guru