Dear Artist,
"Virtuous circle" is a term used mainly in economics. It refers to a chain of events that reinforces itself through a feedback loop with positive results. When results are negative it's called a "vicious circle." In both systems each iteration of the circle reinforces the previous one. When the circles are extreme in either direction they may have the prefix "hyper," as in hyperinflation. These circles can also be applied in sociology, warfare, politics and art.
A typical virtuous circle in the art vocation is (1) quality work, (2) proper marketing and distribution, (3) collectorship, acceptance and recognition, (4) artist happiness and productivity, and (5) quality work. Get the idea? On the other hand, many artists are stuck in a vicious circle: (1) substandard work, (2) inadequate, local or inconsequential distribution, (3) poor collectorship and recognition, (4) artist disappointment, frustration and torpor, and (5) substandard work. Widely available programs offer systems and information to build artistic success. Well-meaning non-artist counsellors can omit or gloss over the part of the virtuous circle that deals with product quality. While art is one of the few vocations where it's possible to successfully market incompetence, our vocation is rendered more fulfilling when the product being marketed is of esteemed value and perceived quality.
Seeing as I've identified quality work as the frequent weak link in the circle, I'd better give you some definitions: Competence and ability, consistent or periodic style, unique sensibility, first-class materials, facility in composition, drawing, colour and form are all certainly part of what many of us mean by quality. Other factors might include sufficient volume of work brought about by regular effort and stubborn persistence. Artist agreeability, perennial studenthood, interesting lifestyle and an exploratory personality might also be part of it. Fact is, the quality of the work often depends on what dealers, galleries and curators see as the total package. In my experience, competence is very often at the top of that package. Often mistaken for genius, self-education and hard work can cause one to flourish. A few of the ultra-dedicated may find themselves in a state of hyper-flourish.
Best regards,
Robert
PS: "Eventually everything connects — people, ideas, objects. The quality of the connections is the key to quality." (Charles Eames)
Esoterica: Everything hinges on the quality of one's working. This means the total personality — attitude, knowledge, passion, work habits, and the resulting work. It is indeed a package. Is there one thing that leads to this broader understanding of quality? As far as I can see, it's the acquired habit of studenthood — the simple need for learning. "There are no absolutes in painting," said the American painter and demonstrator Rex Brandt. "All is measured by that relative term, quality. It is in this search for quality that the artist is, of necessity, the eternal student." A genius may find this an easy job, but most of us have to work at it. "Quality," said John Ruskin, "is always the result of intelligent effort."
This letter was originally published as "The weak link in the virtuous circle" on January 25, 2013.
Have you considered a Premium Artist Listing?  With each letter, an artist is featured at the bottom of this page. The Premium Artist Listings are a means of connecting artist subscribers through their work. Proceeds from each listing contribute to the production of The Painter's Keys. 
"Correction does much, but encouragement does more." (Johann Wolfgang von Goethe)
No Featured Workshop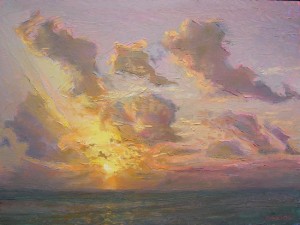 Shining Through
oil 12 x 16 inches
Featured Artist
Capturing the beauty of nature and expressing those impressions in oil paint is a joy. Every hour of the day presents new possibilities and keeps even the same landscape location, same composition, an ongoing and beckoning challenge. For this reason, I love painting series: it is exploration made visual.