Dear Artist,
Artist Sherry Abramson of Vancouver wrote, "I know I'm hunting for the next key and figure I need someone who can mentor me, to help me set up a simple online format to sell my art. I totally get the virtuous circle concept as I was a high level figure skater, and long time teacher of kids with reading difficulties. Now, at 73, for 5 years I've been focussing on and selling nature photography and painting. I love the interaction with prospective buyers and try to cater to their wishes. However, my drive-by selling out of the trunk of my car needs a tuneup. Former buyers return but I'd like a simple online format. I guess it falls in the marketing and distribution category. Any ideas?"
Every creative person who wishes to make a livelihood from art must, through grit and perseverance, find their personal sweet spot in the marketplace. My brothers and I began by fastening our paintings to an old-growth red cedar at the top of the driveway and offering them to our neighbours for 25 cents. Those days are behind us but the tree still stands, so majestically, in fact that its roots are now pushing up the driveway. In lieu of a driveway art-tree-stand or drive-by trunk sale, and in these days of shelter-in-place, selling your work may begin with setting up a page on an online marketplace. Many artists have discovered outrageous success on sites like Etsy, which specializes in handmade arts and crafts and charges a small fee for listings that connect artists to buyers and manages the transactions. You can direct clients to your Etsy page from social media or your own site, ship from your studio, and collect revenue in one place.
Artists have also praised platforms like Shopify, which helps visitors complete purchases through their online e-commerce platform. This option is suitable for artists who feel they have enough visitors and have all their marketing covered, and want to manage direct sales and interface with their collectors without a middleman. But unlike Etsy, Shopify doesn't come with its own audience.
Lastly, you might think about simply posting your art cards on Instagram and inviting visitors to buy them with the help of a mobile payment service like Venmo or Paypal. Instagram is free to create a profile and you can reach an image-junkie audience looking for handmade goods, and get exposure for your paintings, too. Like thousands of artists currently doing business on Instagram, you need only post your latest with pricing — if you like — and write "direct message me for inquiries." Like a driveway art-stand or drive-by trunk sale, Instagram puts you in the neighbourhood, with the hope of capturing the hearts of passers-by.
Sincerely,
Sara
PS: "Good advertising does not just circulate information. It penetrates the public mind with desires and belief." (Leo Burnett)
Esoterica: I invite artists who are using an online marketplace to post a link below to their work, along with any suggestions for Sherry. Amongst artists, information is empowering and sharing our personal and hard-won systems can hopefully invite more creativity onto the dance floor. Thank you for your generosity of ideas. Most importantly, when releasing work for sale, make sure you've determined it to be your very best. The greatest marketplace in the world will still struggle to sell substandard work and ideas. "Your premium brand had better be delivering something special," wrote Warren Buffett, "or it's not going to get the business." "Quality," said my Dad, "is always in style."
Have you considered a Premium Artist Listing?  With each letter, an artist is featured at the bottom of this page. The Premium Artist Listings are a means of connecting artist subscribers through their work. Proceeds from each listing contribute to the production of The Painter's Keys. 
"The best feedback in the world, the only feedback you can trust, is sales." (Barbara Corcoran)
No Featured Workshop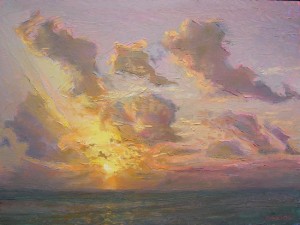 Shining Through
oil 12 x 16 inches
Featured Artist
Capturing the beauty of nature and expressing those impressions in oil paint is a joy. Every hour of the day presents new possibilities and keeps even the same landscape location, same composition, an ongoing and beckoning challenge. For this reason, I love painting series: it is exploration made visual.