Dear Artist,
A subscriber asked us this question for a university thesis: "Why do you make art?" I included it in a previous letter and some responses came in.
I knew we were onto something when another subscriber wrote, "The gift was recognized very early in my life. There were marvellous tools at hand: pencils, crayons, coloured pencils, poster paint, etc. Producing art was an extension of myself on some other plane or level — spiritual. Life without this ability or desire is unimaginable. That's how important making art is for me. Inspiration comes in many ways — the light through a rain forest trail, the shimmer of the setting sun on a lapping ocean, the endless variety of skies. Often, it's a rush to assemble paints and supplies to depict what has inspired. Another rush comes by applying paint and the ability to recreate. There's never a moment of not knowing what to create, but rather having so many choices in the filing cabinet of my mind. Many times, two or more subjects will combine in one work, as it's impossible to stick to one."
"It never ceases to amaze me with the intricate beauty, colour, movement and thrill of nature. The endless patterns of flora, the rhythm of the ocean, the wave designs on the sand at low tide, and the vast array of bird and animal life. The sound of wings beating as birds fly overhead, the splash of waterfowl as they gently land on a river, the sound of breezes as they whisper through the foliage, the 'whoosh' of wind going through tall grasses, crickets calling out on a warm summer day. It pleases me if I can portray an artwork that lets the viewer 'hear' the sounds I love."
"Life without the beauty of creating art is something I cannot even begin to imagine. It's a thrill when viewers show me that they like my work. That reward is the ultimate experience. It's a sharing of my very heart and soul. I feel fortunate in making art and find satisfaction in associating with others doing the same. There's a kindred spirit in artists and friendships to be made. I even married one, very gladly, as I knew there was a bond that reached beyond the love between a man and a woman — a bonus to share. We relish each other's ability and successes. I love making art!"
Best regards,
Robert
PS: "We lived in a continuous blaze of enthusiasm. Above all we loved this country and loved exploring and painting it." (Lawren Harris)
Esoterica: Above all it's a way of life. A life in art is a way of seeing and being. One floats on a river of joyful challenges. We artists give daily thanks for the miracle of our planet and for the inclination and the capability to honour it. "You may even do foolish things, but you will do them with enthusiasm." (Colette)
This letter was originally published as "Why do you make art?" on April 2, 2002.
The Letters: Vol. 1 and 2, narrated by Dave Genn, are now available for download on Amazon, here. Proceeds of sales contribute to the production of The Painter's Keys. Proceeds of sales contribute to the production of The Painter's Keys.
"Art is the beginning of vision into the realm of eternal life." (Lawren Harris)
Featured Workshop
July 27, 2018 to August 1, 2018
Join internationally acclaimed award winning artist, teacher, speaker and art coach, Gwen Fox, and international speaker, author, psychotherapist and writing coach, Junie Swadron for 5 days of magical artistic expression.
These five days are devoted to igniting your creativity, imagination allowing you to reconnect with your personal sense of beauty and truth.
Both collage and writing have enormous power to invoke your muse and the invisible intelligence that emanates from your heart.
You do not have to have previous experience in painting, collage or writing. Cost of the Retreat…..$1395
For more information: https://gwenfox.com/workshop/creating-visual-memoir-using-writing-collage/
If you have any questions please email gwen@gwenfox.com or phone 575-751-0183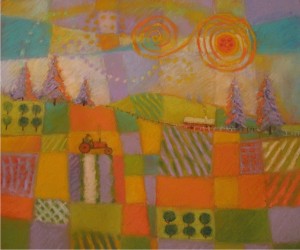 Sunrise Over the Farm #2
original pastel 15 x 15 inches
Featured Artist
Mary's interest in pastel painting began during her years at Whitworth College in Spokane, WA where she majored in art and elementary education. Though she has worked in watercolor and oil as well as calligraphy, her interest has consistently turned primarily to pastel because of the medium's potential for glowing, vibrant color and the harmony achieved in bringing together lights and shadows.