Dear Artist,
James Harvey, not yet one year old, moved with his family from Toronto to Detroit in 1930. After studying painting at the Art Institute of Chicago in the 1950s and designing window displays in Detroit, James moved to New York to try and break into the art world. He took a job for $55 a week in the studio of industrial and packaging designer Egmont Arens and started showing his abstract expressionist oil paintings around town. For two years, he worked with a team to redesign the Philip Morris cigarette package — an also-ran to the post-war streamlining going on over at Lucky Strike. From 200 versions, the ad execs at Philip Morris chose what James thought was the most mediocre of the bunch. From the "quaint-looking, brown, old-Englishy, shoppe look," said James, to "red-and-white, geometric, rather banal, modern-looking things that you can't tell from any other cigarette package, it's a committee-arrived-at thing."
Soon after, Arens fired his creative team and James went to work with his colleagues, forming the new creative agency, Stuart and Gunn. There, he designed for Pepsodent and Ipana toothpastes, all the while complaining of a lack of inspiration and creative autonomy. "It is a totally mechanical process," he said. "I could do it in my sleep."
Meanwhile, across town, another blue-collar-raised son of immigrants had also been designing windows and then began doing illustrations for Glamour magazine. By 1962, he started repurposing the graphics and iconography of commercial package design for his own fine art. Andy Warhol was being panned by the critics for his vapid Campbell's soup cans and for pumping out almost mass-produced silk screens of Hollywood celebrities. In 1964, James walked into the Stable Gallery in New York to check out Andy's latest show. One visitor had already written the word "SHIT" in capitals in the guest book. Inside, 400 replicas of supermarket product boxes were stacked as if the gallery were a stockroom. Amongst the Heinz, Del Monte, Mott's and Kellogg's packages, the most seductive were the graphically sound, clean-lined, 120 red-and-white boxes for Brillo cleaning pads. "Oh my god," said James. "I designed those."
Sincerely,
Sara
PS: "They always say time changes things, but you actually have to change them yourself." (Andy Warhol)
Esoterica: James chatted with Andy at the opening and laughed off the steal. Andy didn't know that James was the designer. James' dealers at the Graham Gallery issued a press release on behalf of Stuart and Gunn: "It is galling enough for Jim Harvey, an abstract expressionist, to see that a pop artist is running away with the ball, but when the ball happens to be a box designed by Jim Harvey, and Andy Warhol gets the credit for it, well, this makes Jim scream: 'Andy is running away with my box.' What's one man's box, may be another man's art." Two years later, James would show his paintings for the last time — what the New York Times described as, "dynamic, restless, and painted with rich skill." Eight months later at age 36, he died of cancer of the blood and his family took the contents of his studio home to Detroit.
In 2016, Lisanne Skyler wrote and directed a short film for HBO about the Brillo box her parents bought for $1000 in 1969. Purchased from a New York City art dealer who had bought it for its original price of $200, Lisanne's father convinced the dealer to have Warhol break protocol and sign the box, and then he encased it in plexiglass. The Brillo box sat in Lisanne's family room as a coffee table for two years before her father sold it as part of his ever-changing contemporary art collection. Forty years later, after completely losing track of it, Lisanne opened a Christie's catalogue and saw her family's box, attended the auction and watched the hammer fall at over 3 million dollars. "I thought that the best way to tell a story about art collecting," said Lisanne, "and the complicated way emotions and economics co-mingle in the buying and selling of art, would be to follow the path of one work across time and changing landscapes, to look at the different decisions that shaped its journey, and explore the complex, deeply personal, even idiosyncratic, way we value art."
In 1964, after the Brillo boxes were banned from entering Canada because they could not be deemed works of art, an interviewer questioned Andy:
Inteviewer: "The Canadian government spokesman said that your art could not be described as original sculpture. Would you agree with that?"
Andy: "Uh, yes."
Interviewer: "Why would you agree?"
Andy: "Well, because it's not original."
Interviewer: "You have just then copied a common item."
Andy: "Yes."
Interviewer: "Well why have you bothered to do that? Why not create something new?"
Andy: "Uh, because it's easier."
The Letters: Vol. 1 and 2, narrated by Dave Genn, are now available for download on Amazon, here. Proceeds of sales contribute to the production of The Painter's Keys.
"They copied all they could follow, but they couldn't copy my mind, so I left them sweating and stealing a year and a half behind." (Rudyard Kipling)
Featured Workshop
September 10, 2018 to September 14, 2018
Enjoy five full days of drawing and painting at Mill Road Studio in Port Rexton, NL. Work in the studio overlooking scenic Trinity Bay, and en plein air in the stunning coastal landscape with dramatic cliffs rising up out of the North Atlantic.
The cost is $1250.00 CDN including lunch and all materials.
Sessions run from 9:00 a.m. – 4:00 p.m. each day.
For more information please write szeifman@millroadstudio.com
or phone Stephen Zeifman at 709-464-3907.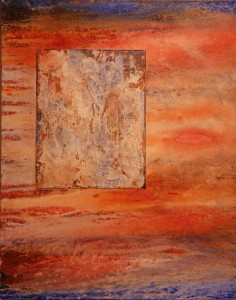 Transition
Featured Artist
Painting is my passion and joy.  My process is intuitive, though informed by good composition and design principles.  I paint what I remember, or think about, or feel, or just what comes off my hands to the brush to the canvas.  Texture and color are of primary importance to me.  I typically choose my support, texture it, select my palette, and go.  There is nothing more satisfying to me than watching paint run and move.  I love the surprises. I experiment and learn constantly.  It is a remarkable journey.  One I am pleased to share with you.