Dear Artist, Every day the news gets worse for men. More and more women are taking our jobs — mainly because they're better at them. Apparently, they have superior management, networking and focusing skills. As everyone knows, the wine industry has lately discovered that women have better noses than us — even though ours tend to be bigger. Yep, at tasting, testing and judging wine, women win nose down over purpose-trained celibate monks. Something in women's nosal evolution just turned more refined. I'm sticking by my prediction that women are going to be the top refined artists by the end of this century. Statistics will prevail — there are now four female artists for every male — the highest percentage in history. Women are apparently superior in how they see colour. According to X-Rite (the people who supply Munsell colour products), 1 out of 255 women and 1 out of 12 men have some form of color vision deficiency. They've provided a free colour test online that you can access
here.
  I invite you to take this test and send your result along to me at rgenn@saraphina.com (Please include your gender — apparently there are some men named Susan) Results range from 0 (top score) to about 90 (colour dunce). My score was an embarrassing 40, and so far every single one of the females I've asked to do the test have beaten me. Humiliating. We'll publish an overview of your results and male-female averages in the next clickback. Networking may be the female trump card. If a woman doesn't know, she often asks someone who does. A man will make it up as he goes along. What passes for imagination in a man is sometimes just a case of stubborn resistance. Female attendance in learning venues continues to go up. My daughter, Sara, and I are giving a four-day workshop at a trendy vegan retreat called Hollyhock from August 3rd to 7th. Reviewing the final list of our 38 attendees to "Colour, Commitment and Creativity," we find that every single one of them is a woman. What does this mean? Are all the men too conservatively bound up in getting and spending to take time to bond, eat tofu and top up their latent creativity? What's the world coming to? Best regards, Robert PS: "Women who seek to be equal with men lack ambition." (
Timothy Leary
) "Well-behaved women seldom make history." (
Laurel Thatcher Ulrich
) Esoterica: I asked my friend Joe Blodgett to give advice on the situation. "We've got to fight to maintain our place," he said. "How important is a colour test anyway? The main thing is that male artists have courage to paint with character and efficiency." I asked him what he thought were the greatest male attributes that might keep us on top. "Audacity, courage, bombast, guts," he said. "A lot of men have turned into namby-pamby wimps," he added. Joe and I would have followed the conversation further but he had to go home and mow the lawn.
Where's the beef?
by Mike Barr, Adelaide, South Australia I scored an 8. I am a 56-year-old male. You scored a 40 but I wonder what your score would have been when you were younger and, really, as your old 'friend' Joe has commented, "How important is a color test anyway?" I love Joe's comments. He is so politically incorrect — but so correct! There may well be 4 to 1 ratio of female and male artists, but there is also a glut of poor art in the world, like there has never been before, as well. As for no boys registered for the workshop vegan retreat — Robert, men need meat!!
There are 2 comments for
Where's the beef?
by Mike Barr
Men not confused by color
by Jane Angelhart, Denver, CO, USA Loved your post today about women in art. I have been aware of men's inferior ability to discern colors for as long as I have been teaching and painting. I think this is why men have been historically stronger painters. They are not confused by color. Women looooove color… Look at the way we dress compared to the way men dress. Male painters are drawn to light and dark patterns (like striped and spotted animals lurking in the jungle… the old 3 to 5 values per painting idea… strong compositions) and women are drawn to the ripe berries and bananas (chaos… colors gone amuck). If women are able to shed the distraction of color, they will become better painters. I struggle with it daily… you men have it easy!
There are 4 comments for
Men not confused by color
by Jane Angelhart
Some women have more color receptors
by Karen McLaughlin, Philadelphia, PA, USA Not only do many men have dichromatic color deficiencies, it is also thought that some women have an ability to see millions of colors through a phenomenon called tetrachromacy (four color receptors instead of the usual three). "The average viewer can see about one million colors," says Jay Neitz, a renowned color vision researcher at the Medical College of Wisconsin. It may be impossible for us trichromats to imagine what a four-color world would look like. But mathematics alone suggests the difference would be astounding.
Men have nothing to fear
by Brenda Hofreiter, Orlando, FL, USA This news is, of course, no surprise to any woman who has worked or lived with men. Men know it, too, and have a deep fear-based inferiority complex about it. That is why women have been routinely repressed, subjugated and abused by primarily male-dominated societies since time began. It is amazing what happened when birth control was introduced into society. The world changed within one generation. Don't get me wrong. I think men are wonderful and I have life-long husband and son whom I adore, but the facts are the facts. That being said, I really don't know that color perception should be the ruler to judge artistic proficiency, but I guess it does explain the tendency for men to cling to the "school of gray" in their work. Every artist does know that just slinging color at it does not make a piece of artwork! Relax, I don't think men have anything to fear here.
Preference for working with men
by Carole Dwinell, Martinez, CA, USA Here I have to disagree. I have found that men are easier to work with, are more down to earth, have less baggage, and usually have a genuine interest in what one is doing rather than an pseudo intellectual version that has more to do with "What does this mean in my life" that seems to be inherent in the context of women. Men are more straightforward, say what they mean, for the most part, have no ulterior motives and generally are just more fun to be around. What that has to do with the market place, I'm not sure. I think you are right in saying that "women have superior management, networking and focusing skills," but in the context of… what? And that, I believe, is a critical question. Does it come from the familial skills, the hunger to be equal to men, the 'proving oneself' attitude? I don't know. I just know that I prefer to work with men. At any level, any project. About your workshop: Maybe the men are at work.
There are 2 comments for
Preference for working with men
by Carole Dwinell
Passion was doused
by Michele Bottaro, Santa Rosa, CA, USA I am female, age 54, and according to the test, I have perfect color acuity with a score of zero. I didn't quite understand how to relate my score to others using the results page. Not sure if I'm average for women my age. I also wondered to what degree color correctness of one's monitor might affect the outcome. I have an i-Mac with good resolution. I love, love, love color! Color mixing is a joy for me as I understand color very well. I also fall in the upper 90th percentile in mechanical abilities, or at least I did when I was in my 20's. I'm good at tasks such as "box folding" in my mind's eye. Very much a visual thinker to the point that I have to look away while talking to people because I often get utterly distracted by their eyes and facial features and lose my train of thought. I went through an art program that was run pretty much exclusively by very intense male art instructors. I have to say my experience there was harsh. At least 80 percent of the art students were female, and most of us came away feeling depleted. I felt utterly drained and disappointed in myself in the long run, as if nothing I did could ever measure up. I still feel ashamed of not painting after working so hard (magna cum laude with distinction) for my degree. I need a shrink, no doubt, but it galls me that my passion was doused so thoroughly when I'd started out so inspired.
There are 5 comments for
Passion was doused
by Michele Bottaro
Really annoyed at being a woman
by Shirley Peters, Putney, NSW, Australia You have touched a raw nerve for me here. You have pointed out how many more women are practicing artists than men. "Statistics will prevail — there are now four female artists for every male — the highest percentage in history." So tell me, why are more men represented in galleries, art prizes and grants? Take our local Hunters Hill art prize. There were hundreds of works accepted, and I'd guess that 75% of the artists were female. Of the five winners, four were males. The Archibald Prize for Portraits (Art Gallery of New South Wales) had 41 finalists of whom 14 were female and 29 were male. (They don't advertise all comers, but my bet is that more women than men would have entered.) If all names were erased or covered, and the judges did 'blind' judging, like with wines, I'm sure that the male/female ratio would reflect the initial submissions. It's really annoying if you are a woman, because it seems you are not on the preferred list from the start. I don't think judges deliberately choose male artists, but I do think there is an inherent lean towards them. I'm almost at the stage of dropping my first name and becoming S. A. Peters, just so that I get a fair go.
There are 7 comments for
Really annoyed at being a woman
by Shirley Peters
Men in workshops
by Leslie Bishop, Fredericksburg, TX, USA I have often wondered why the few workshops I've attended have been almost exclusively 'hen parties.' I've viewed the few males as brave, lonely and very self-conscious (maybe just a bit uncomfortable with their minority status) while the women are ready to pull out the bottle of wine and just have a paint party – whatever the results. This is not saying the women are not very serious about what they want to learn from the workshop. Quite the opposite. But they seem more accepting of their imperfections and a bit more relaxed about addressing them. These are gross generalizations, of course. As a woman, I would feel very uncomfortable being the only representative of my gender in a class. Just old fashioned, I guess. But I'd love to see more men in the workshops. They could 'identify' with each other and appreciate some of the situations unique to their gender. They may be more comfortable and relaxed to have someone else from their tribe. And in general, it's just more interesting to have both sexes learning, sharing input, analyzing, discovering, etc. It's like mixing 2 primaries to get a secondary. BTW, I scored a 4 on the color test.
There is 1 comment for
Men in workshops
by Leslie Bishop
Is stubbornness a quality?
by Gerti Hilfert, Langenfeld, Germany I agree with you about women and networking. But I also believe that the younger males are more open than the older. Former generations were raised to be ideally perfect. From that point there happened too many tragedies around all areas of life. Including the funny stories about the stubborn … I know a male who wanted to visit his old friend 120 kms far from his home. He went by car, arrived the city, but couldn't find the exact place. Instead stopping once to ask a passerby for the address or even start his try from a phone box (there were no cell phones then) he circled by car for about 4 times around that place. At least to find himself in big anger about himself, the whole world and that old friend, too. So he decided to resign his meeting, leave that "terrible" place, and drive back home — again 120 kms for nothing. As I heard he wasn't the only male who made such decisions. There were too many who were really scared about asking a stranger. Is stubbornness perhaps a preventing tool against fear?
Men need to get the message
by Lis Allison, Ottawa, ON, Canada Men have been coasting on the assumption that they were superior. For far too long, if a man decided to do something, other men, and all women, supported him and whatever he achieved was considered a wonder. Nowadays, he can no longer expect this. When are men going to realize that to 'win' they are going to have to compete? Don't just bitch that more women than men go to university — get busy and study and go there yourselves. Don't just bitch that more women than men take classes — sign up yourselves. The days of automatically being given status and support just because you are male are over! When I was a kid (60+ years ago), adults would ask me what I wanted to be when I grew up. I'd tell them firmly that I was an artist. They would chuckle indulgently and ask me, "Yes, but how many children do you think you'll have, dear?" No boy asked the same question would have had that response. Whatever he said, they'd take it seriously, and if he stuck to it for a few years, they'd start to help him achieve his ambition. Girls didn't get that; they were taught how to be nice to men. This has all changed, and the sooner men get the message, the sooner they can start to compete and things will, I think, become more equal. Right now men are being sidelined because they are still expecting something for nothing. In the workplace, women will work harder, be more dependable, smarter and easier to get along with, for less pay. In education, men think they can party and then pass the exam… while women settle down and study. If you want to get scientific about it, the reason for the change is simple – birth control, available to and managed by women. Women have taken full advantage; it's time men did, too. P.S. Your finding the colour test humiliating is funny! For years I've said that while women see all colours, men only see three: red, black, and other.
Archived Comments
Enjoy the past comments below for Are women superior?…
 Featured Workshop: Woodlands Art League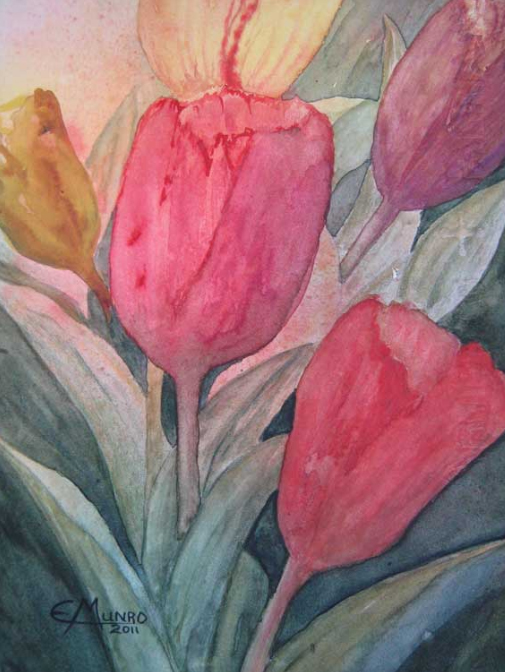 Tulips

watercolour painting by Elaine Munro, Canada

You may be interested to know that artists from every state in the USA, every province in Canada, and at least 115 countries worldwide have visited these pages since January 1, 2013. That includes Anna Morales Puigcerver of Barcelona, Spain, who wrote, "Thank you very much for the test. I took it twice (I couldn't resist a challenge like that, sorry) and the first time I scored 15 and the second 0. I'm quite happy about the results. They encourage me to carry on and trust in my visual perception of colour. I want to congratulate you on your inspirational and thought-provoking letters. I always read first thing in the morning when I am on my own, and I encourage you to keep painting and writing." And also Dee Poisson of Canada, who drew our attention to this excellent video. And also Bruce Argue of Lenham Heath, UK, who wrote, "Your funniest letter yet! I think women are delightful. They only made men to carry and protect the sperm and to put out the rubbish (then only when reminded). The only time a woman goes wrong is when she acts and thinks like a man. I shall pass on your 'good work' to more readers. Your letters are a must read for artists and all the others who need to be connect to the real world." And also Tricia Reichert who wrote, "Reading Blue and Yellow Don't Make Green by Michael Wilcox also helped me to better understand the leaning of colors and why color mixing is so important."