Dear Artist,
Yesterday, Linda Lee Nelson of St. Paul, Minnesota, asked some practical questions. Thanks for these, Linda.
(Q) Do you budget or monitor your costs and labor?
(A) I don't budget — perhaps I should. I like to be oblivious of costs and I certainly don't keep track of time spent on given works. My assistant is responsible where I am not. While art materials are relatively minor, larger items like buildings, travel and transportation are monitored. Like a self-employed farmer, practically everything, including the dog, is either deductable or depreciable.
(Q) Do you divide work into profitable and not so profitable? Do you do some work just for joy?
(A) I'm one of those artists whose regular work is done for joy anyway, but there are many sketches, experimental figurative work and playful abstractions that may be just given away. They offer a different kind of profit.
(Q) Do you make your income more on teaching workshops, or have other diversification?
(A) By far my main income comes from my paintings. I do occasional workshops as a change of pace, the need to find out what I think, and for the joy of seeing others flourish. Painter's Keys does not make a profit. I subsidize my twice-weekly habit with my painting.
(Q) Do you have health insurance and how do you pay for it?
(A) In Canada, health insurance is universal and relatively inexpensive. We pay about $300 every three months and this covers doctor visits and most hospital procedures. While I'm on a first name basis with an excellent doctor, I'm not using him much. Apparently, most health care money is burned up in the last fifteen days when the doctors are trying to keep you alive — which makes me think Jack Kavorkian had the right idea. I think when I definitely can't paint anymore I'll pull the plug.
(Q) Do you have any financial plans for retirement income?
(A) When I was quite young I started saving a small amount every month from my painting sales. I also contributed to a tax-protected savings plan (RRSP or 401k) which has now grown significantly. At age 75 I'm still painting and I don't often need any of the invested money. On the other hand, collectors are including my paintings in their retirement plans.
Best regards,
Robert
PS: Dealer to artist: "I've got some good news and some bad news. A guy came in here and bought ten of your paintings."
Artist: "What's the bad news?"
Dealer: "He's your doctor."
Esoterica: If I had to do it all over again I'd have kept better track of my work (photographic archiving and record keeping, particularly names of places and people) and I'd have focused more and taken wiser notice of my environment, particularly when I was in my twenties. I'd have worked harder, earlier, to balance the three prongs of my painting activities — working from my own reference material, working on location in the field, and making things up from my mind. I'd have been more supportive of others as well. FYI, we've put some of Linda Lee Nelson's work at

Letters of encouragement
by Marco Bell, Sarasota, FL, USA

My wife and I are full time artists and we get great encouragement from reading your installments. The most significant comment you made in this last letter was regarding your (Canadian) healthcare program…Yay!!! Cheers to those North of the US that can boast of that. I'm envious, as I haven't been able to afford any since 1984 when I was an Art Director. And equally admirable is your attitude about one's final days… Bravo! I simply had to write to Thank You. Keep up the great work, and live long (enough) and prosper!
There is 1 comment for Letters of encouragement by Marco Bell

Canadian health care
by Dr. Glen Champion, Saltspring Island, BC, Canada

I think you misled your correspondent, Linda Lee Nelson, regarding our health care here in Canada — $300 every three months does not fully cover "Doctor visits and most hospital procedures." Here in Canada we also pay high liquor taxes to pay for hospitals and a large part of all other taxes goes to support our health scheme. Misinformation such as this has led to the health care debacle in the US.
There are 5 comments for Canadian health care by Dr. Glen Champion

Estate planning
by JoAnn Clayton Townsend

These are really interesting questions. Thank you for allowing them and being so candid. I have an additional one. Perhaps you haven't thought about it since your paintings have more value. My work does sell (from a few hundred up to $3,500), but I'm not terribly prolific. My concern is about what happens when I'm gone and there are scores of my canvases left behind. Some are beautiful, some are good starts, and some I don't think so highly of and plan to repaint. Much can just be donated as art supplies to the local arts center. But beyond what family wants, what becomes of this material? Yard sales? Any ideas?
(RG note) Thanks, JoAnn. Your concern is the concern of many. An artist needs to act wisely and providentially regarding a creative estate. I've dealt with the subject before — prior letters and their further input can be found here and here.

Pulling the plug
by Sheila Psaledas, ME, USA

I agree with Linda Lee's comment about letting Jack Kavorkian take care of the final details. I also loosely budget, because I am getting more sales now and my accountant will scratch and shake his head if I don't give him some meaningful paperwork at tax time.
(RG note) Thanks, Sheila. And thanks to all the others who wrote advising me how to go about pulling the plug. It might come as a surprise to some, but Jack Kavorkian enthusiastically took up painting late in life.

Second opinion
by John Ferrie, Vancouver, BC, Canada

Here are my answers:
(Q) Do you budget or monitor your costs and labor?
(A) No, and although I only really buy three things for being a painter, art supply stores are like a shoe store for women. They can be like painters "crack." We buy what we need, buy what we don't need, stock up and pay far too much for an exquisite brush that we are only going to abuse, leave to dry and torture with solvents and pigment.
(Q) Do you divide work into profitable and not so profitable? Do you do some work just for joy?
(A) Of course. Ninety percent of what we do is just for us. We ponder and wonder if things are going to read. But an actual gallery showing can be a long way off. Meanwhile, we want to keep our hand in the process and you never know when the next big thing is going to happen. Perhaps with this piece….
(Q) Do you make your income more on teaching workshops, or have other diversification?
(A) I have a regular day job that I call my "money job." I'm a waiter in a restaurant. I am good at it, though, and often find a client in the field there. It is fast and usually easy money… I don't take my job home with me at night.
(Q) Do you have health insurance and how do you pay for it?
(A) Robert and I live in the same city so I have the same coverage. But good luck getting anything 'extended' when it comes to health, i.e. dental or otherwise. Artists can be a flakey bunch and not terribly responsible. Coverage can be extensive.
(Q) Do you have any financial plans for retirement income?
(A) I am about to turn 50 and for the first time in my life I am living debt free, have money in the bank and I have an RSP. I cannot believe how grown up I am. Saving money in any form, especially when you are an artist, is CRUCIAL! I wish I had listened to that advice when I was younger. But when you know better you do better. I will always be a painter. Whether or not people will want my works when I am 75 is another story.

It's in the book
by Ron Wilson, Victoria, BC, Canada

I have a copy of your 2010 book that includes all of your email letters for the previous ten years. I'm not a good reader. A passage or two at night is all I can manage before my eyes tire — I'm only on page 623… like all your Kelly McArthurs, life gets in our way, and in reading your book we see there's someone out there who feels the same way as we do. Nearly all the twice-weeklies resonate, yet your Box of Paint rings so true that I had to write and express my appreciation. I am not that stow-box person but your Esoterica describes my own youthful meanderings so very aptly. On behalf of (if not all) your readers — thank you.
(RG note) Thanks, Ron. It's definitely not a book you can sit down and read through at one sitting. I recommend people who have The Letters first read the section at the back where all kinds of subscribers whom I have never met write to tell me where to get off. Some say nice things too. It's a hoot. It puts the whole effort into perspective.
There is 1 comment for It's in the book by Ron Wilson

Part of the enlightenment
by Betty Leonor, Bakersfield, CA, USA

I do not have formal art training, and though I've been painting for over 20 years, the first 19 years I didn't paint for the public. I painted only when I had the time and for my own pleasure. Your guidance was heaven sent when I found a used copy of your book 'The Painter's Keys' 3 years ago. It was the first book I read right when I had decided to leave my day job and solely paint. I have not looked back. The hardest part for me though was going public with what always to me was only personal. I have read all the suggested books from your letter on going back to basics. I have my websites with the pieces I have created since following your reads. I do get positive feedbacks from my tiny fan base but I do not know how to get more recognition, if a gallery would notice me, or if there is a place I should turn now. I am interested in signing up for your Premium Listing but I am not sure if my work is in the right stage yet or suitable. Please advise. Thank you again for so much enlightenment.
(RG note) Thanks, Betty. The Painter's Keys is now in its third printing and has been responsible for not a few leaving their jobs and becoming full time artists. I have answered Betty privately and with encouragement. Also, I wanted to mention that I do look at the work of every single artist who asks for a Premium Link on our site, and I offer a personal, confidential assessment. While we don't guarantee an immediate roaring success, with our large daily volume of visitors from all walks of life we certainly help artists to become better known.

Something to think about
by Linda Nelson, Arden Hills, MN, USA

WOW!!!!!! Robert, I can't thank you enough — for your time, for sharing your own answers, and for opening the conversation for others to think about and join in with. And to see my work at the top of the Painter's Keys site — all I can say is how I started this email…..WOW!!!!!!
There is 1 comment for Something to think about by Linda Nelson
Archived Comments
Enjoy the past comments below for Some practical questions…
 Featured Workshop: Dillman's Creative Arts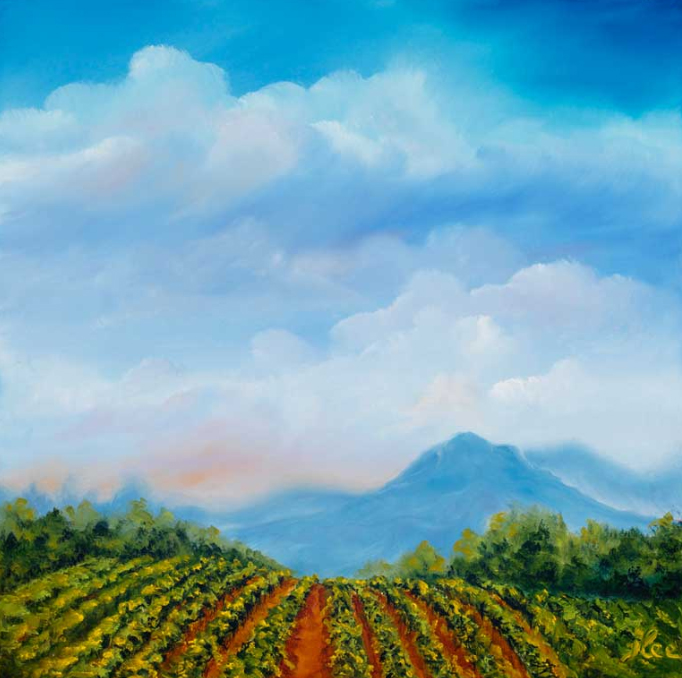 Autumn Vineyard
oil painting
by Jackie Lee
You may be interested to know that artists from every state in the USA, every province in Canada, and at least 115 countries worldwide have visited these pages since January 1, 2013.
That includes Edna Hildebrandt of Toronto, ON, Canada, who wrote, "I thank my lucky stars to finally pursue my love and passion for art after working for so many years and neglecting it."
And also Jonas Trilling who wrote, "Painters who do not make their living from their art should not be teaching it. Non successful artists should particularly not be teaching the business of art."