Dear Artist,
While taking a turn in the garden yesterday, I discovered the tiny, pricked egg of a song sparrow in the grass. Too small to have been made by the chick, the pinhole must have come from another, predator bird in search of a smoothie. "Hopefully his siblings had success," said a friend, when I sent her the image. With all of us in our individual rooms, the now all-day polyphony of happy birds in the garden tells me she's right.
Just a few minutes on the Internet took my IRL (In Real Life) find and deep dove it into an education of the eggs and nests of Southern California. Our marvelous learning tool is not just an encyclopedia of information, but also now the principle medium of connection for learning. I checked in with an artist friend in New York who also happens to teach first grade. "Is the future of learning online?" I asked. "Young children need eye contact and social communication," she lamented, "but we're figuring out how to engage and excite them in new ways, and will meet them where they are when this is over."
I thought about painting — a solo act that often happens within the confines of a sanctuary or alone in a field, your plein-air partner on the other side of the lake or an instructor momentarily vanished — all for the benefit of your privacy-requiring imagination to properly explore. And yet, we need to learn in all kinds of ways — including by watching our mentors. Stumbling around in the dark, alone forever will take us only so far. Communities like masters programs, painting clubs and workshops produce artists that speak to the value of their tribe and the experiences gained in the presence of a collective. And so, what to do while we wait to be together?
Sincerely,
Sara
PS: "What I believe is that all clear-minded people should remain two things throughout their lifetimes: Curious and teachable." (Roger Ebert)
Esoterica: Here are a few ideas: Revisit your old friends in your art book library and re-ignite the origins of your inspiration. Trade images of works in progress with a trusted fellow traveler. Focus on skill building and learning over sales and marketing. Give something away: The friend of a friend was feeling blue. My friend, who lives far away, asked if I might have something he could buy to give her, to bring comfort while she isolated alone in her new home. I told him to choose something, and made it a gift. Perhaps, like here, a tidal wave of kindness in the form of small, homemade things is appearing on your doorstep: lemon cake, oranges from a neighbour's tree, a book, soup. The answer to how an artist can reciprocate these acts of love has forever been in the studio. We can all, always let someone, somewhere, know they are not alone.
"For the things we have to learn before we can do them, we learn by doing them." (Aristotle)
I wish each and every one of you well during this global health crisis and encourage you to flatten the curve by staying at home with your creative materials. I hope our Painter's Keys community can be a source of friendship and creative inspiration during this time and always.
In friendship, Sara 
Have you considered a Premium Artist Listing?  With each letter, an artist is featured at the bottom of this page. The Premium Artist Listings are a means of connecting artist subscribers through their work. Proceeds from each listing contribute to the production of The Painter's Keys. 
"An artist must bear a special responsibility. He must be accountable for the content of his work. And that work should reflect a deep, abiding concern for humanity." (Charles White)
Featured Workshop
July 31, 2020 to August 5, 2020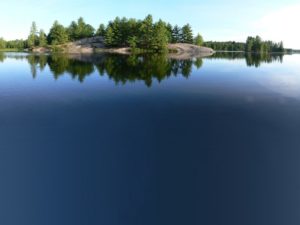 This retreat is an homage to early pioneers of plein air painting. We canoe-in and camp, paddling every day to our painting locations. This is a self-catered trip. We provide the canoes, life jackets and instruction. You bring your own provisions, tents, etc. The scenery in Kawartha Highlands is fantastic. Bald rock faces, sparkling lakes, majestic trees. Every direction you turn is another painting. Your instructor, Keith Thirgood, has been camping and canoeing all his life, and teaching artists his own unique approach to painting for over 12 years. Learn how to find order in the chaos, control your colours and create paintings that work. Learn modern colour theory, values, shapes and lines, what makes for a good painting.
If you need advice on the camping portion of the retreat, we have you supported. Even brand new canoeists have no trouble with this gentle adventure. This retreat is suitable for beginners wanting to learn to paint in a fun, outdoor location, as well as more experienced studio artists who want to try plein air, plus artists who are looking to loosen up and paint in a more post-impressionist style. To find out more and register, please visit 
www.wilsonstreetstudios.com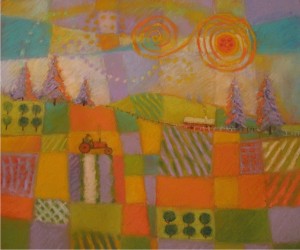 Sunrise Over the Farm #2
original pastel 15 x 15 inches
Featured Artist
Mary's interest in pastel painting began during her years at Whitworth College in Spokane, WA where she majored in art and elementary education. Though she has worked in watercolor and oil as well as calligraphy, her interest has consistently turned primarily to pastel because of the medium's potential for glowing, vibrant color and the harmony achieved in bringing together lights and shadows.