Dear Artist,
Some artists report periods of general anxiety that come and go during their careers. The condition may include heart palpitations, sleeplessness, panic attacks, depression and feelings of inadequacy. While some of these are just part of living, they can also be brought on by the insecure and sometimes difficult nature of the artist's life. There's that nagging fear that work is not coming up to expectations. There can be fear of change as well as fear of stagnation. Fact is that shadowy fears and tensions can block creativity, interfere with productivity, and drag down quality.
While it's difficult at arm's length to prescribe antidotes when specific professional intervention may be required, there are some tactics that often give relief. It's good to keep in mind that most creators become more fussy and particular as they go along. What might look fantastic to a twenty-year-old may not be good enough for a fifty. With aging, we discriminate more, often against ourselves.
Healthy self-delusion can go a long way toward controlling the problem. "Naming and claiming" appropriated techniques and systems gives ego-power to the studio. Creators with ripe imaginations can successfully delude themselves that they are the centre of the universe. It seems some artists saddle themselves with too much reality. Artists that I admire often have an outrageous and seemingly unsustainable fantasy of self worth. It's not always that nice to behold, but it's the glue that keeps them from going off the rails.
Another often effective antidote is simply a change of medium. Working within given media has a "life" that an artist can expect may diminish or even die. It's important not to get stuck in a medium when a shift from say acrylics to oils will press the refresh button. Doldrums induced anxiety can also be reversed by a wider, pro-active pursuit of variety and creative invention. The studio needs to be looked upon as the happy hunting ground of change. I often wonder how much of the anxiety that I hear about is the result of a boring routine and sameness that gives the solitary artist too much time to go over the negatives. Mature artists who beat this devil know that when personal processes become interesting in themselves, anxieties are somewhat diminished. For creators, there's nothing wrong with being self-absorbed.
Best regards,
Robert
PS: "A creative block is the wall we erect to ward off the anxiety we suppose we'll experience if we sit down to work." (Eric Maisel)
"Work done with anxiety about results is inferior to work done without such anxiety, in the calm of self-surrender." (Bhagavad Gita)
Esoterica: Declining prowess, both real and imaginary, can give performance anxiety to older artists. There's the fear that you've lost something that won't come back. It's good to keep on remembering that every work has to be seen freshly and caressed as if it was totally unique. Sustained interest and excellence are enhanced by nurturing and honouring the flow of love that goes into and comes out of the work at hand. I don't think there's a blue pill.
This letter was originally published as "General anxiety" on April 12, 2005.
I wish each and every one of you well during this global health crisis and encourage you to flatten the curve by staying at home with your creative materials. I hope our Painter's Keys community can be a source of friendship and creative inspiration during this time and always.
In friendship, Sara 
Have you considered a Premium Artist Listing?  With each letter, an artist is featured at the bottom of this page. The Premium Artist Listings are a means of connecting artist subscribers through their work. Proceeds from each listing contribute to the production of The Painter's Keys. 
"Anxiety is the hand maiden of creativity." (T. S. Eliot)
Featured Workshop
June 7, 2020 to June 16, 2020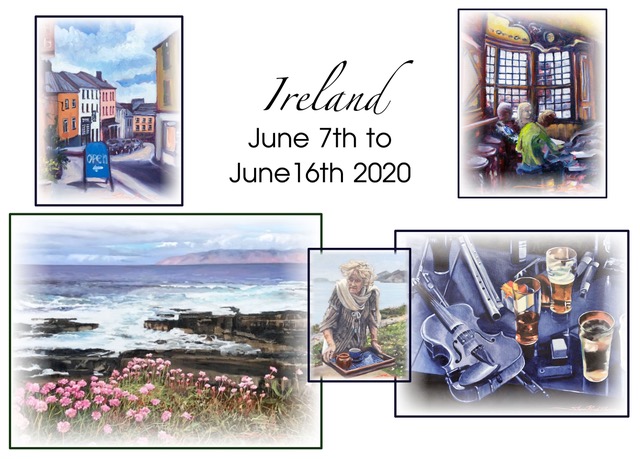 Join award-winning Plein air painter Sharon Rusch Shaver as she conducts her next exciting workshop to the Dingle Peninsula of Ireland. Painting daily in your chosen medium: oil; watercolor; pastel; pen and ink artists as well as photographers will find plenty of inspiration where the sea defines the life and creates excitement on this amazing Island. Daily demonstrations and one-on-one help will be provided for those wanting to learn how to work quickly capturing that changing light and color in their paintings.
Delicious chef prepared gourmet meals and a well-appointed ensuite rooms, as well as all ground transfers are included. All-inclusive* 9 nights accommodation, transfers, meals, and instruction. Go to: Adventure-Artists.com
Artist Sharon Rusch Shaver has postponed the Ireland Adventure until 2021. If you would like updated information about this an other upcoming adventures, you can get on her mailing list by visiting: Adventure-Artists
Join us!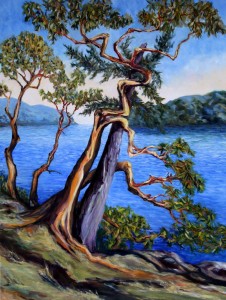 Southern Gulf Islands Afternoon 48 x 36 inch oil on canvas by Terrill Welch
Featured Artist
I am a landscape painter exposing the mystery in an ordinary day.