Dear Artist,
Annelise Fleischmann was a teenage art student from a wealthy German-Jewish publishing family when Oskar Kokoschka saw one of her portraits and asked her why she painted. She promptly quit, applying instead to the experimental Bauhaus School at Weimar, where she was rejected and then accepted after a second try. Because women were barred from most classes there except for weaving, Anni reluctantly eased into textiles. "To work with threads seemed sissy to me. I wanted something to be conquered. But circumstances held me to threads and they won me over."
When she was 26, Anni married Bauhaus Junior Master Josef Albers, who was heading the glass studio. Her teacher, Paul Klee suggested his students "take a line for a walk" — and so she did — in thread, improvising and inserting textural and visual mystery into what had been considered an inferior art form. Through her interests in architecture, design and painting, Anni pioneered new forms of construction, bumping textiles from basic functionality to advancements in light reflection, sound absorption and durability, and in finding ways to control warping and wrinkling. She morphed between uncomplicated, criss-crossing weave patterns and complex, irregular compositions while experimenting with transparent cellophane, metallics, jute, horsehair and paper to amplify surface qualities and pictorial elements. Something began to shift — to blur and democratize the applied arts and fine arts in her creation of beautiful, inventive and useful things. By the time she was 32, Anni was heading the weaving workshop.
In 1933, as the Nazis were shutting down the Bauhaus, Modernist American architect Philip Johnson invited the Albers to teach at the experimental, idealistic and arts-driven Black Mountain College near Asheville, North Carolina. In America, Anni would teach weaving and textile design and create her own diverse body of work that included drawings, wall hangings, curtains, bedspreads, pictorial works and mass-produced material, often inspired by her extensive travels and collecting. She deconstructed traditional Mexican and Peruvian textiles to understand how their designs were planned while also riffing on the cool rhythms of modernism and playing at the most futuristic possibilities of her medium. "A longing for excitement can be satisfied without external means within oneself," she wrote. "For creating is the most intense excitement one can come to know."
Sincerely,
Sara
PS: "Being creative is not so much the desire to do something as the listening to that which wants to be done: the dictation of the materials." (Anni Albers)
Esoterica: Anni came to call weaving "a many-sided practice," making it her own and advancing the art form. "Most of our lives we live closed up in ourselves, with a longing not to be alone, to include others in that life that is invisible and intangible," she wrote in her 1982 essay Material as Metaphor. "To make it visible and tangible, we need light and material, any material. And any material can take on the burden of what had been brewing in our consciousness or subconsciousness, in our awareness or in our dreams." At 64, Anni took up printmaking, and began to focus heavily on lithography and screen printing. Josef, who had become the chair of the design department at Yale, died in 1976. Anni continued to work and exhibit until 1994, when she passed away at the age of 94.
"You can go anywhere from anywhere." (Anni Albers)
Sara Genn: New Alphabet is on view until October 17th, 2019 at Dimmitt Contemporary Art, 3637 West Alabama Street, Houston. 
The Letters: Vol. 1 and 2, narrated by Dave Genn, are available for download on Amazon, here. Proceeds of sales contribute to the production of The Painter's Keys.
"Besides surface qualities, such as rough and smooth, dull and shiny, hard and soft, textiles also includes colour, and, as the dominating element, texture, which is the result of the construction of weaves. Like any craft it may end in producing useful objects, or it may rise to the level of art." (Anni Albers)
Featured Workshop
October 11, 2019 to October 16, 2019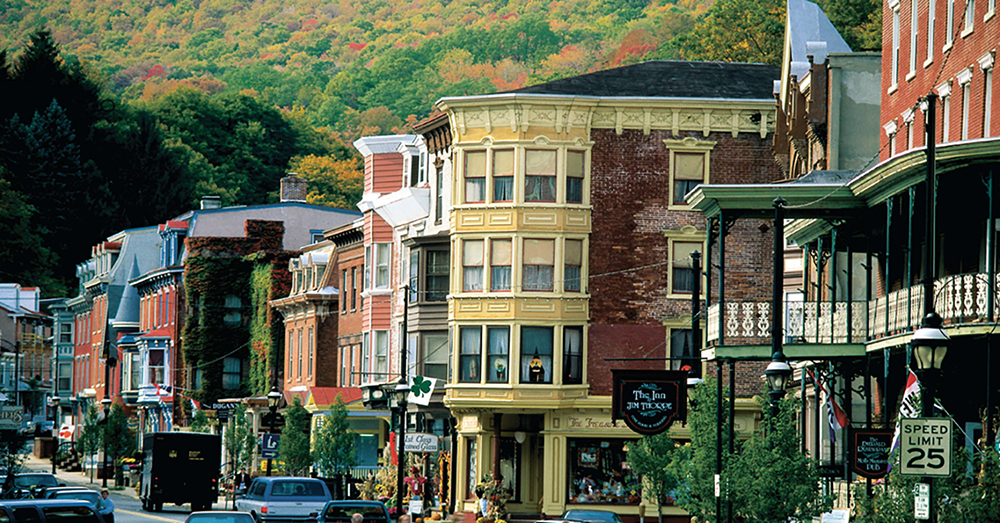 Join David Beale for his annual fall water media workshop sponsored by the Picture House!  This year we will paint in the scenic Southern slopes of the Poconos around the town of Jim Thorpe, PA. The dates are from Friday, October 11 to Wednesday, October 16, 2019.
The workshop will be taught by David Beale, popular watercolor instructor and owner of the Picture House.  See David's work at davidbealeart.com
David has taught workshops across the United States and abroad throughout Ireland, on Lake Como in Italy and in Barcelona, Spain. 
For details, see Painting Autumn in the Poconos.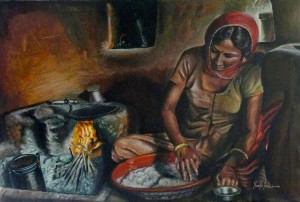 Woman preparing chappaathi
oil painting
Featured Artist
I, Ramya Sadasivam, have been practicing art since 2006. I so love to portray Indian culture, customs, day to day chores of the hard-working laborers, happy village life and life of women. I love to capture the difference in values between the shadows and bright light and also I like to capture genuine emotion.