Dear Artist,
In the incredibly dark and grubby Odessa airport, waiting for the short flight to Kiev, I find a crumpled copy of the English-language Herald Tribune. While most of its words appear well used by previous travellers, there's an interview with 76-year-old American author John Updike. "I've tried to avoid teaching," he says, "which for all its charm takes a lot of your energy and makes you doubt yourself."
Charming, for sure, I'm thinking. There's that terrific feeling you get when you see the lights come on in students' eyes. Watching improvement in others has to be one of the great highs. For those of us who love to spin knowledge, preparation itself opens up exciting new directions. Further, during delivery, the teacher finds out what she thinks by hearing what she has to say.
But teaching takes a special kind of energy. Lots of it. Frankly, I don't know how they find it. Arriving home from the schoolroom, many of my art-teacher friends have to put their feet up and debrief with something like Vodka or the decorating of eggs. Exhausted, many have trouble getting to the studio. Like those undersized tubes of Ukrainian toothpaste, they are used up.
Updike's third point — teaching makes you doubt yourself — is worrisome and worthy of consideration. Within words themselves there resides the potential disarmament of creative action. Art is a doing thing. It favours self-discovery and process while eschewing words and theory. It thrives on silence and contemplation. Some artists report that creativity requires a sort of blind energy and focused ignorance. The seeds of doubt may be sown by knowing too much. If this is the "teacher-mind," and I'm not sure it is, the antidote may be enforced mutism. This may seem harsh in a free country, but with the mouth closed, stuff comes out of the brush — or pen. Even those who teach by showing and doing expend resources and might just be subconsciously cheapening their passion.
John Updike saw teaching from both sides. He understood what he had to do to become a creator. "Four years was enough of Harvard," he said. "I still had a lot to learn, but had been given the liberating notion that now I could teach myself."
Best regards,
Robert
PS: "The artist brings something into the world that didn't exist before, and he does it without destroying something else. A kind of refutation of the conservation of matter." (John Updike)
Esoterica: Or you might be one of those teachers who believes that the more you give the more you get. By sharing, guiding and watching, you become party to personal growth. For this exalted state, words and explanations need to be seen as expendable. By giving to others in a playful way we may leave ourselves more intact, and squeeze more out of ourselves. May we never run out of Squibb.
This letter was originally published as "Thoughts on teaching" on October 31, 2008.
Sara Genn: New Alphabet is on view until October 17th, 2019 at Dimmitt Contemporary Art, 3637 West Alabama Street, Houston. 
The Letters: Vol. 1 and 2, narrated by Dave Genn, are available for download on Amazon, here. Proceeds of sales contribute to the production of The Painter's Keys.
"Dreams come true; without that possibility, nature would not incite us to have them." (John Updike)
Featured Workshop
February 19, 2020 to February 26, 2020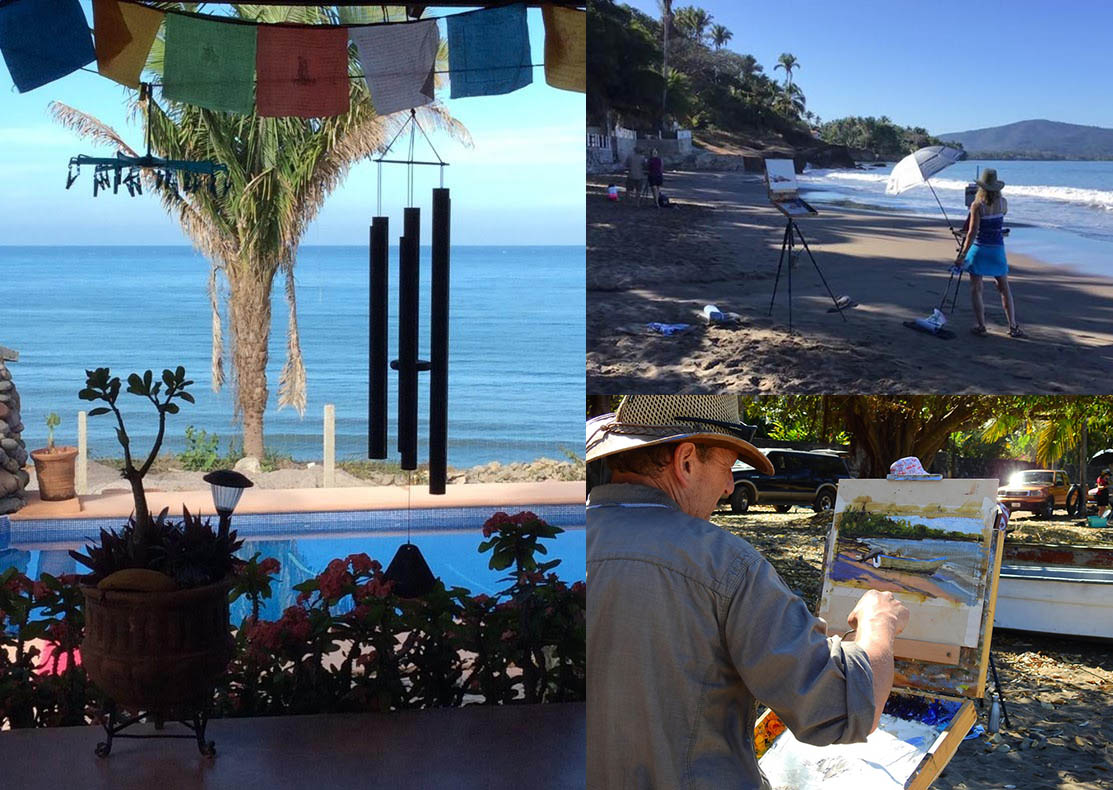 If you live in the cold north like I do, this is the BEST thing you can do with a February – believe me! Join me, Hermann Brandt for my 4th annual PLEIN AIR workshop/retreat on the west coast of sunny Mexico. Casa Buena Art Retreat Center is a beautiful private residence overlooking the ocean. While our vivacious hostess, Jane Romanishko takes care of almost every need, I will guide you through the process of identifying, designing, composing and painting the gorgeous land and seascape that surrounds us. Medium: oil or acrylic.
At the end of each day, we gather on the veranda by the pool and critique our work – it's a beautiful thing :-)
I endeavour to run a friendly, encouraging, no-pressure workshop so beginners are welcome. Minimum of 6 participants. IMPORTANT: Registration by 1 Dec 2019
I look forward to painting with you
Featured Artist
Gardens are my enduring inspiration, and getting to the heart of the flower, my passion.