Dear Artist,
Before 1956, Desmond Morris was a surrealist painter who had recently completed a doctorate in zoology at Oxford. That year, he began studying the picture-making abilities of two-year old chimpanzee Congo, a resident at the London Zoo. As Morris had recently agreed to host a show on animal behavior for Granada TV, he caught the whole thing on film.
Morris put a pencil in Congo's hand and quickly surmised that the chimp was making aesthetic decisions. For example, Morris gave Congo a card with a square drawn in the middle and noticed that he began his mark making in the centre of the square, then would shoot lines out of the square, then obliterate the square. Congo also drew circles and balanced off-centre compositions. When Congo switched to paint, his work took on an expressionist energy and became organized into a radiating fan pattern. Soon, like most toddlers, Congo was classified as a lyrical abstract impressionist. Within a year, though, he'd sold out a show at the Institute of Contemporary Arts in London.
If you're wondering if Congo was a bit of an outlier, Morris studied the creative habits of many of the chimpanzees at the zoo, and Congo's development stood out. Chosen at first for his boisterous personality, Congo began with scribbly lines and splotches but his compositions soon matured into crafted ones — what artnet writer Taylor Defoe recently described as demonstrating "a formal logic without having an obvious analog to the real world. Just as Pollock, de Kooning, and Kline were exploring the limits of pictorial abstraction, so too was a three-year-old chimpanzee." Morris and Congo's discoveries were collected in Morris's seminal 1967 book The Naked Ape: A Zoologist's Study of the Human Animal. Congo died from tuberculous in 1964 at age 10.
Sincerely,
Sara
PS: "They're actually very good." (James Mayor, director of the Mayor Gallery, London)
Esoterica: After his 1958 sell-out at the ICA, Congo continued to paint and would crank out over 400 drawings and paintings over three years. Picasso hung one in his studio. So did Miró and Dali and the Duke of Edinburgh got one, too. And in 2005, over 40 years after his death, a few of Congo's paintings appeared in an auction at Bonhams — alongside works by Renoir and Warhol — and sold for stratospherically higher than their estimates of £600. This coming winter, the last of Congo's oeuvre will be shown in an exhibition at The Mayor Gallery in London after Morris, now 91, has decided to release all but one from his original collection. "It's now more than a scientific experiment," Morris says. "It has now become a bit of art history."
"Something strange was coming out of the end of the pencil. It was Congo's first line. It wandered a short way and then stopped. Would it happen again? Yes, it did, and again and again." (Desmond Morris, 1957)
Sara Genn: New Alphabet is on view until October 17th, 2019 at Dimmitt Contemporary Art, 3637 West Alabama Street, Houston. 
The Letters: Vol. 1 and 2, narrated by Dave Genn, are available for download on Amazon, here. Proceeds of sales contribute to the production of The Painter's Keys.
"Success has to do with deliberate practice. Practice must be focused, determined, and in an environment where there's feedback." (Malcolm Gladwell)
Featured Workshop
November 20, 2019 to November 27, 2019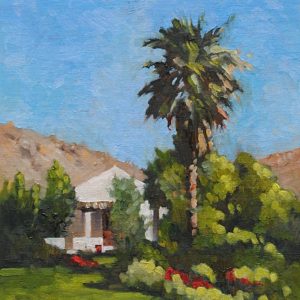 Join Canadian artist Sheree Jones as she shares her passion for painting "from life" at this idyllic coastal retreat.
This workshop is designed for experienced beginner & intermediate oil (and acrylic) painters.
The small group size guarantees plenty of one on one instruction.
While you're busy creating art, your friendly hosts at Casa Buena will be working hard, ensuring that your stay is a memorable one.
Outstanding food, accommodations, and field trips will satisfy your desire for both comfort and adventure. Non painting partners welcome.
For more information visit:
http://www.casabuenaartretreat.com/retreatSheree.htm
or contact Sheree:
sheree@shereejones.com
Featured Artist
My statement is pretty short. I love all kinds of paintings and I think Robert Genn is Canada's finest painter. A great feature of his work are his designs — so beautifully conceived.