On Friday we went to see What the Bleep Do We Know? It's part documentary, part entertainment, part lecture. After being recommended by so many fellow artists, I knew it would be like no other film.
It's about Quantum Physics. It asks and attempts to answer some of the big questions: Who are we, what are we made of, where are we going? The natures of intentionality, possibility, addiction, creativity, and self-love are examined and graphically demonstrated. Various scientists and other gurus speak candidly from the comfort of their labs or living rooms. You have to pay attention because there's lots to catch. We learn, for example, that an atom is made up mostly of empty space and is very similar in nature to a thought. This flick was right down my alley.
What does the film have to say to artists? Lots. Early on, for example, we're introduced to an ordinary looking guy who turns out to be Dr. Joe Dispenza, graduate of Rutgers, Doctor of Chiropractic, writer and lecturer on neurology and brain function. He tells us how our destiny can be designed. "When I create my day the way I want it to happen," he tells us, "out of nowhere little things occur that are inexplicable." According to Joe, these little things are also the result of our own creation. One must build a neural net in the brain in order to also accept these as possibilities. This is what gives power, incentive, and our true evolvement as humans. Reality, in Joe's world, equals life, and we must make a pact with them both. "I say, I'm taking this time to create my day, and I'm infecting the Quantum Field." Then Joe brings in the concept of Observer. "As the Observer's watching me the whole time that I'm doing this — then there's a spiritual aspect." Joe says you can design yourself as you wish — let's say as a genius. "Then you'll have thoughts that are so amazing — it'll cause a chill in your whole body."
As the reels roll we are dramatically shown that the god-like function — the Observer is actually ourselves. We begin to get a glimpse of a remarkable universe both neural and physical, where there is no total disclosure. But there is an illusion that we make for ourselves — in which we can choose and be effectively creative. As it turns out, our world is an even more fantastic and beautiful place than we might have previously thought.
Best regards,
Robert
PS: "The mystery of life is not a problem to be solved but a reality to be experienced." (Aart Van Der Leeuw)
Esoterica: Not all of the "experts" in this film agree with each other — but that's okay. We artists don't agree either – that's the beauty, that's the miracle. But it's clear that we have a universe that's full of possibilities – a sort of connective "Creator's Universe." Like Alice in Wonderland we have a choice how far we may want to go down the rabbit hole. And as Lewis Carroll wondrously noted, it gets "curiouser and curiouser."
This letter was originally published as "Bleep" on October 19, 2004.
The Letters: Vol. 1 and 2, narrated by Dave Genn, are available for download on Amazon, here. Proceeds of sales contribute to the production of The Painter's Keys.
"What we call fate does not come into us from the outside, but emerges from us." (Rainer Maria Rilke)
Featured Workshop
February 26, 2020 to March 4, 2020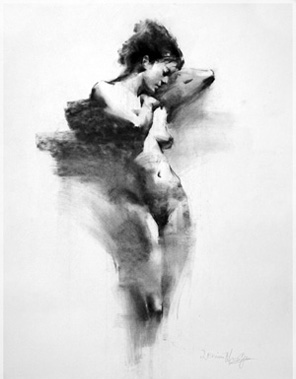 Learn from the Master! The way to do accurate drawing with painterly approach. Join us for this 7 day retreat with 4 day workshop in magical settings of Mexican back country with one of the best instructors of drawing the human figure. From short pose gesture and anatomy studies, to long pose painterly approaches, students will learn step by step the drawing methods, human proportions, anatomy and much more. Live model with small class size will insure lots of personal attention.
Henry Yan has been teaching at Academy of Art University in San Francisco for more than twenty years. His book, "Henry Yan's Figure Drawing – Techniques and Tips" published in 2006, has been widely used by art students and professional artists in the US and internationally.

Casa Buena Art Retreat is a calm and beautiful place to relax and explore your creative energy. Non painting partners welcome.
For more info check http://www.casabuenaartretreat.com/Retreat_HenryYan.htm
or contact Jane at janerom@shaw.ca
Featured Artist
Christine Hanlon, whose work has been compared to that of Edward Hopper, creates 'urban landscapes which quietly exude atmosphere.'