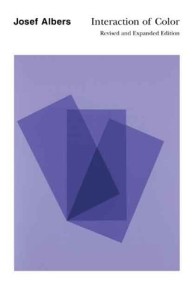 Albers, Josef

Josef Albers's Interaction of Color is a masterwork in twentieth-century art education. Conceived as a handbook and teaching aid for artists, instructors, and students, this timeless book presents Albers's unique ideas of color experimentation in a way that is valuable to specialists as well as to a larger audience.
"The basic source for all understanding of color and color theory." — reviewed by Dick Nelson.
View more books by Josef Albers.
Buy Here