Dear Artist, Recently, Tom Bennick of Mountain Home, Idaho wrote, "I'm a paper artist belonging to a small art group that puts on a couple of shows a year. Some of our members are adamant about not showing work that is done in a classroom. Much of my work is partly done in a workshop or class setting and because of this I'm not allowed to show. I completely understand that work needs to be juried, but what's this classroom thing all about?"
Where Good Ideas Come From
 by Steven Johnson is a new book that analyzes historic waves of human brilliance. Gutenberg, Darwin, the Wright Brothers and even modern computer whiz-bangs show that innovation comes from accumulated knowledge, constructive errors and the magnificent happenstance of "information spillover" (information intended for one gets picked up, carried, and improved by another). And good stuff happens anywhere — labs, workshops, hangars, garages and yep, classrooms. Tom, your exclusion from shows is a function of your group and not a reflection of your processes. You can urge change within your group — or you can get out and take your paper and equipment with you. If you still want to be a joiner, I'll bet there's another group who will welcome you. You may have to drive down US 20 to Boise. It's an unfortunate fact that some art clubs and guilds, including both big city and small town ones (Mountain Home, formerly Rattlesnake Station, has an Air Force base and population of 12,000) can be downright draconian and inhibiting, often loaded with outdated attitudes and shibboleths. The enemy of growth is dogma. Groups should be classrooms of free energy and joy, where all flags may fly, and even sketches done in the back seat of a jet trainer may be juried "in." Best regards, Robert PS: "The best teacher is the one who suggests rather than dogmatizes, and inspires his listener with the wish to teach himself." (
Edward G. Bulwer-Lytton
) Esoterica: In these days when many art galleries are quieter than Pontiac dealerships, there's an opportunity for creative folks to rethink, re-jig and improve. Artists need to go to their classrooms, whether in a schools, workshops, private studios or out in the bush. If they have a competitive spirit, they need to play their hands against those of others. They need interaction within their solitudes, in whatever company they may find both challenging and amenable.
Paper art by Tom Bennick
Down with art classes
by Phil Kendall, Peterborough, UK To me art classes are the anathema of any art-language that a student might have had. That unique individual innate artistic flair that Picasso so rightly described is converted to the class-style and the resultant artworks only reflect the class norm. This is the sheep-flock group of artists. Those classes tend to be repeated ad nauseam with same sycophantic class members who are incapable of an original thought, let alone a unique artwork. Just imagine if say Picasso had gone along with the sheep-flock?… all those dreadful stilted landscapes, portraits and still-life's which today are a waste of artistic endeavour as the digital age captures the banal so well. I remain eternally grateful to my 1950's secondary school art education from a talented artist and superb life-coach bold enough to allow his groups to extend themselves at their pace and introducing the class to every new medium. I was perhaps one of the first to use Acrylics in 1957, a then expensive import, in one of his classes. I'm still in love with them today. Well I guess you have figured out which group I belong to.
There are 3 comments for
Down with art classes
by Phil Kendall
Jurors don't know the inside story
by Ron Stacy, Victoria, BC, Canada The reason for the exclusion of classroom work is simply that the jurors can't know whether the instructor had an active hand in the work, or not; or how much of the work is done by whom. As an instructor myself, I sometimes see the need to relieve students of their brush to make corrections or to demonstrate a point on their canvas. If that happens, as it often does, then the work is not purely the student's work, so it should be excluded. There is no reason the student can't take the lesson to heart and do the piece again or do another, in my view. You should always submit your best work to be juried for a show and it should be exclusively your own, in spite of influences or inspiration. I have to admit that often, my views are rather stringent, but I think that it's not a bad thing to have standards and to have people adhere to them. It's also my view that jurors should be well rounded in their understanding of art, as in educated, and not simply good at painting or sculpture or some other discipline. Too often, local artists are asked to jury a show when they really don't have the qualifications to do so. That's not to say that someone who is self taught can't do very good work, but they usually are too focused on a particular aspect of the very large world of artistic endeavour. I have to admit also, that I fall into that category, even though I believe I'm competent at what I do.
There are 3 comments for
Jurors don't know the inside story
by Ron Stacy
No jury needed
by Catherine Barr, Orangeville, Ontario, Canada I must object to your statement that all art groups need to employ a jury. I belong to a non-juried art group here in Orangeville and it works really well for beginners and those who are still trying to find their style. The atmosphere is encouraging rather than judgmental and I believe that we all need that. We also have a group that only shows juried work so those who feel confident in their abilities can also join this group. Some of our members are also members of the other group. When I first joined the Orangeville Art Group in 2005 I had very little expertise and if I had been juried out of our annual show I may not have continued. I did continue and was accepted last year in the juried show for the other group. Our group does not restrict the origin of work other than it be original, and work done in a workshop is considered original.
There are 3 comments for
No jury needed
by Catherine Barr
Did it again at home
by Kris Preslan, Lake Oswego, OR, USA I once painted my backyard tomatoes in a workshop, not because it was what the instructor wanted us to paint, but what I was finishing up that I had begun at home. The instructor held up my tomatoes, admired them, and I continued to paint. I was later told by a fellow artist that it was a classroom painting. I went home, repainted the whole painting, quite like the first one, just so I could say it was MINE! Seems a bit silly, doesn't it?
There are 2 comments for
Did it again at home
by Kris Preslan
Keeping the work 'input free'
by Tom Bailey, MA, USA I always interpreted the rule banning work done in classrooms or workshops to mean that entries should be the sole work and creation of the artist. Pieces that were actively 'corrected' while in progress or directed by more experienced professional teachers would be excluded. For the same reason, works derived from photographs taken by others are excluded because the important facets of composition and content have already been decided by another person. I have submitted a few works that were, technically, done in workshops with a clear conscience because they were done totally by myself, with no input at all from the instructor during their creation except a critique after the piece was complete.
There is 1 comment for
Keeping the work 'input free'
by Tom Bailey
Pros are life-long learners too
by Nina Allen Freeman, Tallahassee, FL, USA This question keeps coming around in our art group. I think it is an old fashioned idea that so-called professional artists who show their work don't go to classes and it is the amateur artists in the classrooms these rules are aimed at. Artists are life-long learners and working in the classroom or receiving critiques, reading, using the Internet, and painting with other artists are an important part of growth. What kind of an artist would we be if we worked in isolation without influence from anyone — probably become stagnant and never stretch beyond our student days. On the other hand, what kind of teacher in the classroom demands his or her students to conform to a given style of painting? (which is implied by these rules) Teachers should respect each student's chosen style and subject area and help them achieve their highest potential, as well as challenge them to reach further than they expected they could. I hope if I haven't done this, my students will let me know!
Finding your own style
by Pat Kochan, Dallas, TX, USA I have taught watermedia classes at Artisan's Studio-Gallery in Dallas Texas for 25 years. I call my class, "Finding Your Own Style." I ask the students to furnish their own sketches, resource material etc. and to pursue working in a series. When I demonstrate, I try to stimulate their creative juices and offer a lesson or technique to fulfill the exercise. Everything they do is theirs, not mine. The newer students sometimes try to copy my demo and that is what some of the clubs object to. One student, years ago, picked up my drawing on index paper and was about to copy it on the light box, when one of my students reprimanded that she stop and told her never to do that again; that one's drawings are their own. Everyone in my class can enter the best competitions guilt free because their work comes from their own resources and talent.
Excluding work done while teacher present
by Lee McVey, Albuquerque, NM, USA Many shows I enter also have an exclusion for work done under the supervision of a teacher. The reason is many teachers work on a student's painting to illustrate the point they are making. Then the painting isn't solely the work of the student. On the other hand, many artists receive critiques from other artists and these paintings are allowed in. It's different when the teacher puts brush or pastel to the painting. Since show organizers or jurors don't know the extent to which this has been done, they ban all work done under supervision of a teacher.
Teacher and student need to share credit
by Lisa Duncan, Marietta, GA, USA As both a teacher and a submitting artist, I must disagree. Not with the idea that "All the world is a classroom," but with the idea of accepting classroom work to juried shows. The only way I think it should be accepted is if both teacher and student are listed, as equal collaborators, and both agree to enter the piece. As a teacher, I see many students who, under a classroom setting, do work far above what they do at home by themselves. It is a great joy when I can see that "lightbulb" go off and they start bringing show-quality work in that they've done themselves. I don't think these students should submit to shows unless they agree to take only half the credit of what they've done in class. As a submitter, I know that when I take a class, I sometimes come out with a piece that is beautiful, and far different from what I usually do (after all, that's why I still take classes.) However, I would never think of submitting them, since I believe even in my own work that these are collaborations. Instead, I go back to my studio and produce another painting using these same new ideas that is totally my own, and submit that instead. Not only is it totally my work, it cements the new ideas.
All painting is derivative
by Paul deMarrais, TN, USA This question gets to the root of the value and point of this sort of local show. I've run into this question with my workshops where I am often called to work on the paintings myself. The end results naturally reflect both mine and the students' efforts. My input would bring unfair advantage in the competition according to the rule makers. What tiresome drivel and what is the point? We are all art students, as you say. Some of us have become a great deal more serious about it and have entered the ranks of the professional. Amateur painters ought not to be burdened with the ego games the pro's must endure. They ought to avoid those groups and their silly 'competitions' and seek simply to show their work in a neutral environment where someone can see and enjoy it. I recently had the pleasure of visiting a wonderful Impressionist show from the Musee' d'Orsay that is presently hung in Nashville at the Frist Museum. Should I avoid a color combination that Jules Bastien LePage used in his wonderful painting,
The Haymakers
? All painting is derivative and that is the fun of it. Tom should take his work to a friendly art group where I am sure his presence and artwork would be welcomed.
A closed mind is a tight box
by Gwen Fox, Colorado Springs, CO, USA I couldn't agree with you more. As a teacher I encourage my students to tweak what they learn from me and then make it their own. Classrooms/workshops can be intimidating or freeing. When a student produces a piece of work that is a higher quality than their normal creations, I know they have stepped beyond the false reality they have of their own ability. I am constantly amazed at the quality of work that comes from the workshop environment. The other great factor about the workshop/classroom environment is the energy produced from the other students. Ideas flow like red wine. It only takes a tiny bit of visual or verbal information for the creative mind to render a fabulous piece of art. How sad for others to dictate the painting will not be shown because it was generated in a workshop. Ideas for paintings come from everywhere… dreaming, reading, teachers, viewing art, talking with other artists, walking in the woods, etc. "Where" the painting was given birth is not the important factor. Art groups tend to make rules that other art groups have made. This keeps them safe. Unfortunately some of the rules are a determent to what they are trying to promote. Getting them to change a rule is generally futile. A closed mind never produces anything but a tight box in which to live.
There are 3 comments for
A closed mind is a tight box
by Gwen Fox
Honoring the honor system
by Kris Parins, FL, USA The exhibit rules were made to exclude the artwork that is produced in a certain type of class. There are instructors who hand out a drawing, printed to scale, for the student to transfer to their paper or canvas. The group then proceeds, step-by-step, stroke-by-stroke, to complete the painting according to directions. Some students love this. If a piece is produced in a classroom setting, but with little or no influence from the instructor, I don't see a problem with the student claiming it as his own and entering it in competitions. Of course the reference material should be the student's own, when using photos or sketches. With no way for a juror to prove when, where, and how a piece of art was produced, it all boils down to the honor system anyway.
There is 1 comment for
Honoring the honor system
by Kris Parins
Archived Comments
Enjoy the past comments below for What's this classroom thing all about?…
Featured Workshop: Wimberley Artist Workshops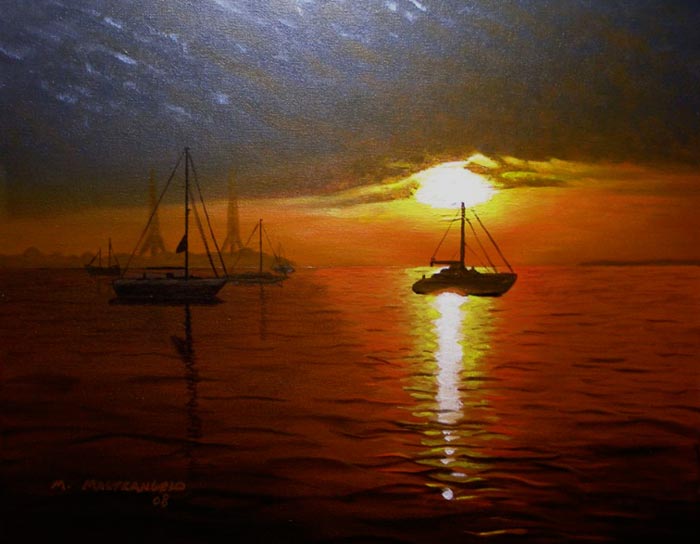 Serene Sails
acrylic painting by Michele Mastrangelo, NJ, USA
You may be interested to know that artists from every state in the USA, every province in Canada, and at least 115 countries worldwide have visited these pages since January 1, 2013. That includes Andrea Holbrook of North Andover, MA, USA, who wrote, "The reason such work is excluded is to prevent 10 similar paintings in the show and eliminating paintings that are greatly influenced or painted in part by the instructor." And also Jason Blundell, who wrote, "What a bunch of uptight twits."
Thanks, Tom. It's one of the thick-headed trumperies going around like influenza these days. To my thinking, location is nothing, inspiration is everything. Art groups need to employ a jury, for sure, including some insiders, and when students' work veers a little too closely to the teacher's or someone else's, the verdict has to be "out." Jurors must be on top of this, and the submitting artists need to help out by disclosing their influences. FYI, we've put some of Tom's work at the bottom of this letter. Fact is, walls or not, all the world's a classroom. Fact is, life's a classroom where curiosity reigns with both over-the-shoulder interest and the joys of struggling alone.