Dear Artist, The giving season is upon us and once more an artist has an opportunity to contribute to the community. I like to learn about the charities that approach me, how they are run and whether they're cost efficient. Some are more appealing than others — local hospitals, children with special needs and high-school bands are hot for me right now. "Lawyer of the Year" has been put in the warming oven. Many charities these days offer a split with the artist — sometimes 50/50, often 60/40 in their favour. Others ask for outright gifts. I determine my gifts based on the needs of the community, not on the financial breakdown, potential publicity or tax benefits. In this country, tax receipts to artists are not worth a hill of partly-chewed jujubes. It's important to get a little control of the prices of auctioned items. I don't know about your dealers or potential dealers, but mine don't want to hear about people buying my fundraiser art for peanuts. A reserve price (below which the work must not sell) is generally set at about 2/3 of the current retail price of the work. In the event that your gift does not reach this, then it needs to be returned. Last year one of mine sold for more than twice its gallery value, mainly because my daughter-in-law, Tamara, who happened to be the MC, mentioned that I was not feeling well. Many time-worn charity art auctions need a shot of vitamins. Fortunately, some charities are coming up with interesting new spins. Masquerades, entertainment, heart-rending testimonials, mystery masterpieces, trips to exotic places, Rottweiler puppies, and surprise raffles keep people from slumping forward in their chairs. I always include one of my books with my gift. It gives people something to read. Last Thursday, in aid of Big Brothers, we had an evening in one of my galleries. The place was chock-a-block with expensive art. After a few drinks we had a catered gourmet dinner for 16 with top-notch wines and terrific service. I did a modest demo. Easels were set up and everyone went to work with paint, brushes and fresh canvases. I tried to help out. Chateau d'Yquem (2004) ensured creative audacity. Not surprisingly, stock salesmen and their benefactor-wives can paint.
Anthony Robbins
) Esoterica: Last week I received a call from a symphony orchestra in another city. They thanked me for the fundraiser gift I had given them the previous year and asked for another for this year. On checking our books we found that we hadn't given anything to that particular orchestra — ever. A little research showed the painting had been donated by someone who picked it up at a prior fundraiser for a hospital in yet another city. Truly a gift that kept on giving.
Fundraiser Fun
Which paintings to give?
by Shirley Fachilla, TN, USA Do you give away the paintings you love or the paintings you hate? The paintings you want to get rid of or the paintings you can barely stand to part with? I've heard some artists say they often donate work they consider not quite substandard, but perhaps unappealing to their own taste senses or disappointing because in it, they failed to achieve their intended goal. So far, I've been giving away what I love. Of course, sometimes the love has grown a bit strained if the painting has hung around too long without a potential buyer. I tell myself that I'm donating to support a good cause, to introduce my work to those who otherwise might never see it, to build a reputation as someone who gives back, but really, goofily, I'm giving to find homes for paintings I love. (RG note) Thanks, Shirley. I don't think you can go wrong giving your very best. The way I look at it is — my substandard ones are not good enough for anybody. Give your best. Better still, give the charity folks a choice of your best. Invite them to the studio to pick.
There are 4 comments for
Which paintings to give?
by Shirley Fachilla
Donate your time in school
by Casey Craig, Wimberley, TX, USA While I have donated my works to auctions for charity, lately I have found another way to give. A few weeks ago I was the guest artist for my son's high school art class. The teacher requested that I also speak to 3 of her other classes. Last week I did a collage mask project with my other son's 4th grade class. Unfortunately there are no art classes in the elementary schools here, and the teacher was thrilled to have me do an art project with the students. I am not an art teacher, but I think that many artists could give a bit of their time and expertise to a cause that they care about if their local auction options are less than desirable. I know I got a lot more out of it than I put in.
Spreading the joy
by Pauline Lazzarini, Rohnert Park, CA, USA I donate to the art gallery at my Alma Mater because they put on great exhibits with our contributions. The event is called Art from the Heart at Sonoma State University in northern California. The other two I love to donate to are Art for Life, a fundraiser that helps people with AIDS. They put on a beautiful fund-raiser ever year and really honor the artists with a website including our website and a good little booklet with a photo of our donated works… even the printing is donated. The other one is a food bank…. they have a festival called Calabash and artists donate works of art made from gourds. I donate all the funds raised to the causes and I am happy that someone can enjoy my art and someone else can benefit from it. I love to paint. Spreading it around makes me happy.
There is 1 comment for
Spreading the joy
by Pauline Lazzarini
The value of death
by Ruth Gamsby, Sedbergh, UK A friend of mine had a good range of work in an exhibition. The local paper listed his name in the obituaries and every one of his pictures sold. The unfortunate man who had popped his clogs was not my friend but someone with the same name. I wonder if I should report my demise just prior to my next exhibition!
Bidding war
by Judy Grew I donate my work and never report it… I was told years ago, putting a price on a piece of work is the quickest way to an IRS audit. Some of my pieces bring a sizable amount, usually a result of a bidding war among quests. I'm always flattered and often the donated piece brings requests for more works (paid) as a result of what they bid on. It's a win-win for me. I generate a donation, and I get FREE advertising. Over the years, I've had people approach me to tell me they have a painting of mine that they bid on at a local school fundraiser.
There is 1 comment for
Bidding war
by Judy Grew
Better not to know
by Alfonso Tejada, Vancouver, BC, Canada Last Saturday I did a performance painting during a fund raising dinner for one of our colleges. The theme was a Masquerade and I performed painting in four hours a "veduta" of Venice in watercolour which was raffled off. The winner was happy to collect the art work framed and all for what price? I did not want to ask. I did not want to feel disillusioned by the price. All I wanted was to believe that I gave my best to a cause that I trust and that the effort has a deep merit. The MC did not know that I was getting really tired because I was hoping to get a good response from the participants. It was better not to think about what it went for.
There is 1 comment for
Better not to know
by Alfonso Tejada
Cash patrons required
by Jim Lorriman, Shelburne, ON, Canada Recently I was asked by the daughter of a good client, to donate a piece for a fundraising. I was intrigued by the manner in which they were conducting the auction. It was being done online through a service. They were also using Facebook and Twitter. My piece was also on show during their live auction event. They made a special mention of the piece on Twitter and I also received a favourable comment on Facebook. 51 people viewed this page. Also, sort of following your rule of thumb, I had set the reserve at 60% of retail. I do not know what the piece ultimately sold for but I will be receiving a tax receipt for it. I know — it is not worth the paper it is printed on. As I get a lot of requests for donations, I have started suggesting that the organizers find patrons that could buy the work from the artist at wholesale and then donate the work to the fundraiser. This way the artist gets paid and should be happy, the patron gets a very useful tax receipt and the event can sell the piece for whatever is offered. I usually vet the events and put an annual retail total on what I am willing to donate. This makes it easier to say no to the ones I am really not interested in. I do consider fundraisers that give me a split and have done a number of them. I appreciate it when the organizers consider the artists.
There are 2 comments for
Cash patrons required
by Jim Lorriman
Artists need to 'insist'
by Solette N. Gelberg, King City, ON, Canada In Canada, the Tax Department has all charities' returns on its website and I look up their financial statements. Any charity that spends more than 20% of its income on administration is automatically off my donations list. You might try that as a start and then insist that the full price for your work be listed on any auction or sale list. Then you have two choices: 1. Insist that you receive at least 40- 50% of the posted "full price" no matter how much the charity sells it for. 2. Insist on 50% of whatever is the final sale price for the work. I've been around both art and charities for a very long time and I know that charities and other not — for-profits are like street urchin beggars — they want and expect more than you are or should be prepared to give (often more than they are worth or entitled to receive).
Incompetent charity
by Sandra Muscat, Toronto, ON, Canada I wish I had read your fundraising fun letter before participating in Toronto Furniture Bank's "Chair Affair" last month. It's amazing how the wrong folks groping around in the dark can mess things up so badly. At the most basic level, every communiqué had errors in spelling and grammar. Most emails were repetitive, confusing or contradicted earlier communications. Attachments were missing or didn't work. Despite having more than 6 months ahead of the gala event, there was essentially no press — except for one awful little local midday talk show that crammed a bunch of chairs into a decorating segment as novelty rather than explaining their real significance. And there may have been a couple of "what's on" listings somewhere. They had the wrong title sponsor. (One of my patrons who volunteered a financial contribution to the cost of making the chair expressed her extreme disappointment loud and clear when she learned who the title sponsor was.) They had no idea how to market the thing and as a result drew the wrong crowd. They did not have professional handlers for the chairs despite having the chairs in their possession for six weeks. As a result, mine was damaged. They started the live auction late and had no reserve bids. By the time my piece hit the stage, the few attending well healed buyers had spent their money and gone home (it was a Thursday night). Incidentally, the chairs selected for live auction were the ones deemed to have higher sales potential. Yet, they placed reserve bids on pieces in the silent auction while not on those in the live auction. Not surprisingly, many pieces in the silent auction sold for more than those in the live auction. It was a full week after the gala before we received any follow up communication of any kind. And as I write this email, they still haven't updated the event website. My chair, which I personally spent a whopping lump of cash on for materials and then laboured over for more than 250 hours sold for less than a quarter of its minimum value (and less than what I spent on it myself). What should have been a show stopper, selling to a collector or a commercial client for display, ended up being an after thought. Don't get me wrong, the lovely woman who purchased it was thrilled — she really loved the piece and I am confident she pushed her available funds to get it. She deserves to enjoy it any way she chooses and I hope it brings her much pleasure. I am also glad I created something with such commitment and integrity for a very worthy cause. As my girl friend said to me on the way home… if it helps to get a kid a mattress, then you done good.
There are 3 comments for
Incompetent charity
by Sandra Muscat
Inspiration and pragmatism
by Susan Magnusson, Winnipeg, MB, Canada I always enjoy your letter — both as a former copywriter who appreciates the difficulty of coming up with a stream of fresh material — and as a current fine arts student. This morning's edition was particularly fun. I laughed out loud twice, at the auction comment about your state of health and at the re-gifted painting in the symphony fund raiser. It's great to start the morning with a double chuckle. In my painting class at the University of Manitoba, we were asked to nominate art links our fellow students might find useful. I sent in yours. I took a multi-year detour en route to the fine arts program (well, multi-decade) and for me, your writing strikes an interesting balance between inspiration and pragmatism. I hope the others will subscribe because those elements are both key to a successful practice.
Archived Comments
Enjoy the past comments below for Putting the fun in fundraiser…
 Featured Workshop: Gaye Adams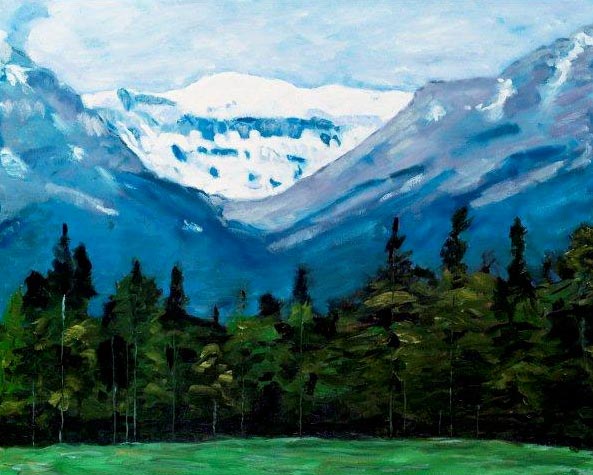 The Course
oil painting by Gina Maier, Canada
You may be interested to know that artists from every state in the USA, every province in Canada, and at least 115 countries worldwide have visited these pages since January 1, 2013. That includes Brian Fox who wrote, "I just did a press conference with New England Patriot players Tom Brady, Matt Light and Wes Welker, all due to a painting donated to charity. For a while it left me wondering if the small amount was worth it. After reading your article… yes it was for sure." And also George Kubac of Edmonton, AB, Canada, who wrote, "All art looks better with a glass of alcohol."
Best regards, Robert PS: "Life is a gift. It offers us the privilege, opportunity, and responsibility to give something back." (