Dear Artist,
Just below where we live in Crescent Beach, B. C., there's a fine public marina. I've been wandering down there for years. Some of the locals occasionally drop by to see what I'm up to. One day an unknown passerby paused to ask me if this were my day off work.
More recently, a more evolved watcher asked, "What is it with you guys about boats propped up on land?" I told him that down here they keep moving things around, especially during the fall and spring, and different relationships are often seen, so the light and shade are a challenge.
While this system might not float everyone's boat, I find it best to rough in general shapes and patterns early on, while keeping only a partial eye on the eventual lay of the light. In other words, the strongest light areas go in at about the half-way stage of the painting. Adjusting the right tones for light and shade can be tricky and if you commit yourself too early, things can get pasty or, worse still, murky.
I look for light patterns that are of unusual shapes, big and small, with abstract potential. Making up this pattern is important, but it's also an opportunity to change a few of the local, impinging colours. Having brushed paint on our own boats a few times, I can tell you it's a darn sight easier to change the colour of a boat on canvas. The bottom coats in my subjects this day were green. Lead oxide seemed a better choice. Better for barnacles, too.
It's also a good idea to overdazzle your lights, even softening the edges of the bright parts so the light glows. Leave the details, complexities and nuances to the shadows. The rule here is "Light burns out detail."
Finessing a more or less correct but often subtle relationship between light and shade is one of the tough orders. A valuable idea is "look three times, think twice, paint once." The acrylic medium permits endless corrections, rethinks and resurrections. I figure if you can get the tonal and colour relationships within ten percent of reality you're doing well. It's all an illusion, but a fresh, confident-looking light-and-shade gives joy to your sortie.
Best regards,
Robert
PS: "Of the original phenomena, light is the most enthralling." (Leonardo da Vinci)
Esoterica: If you want to better understand the nuances of light and shade, study the work of Joaquin Sorolla. "Let there be no mincing of comparisons," said James G. Huneker, "not Turner, not Monet, painted so directly blinding shafts of sunlight as has this Spaniard." Down by the boats and beaches of Andalusia, working mainly in the Magic Hour when lights were warm and shadows were cool, Sorolla paid close attention to reflected light bouncing around in the shadows. How does one achieve this deadly eye? Practicar. (Practice)
Sunlight and Shadow

Colour and form
by Ruth Kamenev, Winnipeg, MB, Canada

I recently read in a portraiture magazine about using colour instead of tones to create form. The method was described as warming or cooling the colour, while squinting to ensure that the value of the colours did not change. Unfortunately, magazine articles tend to be short and not very detailed. How could this create volume? Can you use this method for subjects other than portraits? Could you please elaborate on this and explain exactly what this means?
(RG note) Thanks, Ruth. This is a valuable concept. Rich colours of equal or similar intensity when laid side by side give a sense of form, density and solidity, to say nothing of allowing variety within a subject. The idea is certainly not limited to portraits. Cezanne's fruit are a good example. "When the color achieves richness, the form attains its fullness also." (Paul Cezanne)

The trickery of light
by Robin Shillcock, Groningen, Netherlands

For us illusionists, harmonizing light and shade in a painting is more than important, it's primordial. To find a convincing balance between warm light and cool shadows is indeed tricky, but since it's all about "trickery," I'd say that's where the fun lies. I prefer doing watercolours in situ, but 20 years of painting oils en plein air has given me a bit of an understanding of how to tackle chiaroscuro. Working in watercolours, one has to work around the light, i.e. the virginal white paper, and build the image with washes of colour, starting with the darker tones to achieve a sense of contrast from minute one. In oils roughing in patterns and darker tones comes first, but I tend to leave the lightest tones for last. I find that "burning out" the highlights is letting oneself off the hook too easily! In a way too photographic an effect. It's a problem that jumps out from all those painters working exclusively from photos: the whites are too lardy-white and too hard-edged. Alas! As an observational painter I have learned that the whites often also contain colour, gradations of warmer and/or cooler tones.
Sorolla, the Danish impressionist P. Krøyer, (both are hung together in the Musée d'Orsay in Paris) but Monet, too, understood this perfectly, as does contemporary English painter Anne Shingleton. Capturing reality in luminous paint is one of the most difficult aspects of painting, and requires, indeed: Practicar y practicar, y practicar mas!

Learning to trust the eye
by Elizabeth Patterson, Hollis Center, ME, USA

It's not uncommon for me to create a still life with a big emphasis on that wonderfully dramatic look of bright light against interesting shadows and reflections. I do love how it really gives a sense of dimension, and so clearly defines the shape of an object in a simple way.
However, while working on this portrait recently, I found that rendering those abstract shapes of light and shadow when there is also the matter of a likeness to capture becomes serious business! It forced me to look way more than three times, and think a lot more than twice, and trust my eye completely. Altering the brightly lit shapes even a little bit would change the features. Where the light obliterated detail and color on my model's face, my brain wanted to put it back! At times, it was like a mental wrestling match. I think the bright abstract shapes won, and thank goodness, because they gave me my likeness.
There are 3 comments for Learning to trust the eye by Elizabeth Patterson

The magic of Joaquin Sorolla
by Karen R. Phinney, Halifax, NS, Canada

Once again in the latest letter, you have referred to a favorite artist of mine, Joaquin Sorolla. After seeing his work in Madrid a couple of decades ago, I was smitten! You are right; he uses light, as in sunlight, like no one else! The colours leap to the eye, and the figures play in the Mediterranean light with such moving force. He is an inspiration, for sure. He paints with love and light, a combination hard to beat.

The great value painter
by Rick Rotante, Tujunga, CA, USA

Ahh! Sorolla. You picked my quintessential value painter. He is a master of color, reflected light, pattern and overall design and value. I reference him almost daily for inspiration. Sorolla's special gift is his ability to work in such large sizes and quickly on location. No photos for him. A true plein air painter. There are pictures of him painting on the beach. I've read that when the children in his works got too water logged or sun burned, he changed them out with others and kept painting. I wish he were more known in the USA.
There are 2 comments for The great value painter by Rick Rotante

The effects of heritage and environment
by Iola Benton, Mexico

Like you, landscapes are my favorite subject. I have generally worked in oils, but the technique I use more frequently these days is mixed media. Somehow it helps to enrich the final outcome. I have been painting for more than fifty years and every day I get more satisfaction out of it. I was born in Mexico, a country which has a special feeling about the primitive, with so many cultures, and of the mysterious. I believe that environment and heritage are elements that form your art expression.

Who are you?
by Cheryl Braganza, Montreal, QC, Canada

I attended a lecture at the McCord Museum last week by a woman artist who was speaking about her art at the Montreal Women Arts Society. She quoted Robert Genn (pronounced the g like gate). I was astonished. All these past 9 years that I have subscribed to your website, written to you and thought I knew you, you were for me Robert Genn (like George). Now please sort out my dilemma and tell me who you really are.
(RG note) Thanks, Cheryl. I'm a bit confused myself, but most of us Genns say it like the "g" in getaway and not like the "g" in gentleman.

What colour is it?
by Linda Bean, Bothell, WA,USA

Your letter re light and shade is most timely. I am so interested in the painting of light and shadow these days. I see and understand the value relationships but am quite stymied by "What color is it?" I have a substantial library of art books and don't find the color of shadow — as it pertains to what the shadow falls on or otherwise — addressed anywhere. Of course there is the blue from the sky. In art magazines the colors can be most anything — believable or not — from blues to violets.
(RG note) Thanks, Linda. Getting the proper relationship between light and shade requires both observation and intuition. Paintings are illusions and often "What colour is it?" can have more than one answer. Guidelines can be had in some popular books I can recommend: Painting Light and Shade by Patricia Seligman. Dramatic Light by Patrick Howe (primarily for watercolourists) and Mastering Color by Vicki McMurry.
There are 2 comments for What colour is it? by Linda Bean

Beating procrastination
by Larry Fentz, Muncie, IN, USA

I was wondering if there is a book on the divided self or if you could recommend a book on beating procrastination for the creative person? I am easily distracted and need help to break the mold. I've had a passion for watercolor painting for years. But at the end of a work day, I feel guilty for not painting, yet oddly content in not going back to a drawing board or computer when I get home.
I've been an artist on a syndicated comic strip for 27 years. Inking at a drawing board and Photoshop airbrush color work at my Mac computer all day. So I deal with my divided selves when I get home and there are many.
I need to know how not to fill up my day-timer with the little stuff and make the time for the larger priorities like painting. Now I'm having difficulty organizing and shooting digital art for a website. And everything else that goes with that. Back to the book.
(RG note) Thanks, Larry. There is an excellent overview called "Later" by James Surowiecki in the Oct 11, 2010 issue of The New Yorker. He draws attention to The Thief of Time edited by Chrisoula Andreau and Mark D. White. It's a definitive collection of essays and recent research by top people in the procrastination and divided self business. For some time I have put off ordering it from Amazon but I am now happy to report it's on its way. It's expensive …about $65.
Archived Comments
Enjoy the past comments below for Light and shade…
 Featured Workshop: American Academy of Equine Art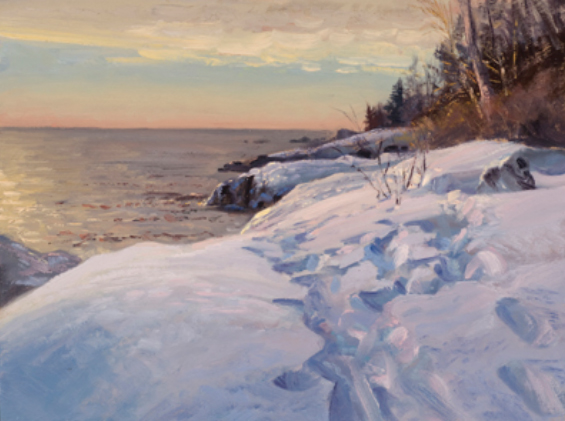 Steps Along the Lake Superior Shore
oil painting
by Scott Lloyd Anderson, Minneapolis, MN, USA
You may be interested to know that artists from every state in the USA, every province in Canada, and at least 115 countries worldwide have visited these pages since January 1, 2013.
That includes Joan Ashenhurst of Surrey, B.C., Canada, who wrote, "Did you get that jacket in a garage sale?"
(RG note) Thanks, Joan. The jacket was formerly owned by a doctor who smoked. His wife had it dry-cleaned for 15 bucks and put it in a garage sale and I gave 2 bucks for it. Several people have offered me 3. Do you think the jacket's fortunes have turned around?
And also Gabriele Stehle of Denmark, who wrote, "I don't have the time or the interest to read a lot of the stuff that is out there on the Internet, but your letters are among the few I wouldn't want to miss. They are witty and modest in tone of voice."