Dear Artist, A couple of years ago a subscriber wrote, "You have really helped me with my procrastination. I apologize for taking so long to let you know." Insight like this and a lot of other great items are in the Zingers section at the back of my most recent book. They're also
here
. The game theorist and strategist Thomas C. Schelling suggested procrastination is not a personal weakness. It's more a function of the selves within ourselves who are actually at war with one another. For example, your long-term self says you're going to paint 100 paintings and get yourself a decent gallery. Next day your short-term self cuts in and has you alphabetizing everything in the spice cupboard or cleaning the lake. It's not you, it's your "divided self" that runs you off track and amok. Interestingly, the divided self also gives powerful creative input. Putting things off may not be all that bad. Getting a second opinion is certainly part of our game. A work of art well sat on may turn out better than one completed to a hasty schedule. While experts identify university professors as the top procrastinators, artists cannot be far behind. But I'm putting off getting to the point. This letter is about "the thief of time," and how to beat him. Going by my own example, I'm an authority on procrastination. Recent studies tell us we need to get to know all our different selves. We need to make a list. FYI, here's mine: Responsible Bob. Loves-painting Bob. Hates-business Bob. Daydreaming Bob. Irresponsible Bob. Strategic Bob. Fooling-around Bob. Birdwatching Bob. Imposter Bob. Loves-writing Bob. Old-car Bob. Analytical-guru Bob. Doesn't-like-to-be-taken-advantage-of Bob. Helpful, loving Bob. Philatelic Bob. Lazy Bob. Leave-me-alone Bob. Knowing these Bobs helps Bob see when one Bob is caving in to another Bob or pushing another Bob around. Now here's the crunch: The smarter you are, the more likely you'll be to put things off. For smart folks, procrastination may be the norm. "It could very well be the most basic human impulse," says psychologist George Ainslie, the inventor of "hyperbolic discounting," the human tendency to plan practically anything as long as it's sometime well in the future and not now. By taking active steps right now, artists may flourish and stand out simply by beating the norm. Best regards, Robert PS: "You can't build a reputation on what you are going to do." (
Henry Ford
) Esoterica: The Greeks called it
akrasia 
— "Doing something against one's better judgment." The condition is of great interest and puzzlement to motivators because of its irrationality. Surely we should all be getting positive things done in a steady, rational manner. I've gone blue in the face telling artists to "steadily chip away at your statue." But chipping isn't always steady. There's sweeping up to do. And birdwatching. And cleaning the lake.
The problem of passion
by Michael A. Spronck, Bogart, GA, USA I would add that all studies show that most people choose immediate, even small rewards over long-term or even greater rewards. This is true in all fields of endeavor. Artists have an additional problem that causes procrastination: Most lack real passion. They would "like" to be a great painter, but are unwilling to pay the price required. Bernie Cornfield, a financier, titled his book
Do You Sincerely Want to Be Rich?
And some wag said to musicians years ago, "How do you get to Carnegie? Practice, practice, practice."
Deadline delivers for procrastinator
by Jill Brooks, Manitoba, Canada How do we reconcile and embrace our many selves? How many strategies for delay can we creatively come up with? There is a wonderful award-winning short film called
Getting Started by Winnipeg
(Canada) animator Richard Condie which is a hilarious take on the phenomenon. In this case it's a composer who just can't seem to get down to business. Could it be that animators employ the same vocabulary of delaying techniques as the rest of us? Must be. On a personal level, I was fortunate in having a large commission last year with a deadline. Having a deadline sure worked for me!
There are 3 comments for
Deadline delivers for procrastinator
by Jill Brooks
How long can you do it?
by Mark Sharp, Invermere, BC, Canada I painted in the kitchen for the last 15 years. I worked in a setting with three young boys running around, my wife cooking and yakking, people dropping by and under only 4 small spot lights. Somehow I managed to stay in a quiet space and paint solid for two or three hours without stepping away from the canvas, even though outside of my zone I knew there was a lot of action and commotion going on around me. I have recently built a separate building for my studio /gallery on my property and it is well set up for work of all sizes. It's mainly glass so it has tons of natural light, beautiful views and loads of quiet. But here's the thing, I am not having trouble finding my groove on the canvas but I can't stand at the easel for very long without fidgeting and wanting to keep taking breaks. I seem only to be able to focus for 30 minutes to an hour. Is it a matter of the motivation that is generated from the piece you are working on that keeps you glued to the easel for hours or is it the environment in which one paints even if it's a good one? How long can you paint without having to get up and walk around? (RG note) Thanks, Mark. Barring severe ADHD, most of us have a finite time available for focus and concentration. A large number of stops and reboots may actually be good for your work. I generally note that the first few minutes of a return bout are most effective. But long term can be good too. Train yourself to get into automatic or "flow" mode where the work is taking care of itself. You may be thinking too much.
There are 4 comments for
How long can you do it?
by Mark Sharp
Creative avoidance in 'ShouldLand'
by Jo Byriel, Soldier, OH, USA I never procrastinate, but, I freely admit to going into what I call creative avoidance! I can creatively clean that lake — and build a dock while avoiding the one 15-minute ugly or less tempestuous project that lives in "ShouldLand"! So next time anyone accuses you of procrastinating, free yourself to let go and just creatively avoid. It's rather like my all-too-often claim "I never get lost." I just find interesting ways of getting to the same point. That circuitous trip may inspire me, or someday I may hear myself say, "I recognize this place or road. I've been here before."
There is 1 comment for
Creative avoidance in 'ShouldLand'
by Jo Byriel
Dealing with the many of me
by Susan Knight Smith, Powder Springs, GA, USA My many selves form cliques and gang up against each other. There's Ms. Bossy, the executive me, who likes to control everyone else. Self-righteous Me and Spiritual Me support her by telling her she knows God's Will so knows what's best for everyone. There's Good Little Girl who needs Ms. Bossy to love her so tries hard to obey her but often fails because Creative Me, who loves new things, loves playing, and hates schedules, teams up discreetly with Passive-Aggressive me (who wears a Cooperative Me disguise and never admits his real agenda is rebellion) to convince her to quietly thwart that hateful Ms. Bossy by finding something more interesting and colorful or "important" to do than what's on Bossy's schedule. ADD me, while a close friend to Creative Me, is also a friend of all and, being easily distracted, can switch sides when the occasion calls for it, the balance needs adjusting, or the competitive stress gets too great. And, of course, when something Ms. Bossy is demanding really does need to be done, the outside world intervenes with that demon saint, Deadline, who works magic by bringing all my selves to attention and banishing confusion and procrastination.
There are 2 comments for
Dealing with the many of me
by Susan Knight Smith
Fatal Faith
by Faith Puleston, Herdecke, Germany Faithless Faith. Faithful Faith (most obvious and most fatal), fretting Faith (after procrastination has done the damage), fortuitous Faith (when I get away with it), flamboyant Faith (in remembrance of operatic days), fruitful Faith (on days when I actually get something done), fractious Faith (when I don't get my own way), flattering Faith (when it's the only way forward???) fabulating Faith (my creative self), furious Faith (less often these days). If I'd been named Hermione I'd probably be a different kind of procrastinator.
Report from the procrastination zone
by Dorenda Watson, Columbus, OH, USA I adore procrastination! There, I've said it! I have a feeling that procrastination (for some) is just a tool that aids creativity and a path (albeit a "side-street") to the process of art. I have found that after a good bout of procrastination I do my best work. I am filled with ideas… I am ready to paint… I am rested and revived. The art brain needs time to conceive fresh ideas just like the body must rest to perform at the highest level possible. The artist is not meant to live on his or her work alone… you must have some down-time to allow for whatever you believe keeps you going in this adventure to enter into the process. I am off for a night-hike now… looking for owls… procrastinating… and loving every minute of it! (aka: Painter Dorenda, Teacher Dorenda, Hiking Dorenda, Birder Dorenda, Quit-Bustin'-My-Bubble Dorenda, etc :)
There are 2 comments for
Report from the procrastination zone
by Dorenda Watson
Laughs here and wisdom too
by Richard Gady, Lakewood, CO, USA I enjoyed the
remarks about your letters
 immensely. My favorite part was showing your dog in front of the laptop. Now we know who the "real" Bob is. I had the most fun snickering and laughing as I read many of the comments. I am a woodworker and teacher of artistic woodwork (marquetry) and have been correlating many of the principles you write about to this field. If it weren't for my ceaseless procrastination I might apply many of these tips and actually get some work done and sold, and like one of the funny comments, "I need to get some money around here!" Thanks for your refreshing letters, and your honesty and humor about the artist's life. I need to apply what Henry Ford said about building a reputation.
There is 1 comment for
Laughs here and wisdom too.
by Richard Gady
Lucky you?
by Jenny Baillie, Rossland, BC, Canada How have you managed to be such a prolific painter since 'whenever'? I recall from an earlier letter you said, quote: "I have always earned my living from painting," (I remember thinking 'lucky you') With a family to support a home to look after, how could you put in 60 hours a week painting time brush in hand? I can only assume that you had a family inheritance, a wife or partner with a healthy salary – and kids that stayed out of your way. Have you ever had to mow the lawn, put out the garbage, cook the dinner, do the laundry or fix things? (you will get the drift).Thank you for all the Painters Keys Letters from which I glean many a helpful hint on life and painting… however, oft times it becomes somewhat overbearing to read that you really do have all the answers. (RG note) Thanks, Jenny. Yes, never had a regular job. No family inheritance. Home-attending wife Carol with no salary and no independent income. In the early years there was some financial pressure. I was blessed with Obsessive Compulsive Painting Disorder. Three terrific kids (David, Sara and James) in and out of the studio all the time. Gardeners mow the lawn. I put out garbage (no problem), hopefully not from the studio. Fix things occasionally — most fixing around here is done by high-priced specialists. Definitely don't have all the answers, but I do have a bit of curiosity, and I do know that "starving artist" is a fine myth and lots of other painters will testify to this. Right now I'm gonna carve a pumpkin with Beckett my grandson.
Archived Comments
Enjoy the past comments below for The divided self…
 Featured Workshop: American Academy of Equine Art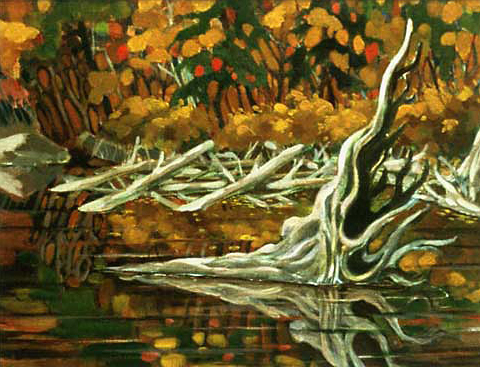 The Back Bay
acrylic painting by Bob McPartlin, BC, Canada
You may be interested to know that artists from every state in the USA, every province in Canada, and at least 115 countries worldwide have visited these pages since January 1, 2013. That includes Robert Johnson of San Miguel de Allende, Guanjuato, Mexico, who wrote, "Not only is it helpful to know all the clowns in our makeup, it's also helpful to love all our clowns." And also Cynthia Wick of The Berkshires, MS, USA, who wrote, "A dear painter friend emailed me, "I dare you to paint something you've always wanted to paint." That stopped me procrastinating. Connecting with other artists who share the same ideas and help is huge." And also Don Kruger who wrote, "The list of Zingers (
remarks people have made about the Twice Weekly Letters
) stroked with our pleadings and daubed in our foibles, may be your best work yet. Certainly, it's the funniest."