Dear Artist, Yesterday, Randall Cogburn of Alvin, Texas wrote, "Self-taught with little experience, I'm now on Blogspot where my small paintings are for sale and not selling. I'm wondering if what I've done so far is worth the price? No one says, 'Oooh, nice one! I gotta have that little jewel.'"
Alvaro Castagnet
) Esoterica: There are those among us who consider themselves blessed — their work happens to coincide with their passions — and the passions of collectors coincide with those of the artist. Ideally, we'd like to think that the great passions arrive independently of ulterior motive and that the greatest work is developed in commercial innocence. On the other hand, some exciting artists are mainly motivated by greens. I'll stick with idealism. "On life's vast ocean diversely we sail, Reason's the card, but passion's the gale." (
Alexander Pope
)
Randall Cogburn
Art and sales different
by Joseph Jahn, Nibe, Denmark Never approach painting from a commercial view point. Your work should be always what you wish to do, and never what you wish to sell. Pile the work up and forget about sales for at least 10 years (it's a test). I once went into a gallery in my first years of painting with some small works at prices that were like yours. The reaction from the gallery owner was "People don't want cheap paintings." You are competing with factory artists. My prices are around $300 for a painting the size you offer and have always been around that price. It helps people decide if they are truly interested in your work and your work is truly a top quality painting or they are simply decorating a wall. Self taught or university trained steady sales are earned through persistence and unless you are one of the lucky few, only after years of work. Put your paintings online for sure, but expect no sales through that outlet. I have been all over the Net for five years and have yet to sell one painting that way. My gallery sales are fine and my private sales are also. Believe me sales and art are two very different areas. Only a good gallery can give you the start you are looking for, and they need to see a solid body of work before they will consider carrying an artist. Good luck, on your long journey or forget sales and enjoy painting.
There are 6 comments for
Art and sales different
by Joseph Jahn
Lofty ideals don't pay the bills
by Mary Bullock, Memphis, TN, USA I must beg to differ with your conclusions about online selling. I know of quite a few top professional artists who not only are represented in galleries but also sell online on eBay. They usually offer smaller paintings online and reserve the larger ones for the galleries. In these tough economic times, galleries are having a hard time too, so it doesn't hurt to explore other avenues. After all, having lofty ideals is fine, but we still have bills to pay.
There is 1 comment for
Lofty ideals don't pay the bills
by Mary Bullock
Daily painting phenomenon
by Liz Wiltzen, Banff, AB, Canada About a year ago I jumped on to the "daily painting, selling for peanuts from a blog" band wagon. To date it is one of the best things I have done in my 20 plus year career as an artist for several reasons. To name a few: — It has given me an opportunity to put my process, both technical and spiritual, into words regularly, which has deeply broadened my understanding of it. — A commitment to paint a large amount of small paintings in a short period of time has rapidly propelled my growth as a painter, and these pieces are generally smaller than a gallery prefers to sell. — I have sold enough of these to help balance the inconsistency of income that seems inevitable when selling through galleries. — I have tapped into an ever expanding network of people on a similar path, and having these fine folks to share the journey with has done much to brighten the solitary experience of a painter's workday. — I have gained a significant amount of exposure for my work, with a reach that is much farther than my galleries have managed as of yet. — It provides the opportunity to share things of value I am learning with other artists. — It offers those who cannot afford my current price structure a chance to own a small original, and I really like that. As for your comment, "online artists who opt for the gallery system may need to desist from private selling online," I would suggest the opposite. I believe wise galleries will encourage their artists to have a strong online presence, as well as the galleries themselves. If only very small pieces are offered at "fire sale prices" privately, they have the power to act as a tiny first taste to intrigue and captivate patrons to seek out a larger work from that artist's galleries down the road. (My strategy is that the fire sale price only lasts for one week.) The Internet has become such an integral part of our lives that not using it as a part of your business plan makes no sense. Galleries are representing 30 or more artists at a time, and to do a good job for each of them, each one can only get the percentage of their time the other's aren't. No one is going to work harder at promoting my work than me. I also believe the days of keeping the client and artist segregated are gone; it simply can't be done anymore. Let's get them together and start building a relationship. The more a patron knows about an artist, the more likely that they will want to own a piece of their work. Trust is essential. It's time for artists and their galleries to work together using the Internet as another tool to build connection, exposure and sales. All parties are served by this.
There are 6 comments for
Daily painting phenomenon
by Liz Wiltzen
Blogging aids creative process
by Shirley Fachilla, TN, USA Like Randall, I've recently put up a blog. Unlike Randall, I haven't offered anything for sale for couple of reasons. One, there are some remarkably good artists who offer paintings daily online. I can't compete with their quality or their quantity. Two, even these excellent painters make way too little with their online sales. My aim with my blog was different. Sure, I want to increase my visibility and my "fan" base. Certainly I would like a gallery to discover me online; or at least, I would like to use my online presence as an introduction to gallery owners. These are aims that Randall's blog might fulfill for him as well. But I also wanted something that has little to do with selling or marketing. I wanted to write about art just not my own! So when I blog, I write about the process of painting or about other artists, most long-dead but some alive and kicking. I use one of my paintings to illustrate the point of the main blog topic. So far, I've been limited, not by topic but by not having a work which would operate as a good demonstration. This writing which started as something of a chore has become an actual help to my own creative process. By the writing, I have started to see avenues unexplored, nuances overlooked and possibilities for my process I had neglected.
There is 1 comment for
Blogging aids creative process
by Shirley Fachilla
Self promotion essential
by Mike Drake, Augusta, GA, USA I started painting a year ago this month, joined a local art guild, put my art in show and sells, and on Facebook. I have done about 80 paintings, sold 13, given that many away as gifts, donated to local causes etc. most have been 16×20 inches or larger. I don't understand why everyone isn't doing the same. My work varies between landscapes and abstracts, some from photographs, but now a lot are coming out of my head. You have to get out there and let the universe know you exist, and make it almost affordable, framed or not.
There is 1 comment for
Self promotion essential
by Mike Drake
Immediatism
by Shirley Peters, Putney, NSW, Australia I think you are doing the "daily painting" industry a disservice. By referring to the paintings as a line of tarts created by bakers, you are belittling a genuine new art movement. Don't laugh… I'm not meaning a movement like one of the well studied "-isms" of the twentieth century, a group united with philosophy, but a new, fast art that has evolved for an uploading, online broadband-based community: I call it "immediatism." "Because I can" is a good reason to paint and display a new work every day. There is joy in doing a tiny work, fast, easy and fun, and then being able to photograph it, crop it, and then show it online for all the world to find. It gives immediate satisfaction, and with the blog, immediate feedback. Immediate feedback was not possible before the Internet. Back then, artists
had
to show in a gallery, or invite friends over for a viewing. One's audience was limited to local collectors and admirers. So last century! From the lofty angle of a gallery represented artist (a rare beast in my world), it's easy to be disparaging, as there are so many people doing these daily paintings, seemingly cheapening the product. But, more and more people are painting! How wonderful. And now they have the satisfaction of uploading their work with the hope that they will be discovered, and sold. Over time, those who are only doing it for the income will be disappointed and will stop. Those who are passionate will continue, and maybe move on to larger, more timely works. No one will make lots of money… not even those few who are selling. I liken the 'daily painters' to the salon artists of the 1920s. Many painters, some good, some not, covering the virtual walls with their latest work. All vying for attention. I think 'immediatism' is a product of our new, fast paced, Internet lives. It's here for good. It can't be stopped. Why not embrace it. Who knows where it will lead? Maybe it is the beginning of the end of the traditional gallery? Maybe we'll find the next Picasso or van Gogh uploading daily paintings to kick start her career!
There are 2 comments for
Immediatism
by Shirley Peters
The sweet truth of connectivity
by Kelley MacDonald, Tiverton, RI, USA This was a timely piece on the Daily Painters Movement online. First of all, yes, you can have 'your cake and eat it, too.' Plenty of smart artists are doing that, but it really depends on how you approach your gallery. If you limit your size to small, say, under 10×10 inches for online, and never give small things to the gallery; your blog will work to drive customers to your gallery. After they've bought a little one or two, they're going to be curious about your bigger work. Ask Carol Marine, Karin Jurik, Jeff Hayes, etc. etc. I feel for Randall; sometimes it can feel lonely at first when you blog. So I went to his blog, and though he had interesting pieces – there were no comments to speak of. Now, if you are the best baker in the world, and decide to put a glass case in your living room and fill it every day with delicious goodies, you are still going to find that no one visits, no one buys. In the blogosphere, you have to get people to your blog. He should take some time each week and visit other blogs. Make comments. That alone will get the curiosity factor going. He should install Feedjit live traffic feed (it's free) so he can see when someone visits, and generally where they're from, if they come from Google Search, or another blog. Lastly, he should add artists' blog links to his blog. They also attract Google searches, but if he drops an email to artists he likes and asks if they'll 'exchange links' most people will, and believe it or not, that will drive people to his blog. He might want to listen to the Artists Helping Artists Blogtalk Radio with Leslie Saeta and Dreama Tolle Perry on Thursdays live, or just go to that blog and click on previous week's shows to listen at leisure.
Plan B — diversify
by Phil Chadwick, Southampton, ON, Canada The cost of living with a family these days is considerable so unless you are already famous and have reached the pinnacle scaled by very few artists, the only way to survive is to have a "Plan B" backup career. I have been fortunate in that there is weather every day and to quasi-quote one of the thousands of meteorologist jokes, you don't even have to be right. In addition, meteorology is also an art form allowing my passion for creativity to be satisfied in my work and not just with a brush. However, I try to make my forecasts "impressionistic realism" and as honest as my art. The solution is to diversify. Stay forever true to your passion but listen to your bride. Food and shelter is something you need from a reliable source. I will transform to Phil the Artist soon and although putting some of my passion on hold for 35 years has been Plan B, it was something that had to be done. Working for peanuts in this economy is just nuts.
A tough year
by Louise Francke, NC, USA This has been a tough year of decisions! My gallery, since 1978, has gone belly up owing some artists big time bucks! Orange County Tour is on the horizon in first 2 weekends of November. I have had to make a major decision: do I cling to the gallery prices or reduce them in this economic quagmire through which we are still wading. Since I would very much like to shove the art out the door to new homes, I decided to take off 50% from what the gallery prices were, across the board. Making the small art works a real bargain even when framed in inexpensive frames. If people ask, I'm prepared to tell them that this is what my take is at the gallery. There are a couple of small gallery owners whom I've invited to investigate what I have to offer. Guess I'll have to keep the older works at these prices or maybe go half way with them to accommodate their percentages but new works will be back in the ballpark or perhaps a little less. In order to facilitate the casual looker, I've organized my ltd ed hand tinted hand pulled monotypes/etchings in bins according to subject. Hopefully, this will allow them to really contemplate a purchase. C'est la vie!
Focus on a strategy
by Beth Deuble, San Diego, CA, USA Yes, passion persists. I think many artists are running up against the commoditization of art. This is partly due to the Internet where a vast range of artistic work is available and it is increasingly difficult to stand out from the crowd. Our work becomes a small bobbin floating in an ocean. I think throwing it 'out there' and hoping it will catch a fish is an ineffective strategy for marketing one's work. All fishermen know they must use the right bait and the right lure and select the right spot. Although I am not represented by an agent or gallery as yet, I know it is necessary to have a more focused approach versus a shotgun approach. Keep doing what you are doing. Keep creating. Focus on your work. Then, focus on a strategy and segment of society where you think your work might be well received.
Be in touch with reality
by Ortrud K. Tyler, Oak Island, NC, USA Why is it so hard to understand that artists, in this case let's stay with painters, want to make a reasonable living with their art? Cogburn's pieces are really quite nice. I have seen a lot worse for a lot more money. That said, I get the feeling reading the many responses to your letters, that a lot of artists are not quite in touch with the reality. On the reality of life in these times, things are very difficult for many people and as much as we as artists want to think you can't live without our products, yes you can, especially if you also need shelter, food, transportation etc. I read through your letters about reproductions/giclees etc. again and yes, when you can't afford to pay hundreds or thousands for an original, a good repro can fill that spot at least for a while. I find that when people can afford it and like art, they find a way to replace repros with originals many times. Also small inexpensive pieces fill that niche.
There are 2 comments for
Be in touch with reality
by Ortrud K. Tyler
Archived Comments
Enjoy the past comments below for Peanuts online…
 Featured Workshop: Soffer Studio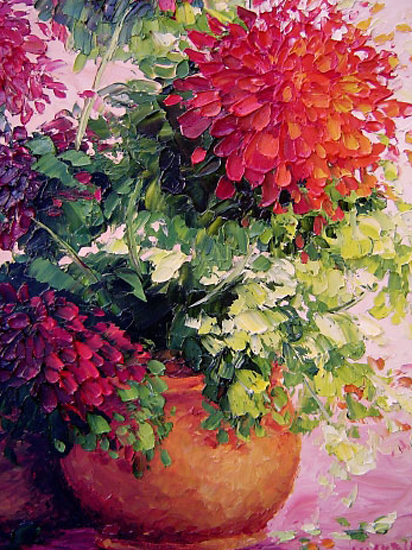 Winter Blooms
oil painting by Nancy Medina, Flower Mound, TX, USA
You may be interested to know that artists from every state in the USA, every province in Canada, and at least 115 countries worldwide have visited these pages since January 1, 2013. That includes Hugh G. Rice who wrote, "Online sales take a lot of time and ingenuity. There is no easy answer. However, it is good to have a website as a reference point for interested clients." And also Carol Lois Haywood who wrote, "Robert failed to mention Etsy.com in his list of places artists are placing small works with some success at selling them."
Thanks, Randall. Your prices ($50.00 for 7″x 5″) are certainly inexpensive. Randall, you need to put the prices right on your site so casual passersby will actually see them — not everyone wants to press "buy now" until they know how much. Second, paint consistently in standard sizes — 6″x 8″, 8″x 10″ etc. — the frames are more readily available. Third, as an option, offer them beautifully framed and make sure you double your money on the frame. Fourth, make your goal to get into galleries at much better prices — and gain credibility and a more professional standing. Fifth, if you want to be "out there" you may also consider eBay, Blogger, Artquest, Artfair, Artgallery, or countless others. Randall's efforts are part of the current trend where everyone and his sister have tiny sketches (peanuts) and "one-a-days" available online at fire-sale prices. Some of our subscribers report they are attracting first-time buyers and helping to make ends meet in tough times. Others say it's tough all over. Your further input is invited. While the Internet may be a whole new venue, there's a lot of evidence that you can't have it both ways. In other words, brick and mortar galleries seldom handle artists who can be had cheaply online. Further, current online artists who opt for the gallery system may need to desist from private selling online. But there's a wider question. Are we, like the local baker, simply making a line of tarts for popular consumption, or are we engaged in something more lofty and significant? Many would say the difference is passion, and while there are undoubtedly passionate bakers, our painterly productivity needs to be based on a noble drive and not on calculated reasoning and bare commerce. With the chimera of making a living online, artists may be in for downstream distress. Quality develops when an artist falls in love with an often complex and personal process on the way to a distinctive style and a unique vision. Blinded by the possibilities of tiny cash flow, which may not occur anyway, passion is subjugated by price points. Best regards, Robert PS: "Passion should overwhelm reason time and again." (