Dear Artist, Yesterday, Sridhar Ramasami, currently living in Nanchang, China, wrote, "I've been painting for many years but now I never seem to be satisfied with what I produce. I always think the quality is not good, or the colors, composition or some such. Will I ever get to be satisfied with a painting?"
Martha Graham
) Esoterica: Another type of dissatisfaction is what I call "professional posturing." This is where an artist openly degrades his own work and points out its shortcomings. Some demo-doers are particularly fond of this ploy. In many cases it's a self-fooling system in an effort to understate and over-prove, and superior work can be the result. It may also be an unabashed fishing trip for compliments. This ego-challenged con artist begs to hear, "No, no, Michelangelo, it is really quite wonderful, and so are you."
Sridhar Ramasami
Love the work and the journey
by Rick McClung, Atlanta, GA, USA When I was a young painter, I expressed the same to my master that the artist told you… I am not satisfied with my painting." He told me, "If you ever do a work that you are 100% satisfied with, you may not continue to progress as an artist." Seeking to improve constantly and exploring new subject matter with excitement should be the carrot we chase. The built-in wonderment should drive all of us until the brush falls from our fingers. Love the work and the journey.
There are 2 comments for
Love the work and the journey
by Rick McClung
No shame needed
by Linda Blondheim, Gainesville, FL, USA A certain amount of dissatisfaction is healthy for an artist for motivation to improve. It keeps me on my toes, striving and studying for incremental success. It becomes a problem when it is paralyzing for an artist, such as a beginner or advanced beginner. Often they are so unhappy that they have lost the joy of painting and spend most of their time wringing their hands with frustration rather than growing and enjoying the actual painting experience. Then there are the painters who bemoan their former works as inferior and suffer embarrassment because someone proudly displays the painting in their home, done 10 years ago. I have always felt that I should celebrate the different stages of my career. At whatever level of skill I possessed, it was the very best I was capable of at the time, so I feel no shame.
There are 2 comments for
No shame needed
by Linda Blondheim
What's a 'fine artist'?
by Doug Hoppes I've only been painting for about 4 years and oils in the last two years, so I'm pretty new to this. I took some classes at a local university and have been studying (once a week) for the last year with an artist who studied with Frank Mason. My instructor, Karen Winslow (Cambridge, VT) is teaching me quite a bit. I'm definitely improving. I've run into situations where I talk to other artists and they say that they are "fine" artists. I mention that I'm an oil painter and they start talking about getting gallery representation. I mention that I sell a lot of my work out of my office or at craft shows. Some comment generally comes up to the equivalent of "Oh, you're just a craft show artist… I'm a fine artist." Then comes the comment that your paintings are "nice decorations." So, what is a fine artist? Do I have to have gallery representation and go to some prestigious art school to be considered a fine artist? Personally, I like my work and I like the fact that I can sell my paintings and prints. I know that I have a long way to go and a lot to learn. However, would it be reasonable to market myself as an oil painter or a fine artist?
There are 8 comments for
What's a 'fine artist'?
by Doug Hoppes
Mired in the past
by Laurel McBrine, Toronto, ON, Canada I just spent quite awhile puzzling over which category describes my state of chronic dissatisfaction with my work. I think it depends on the genre for me. I can't say I am ever completely satisfied and then the piece is still in my possession and in sight I am always at risk of going back in. Sometimes you just have to move on to the next thing rather than getting mired in the past.
There is 1 comment for
Mired in the past
by Laurel McBrine
Locked in the same old manner
by Louise Francke, NC, USA There are days when I wish I could create art which is more abstract with a punch full of color and dynamics! My mind and hands seem to be locked in the same old manner of doing things and can't break the chains or is it more the psychological fear of trying and not being able to succeed? The only place where I see a glimmer of something different is in printmaking where the unexpected can rise to the surface.
There is 1 comment for
Locked in the same old manner
by Louise Francke
Four stages of competence
by Bobbo Goldberg, Orlando, FL, USA Someone hit upon the idea of four stages of competence: Unconscious incompetence (the happy amateur), Conscious incompetence (ah — now we're developing standards we can't possibly live up to at this stage but we have eyes to see), Conscious competence (we're good, we have control of the medium, we're open to growth), which inevitably leads to a higher view and becomes, briefly, Unconscious competence, AKA virtuosity or "natural gifts." Of course, this often leads to conscious incompetence, but at a new level, something new to strive for. And it must be said, there is also such a thing as teeth-gnashing and hand-wringing that has nothing to do with growth. In a different art form, Helen Hayes told her acting students: "Until you've been acting for 20 years, don't judge your performance. Do your work, go home, and don't agonize." Agonizing becomes a misplaced form of self-contempt that settles on the work. There is no law against enjoying the hell out of what you do! One remedy I have is inviting students critiquing their work, or each other's, to be as specific as possible. It helps to focus on the work, not the personality of the observer, points to areas of improvement for all to hear and apply if necessary, and is a great antidote to agonizing (which is, in the end, useless self-indulgence and drama). I've known many survivors of academia who could never appreciate their (often wonderful) work, having been victimized by overbearing professors of one sort or another. I don't think this leads to growth, because the laughter is gone. Finally, I must take exception, Robert, to your comment that "being really satisfied with work is mainly the province of amateurs." Satisfied with a particular work is not the same as complacency or habituation. If we're not loving what comes through/from us, why not do something else?
There are 7 comments for
Four stages of competence
by Bobbo Goldberg
Choice of direction
by Paul deMarrais, TN, USA No artist is ever satisfied. You learn to live with this fact especially as a professional. It is important to be satisfied with the style and direction and school of painting that you are working in. If you are doing portraits and dislike people or are doing landscapes when you dislike the outdoors, chances are there will be lots of frustration and negativity. I think many amateur painters struggle to find a direction that really suits them. As a result they complete much tired, half hearted work and stunt their chances for improvement. Many of these folks look tired when painting as the inherent negativity of their indecision weighs them down. I think it also important to have artist heroes to look up to whose work just thrills you to the core. These images will inspire you and also give you some guideline of excellence. This artist seems very thoughtful. His dissatisfaction may also relate to being isolated or being unable to get really competent feedback on his work. Artists need barometers in which to gauge our progress. There really are many pitfalls to snare us just as in non artistic life. We need to build inner strength to balance these exterior forces bent on our destruction. Most important is that we don't fuel the fires of negativity from within our own minds. Cheer yourself on and be your own best friend. It's only a painting!
The art of moving on
by oliver, TX, USA A portfolio, phase or period often has a beginning middle and end. It's harder even impossible sometimes to throw away a body of work, but it is possible to move on. Think of Picasso's various periods. I wonder what he thought about his work as he moved from one period to the next. I think both the Journeyman and the workman have another potential problem, the first one was great, the second one pretty good it extended the concept a little or a lot, the third one brought some new ideas in etc until you hit the peak of the phase and then you exhaust the phase. There isn't anything wrong with the work other than it showed growth, a peak, an exploration to the end and then time to move on or if you did more it would become repetitive. You see this a lot at street fairs or with artists who have a flush of success and gallery owners saying send me more like this — the artist stops growing. But maybe the artist is satisfied but perhaps shouldn't be — or comes they eventually come down with a very bad case of journeyman's or workman's.
People who require words
by Trish Booth, Cordova, NM, USA What do you think about artist's statements and explaining work? I have had the privilege to be in a few high profile shows but they always ask me questions I am loathe to answer. I despise having to answer what I consider to be mostly dumb questions. What do I intend with my work? Well, I don't know, I see a composition, I take it back to my studio, I do some work then we see the result. Things don't turn from visions into words. All sorts of subconscious and intuitive things come into play whether we know it or not, whether we like it or not. How does one resolve this "artist statement" thing? I make visual works and don't really want to write about them. It's a bunch of nonsense. How do we get that across — to people who require words? How do we get them to LOOK and to FEEL rather than to read and compute? (RG note) Thanks, Trish. There is a persistent myth among the overly educated and the public at large that all artists are tortured and in the business of packing meaning into their work. Thus the widespread need for explanation and prior disclosure that gives employment to critics and keeps the presses humming. Throw them a bone but don't waste your time by giving them the whole carcass.
There are 6 comments for
People who require words
by Trish Booth
Art is exploration
by Peter Brown, Oakland, CA, USA I am not sure that Sridhar should ever hope to be "satisfied" with his painting. In fifty years of painting with oil, I have been satisfied with a piece of my own work only a few times. In these few moments, and after a brief time of self-congratulation, I had to ask myself what to do next? What I often did was simply change my whole game. I would put my paints away for a few weeks, or even months, and then come back to try a completely new approach. My advice to an artist facing the "Amateur epiphany" would be to change your approach. Are you using thick paint? Go lean. Grow! I would give that same advice to all artists with "Journeymen jading," or any of their other problems. There are many dialects in the language of art. The worst thing that can happen to an artist is to become comfortable, and satisfied. Last year, I took up collage, and I made a bunch. All the gears were turning. Lately, I am working with acrylics rather than oil. Art is not a product, it is an exploration. Art is a game of solitaire that we human beings made up 35,000 years ago. This game has no rules. You win when you keep growing, and changing. It is a sad artist that thinks he or she must make the same painting in the same way over and over again. That is a job!
There are 2 comments for
Art is exploration
by Peter Brown
Use of glazes in videos
by Francis X. Rosica, Portland, OR, USA I've seen your
short videos
 about oil painting and have enjoyed them. On several of the videos I've seen you put a glaze of blue over the half worked image. What type of medium do you use and why doesn't it smear your oil painting? How much time do you have to wait until that works? When do you know when to do this? (RG note) Thanks, Francis. In all cases those
videos
are acrylics, not oils. I often put on a glaze at about the halfway point to pull the colours more together and give it an overall mother colour. Phthalo blue is a handy one, and, in my case, the most frequently used these days. The underlying painting has to be dry. I use about fifty/fifty water and acrylic medium gloss and a squeeze or two of the desired colour or colours. As you can see I put it all in a little bottle I can shake up. How do you know when to do it? It's more or less intuition, but you can put on a lot and keep cleaning it off with the rag while it is still wet until it begins to look about right.
There are 2 comments for
Use of glazes in videos
by Francis X. Rosica
Archived Comments
Enjoy the past comments below for Never satisfied…
Featured Workshop: Soffer Studio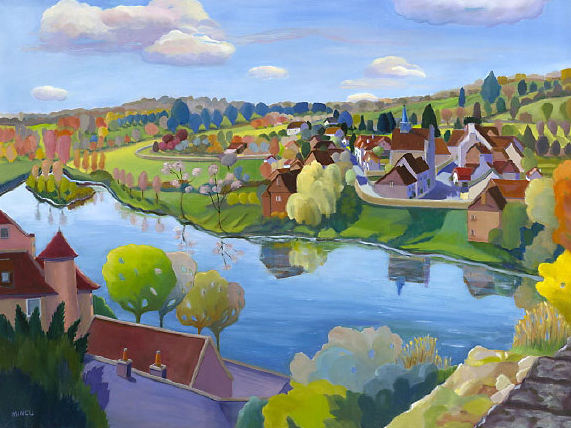 French River Town

oil painting by Bonnie Mincu, New York, NY, USA

You may be interested to know that artists from every state in the USA, every province in Canada, and at least 115 countries worldwide have visited these pages since January 1, 2013. That includes Norman Ridenour of Prague, Czech Republic, who wrote, "The great jazzman, Miles Davis was extensively interviewed on NPR shortly before he died. The interviewer said something like, 'Miles, you have literally played thousands of gigs. You must have often come away at the end of the evening feeling very good about your music.' Looooong pause and Miles' gravelly voice, 'Yes, twice.' " And also George Kubac of Edmonton, AB, Canada, who wrote, "If one gets satisfied the result is stagnation."
Thanks, Sridhar. At the risk of pigeonholing your pain, there are four main types of painterly dissatisfaction: "Amateur epiphany" is where it dawns on the artist that the work is now and will probably remain substandard. The artist may still enjoy doing the work, even occasionally getting paid for it, but the possibility of stellar quality looms unlikely. The popular antidote is to fool oneself that the work is okay. Lots of unsatisfactory work is delivered with the benefit of this delusion. Take heart, Sridhar; being really satisfied with work is mainly the province of amateurs. "Journeyman jading" is where the subject matter or manner of painting loses its initial luster and is seen as shallow, unworthy or problematical. When motifs or ideas start to become boring or tedious, the artist becomes chronically dissatisfied and it's time to think again and move on. "Workman remorse" is where the artist has high standards that are very often achieved, and yet there is a genuine concern for particular surface quality, compositional problems, colour weaknesses, and so on — just the sort of thing you mention. Re-dedication, re-thinking and "back to basics" may be in order. "Professional humility" is where an artist self-compares with the truly greats and falls short. Mature professionals, particularly, tend to get fussier and fussier and become conscious of the loss of their prior quality. Inevitably, they have come to know too much and have developed a sophisticated eye for what needs to be done. Let's face it, high standards cannot always be met and perfection is an impossible dream. Be philosophic. Decay, like death, is most likely unavoidable. Add to all these states the thought that being displeased with our work comes with the territory. Without displeasure there is no improvement and no progress. Further, how boring it would be if everything we did were totally satisfactory. Best regards, Robert PS: "No artist is pleased. There is only a queer divine dissatisfaction, a blessed unrest that keeps us marching and makes us more alive than the others." (