Dear Artist, A captain of industry once made the mistake of thinking I had a good brain and offered me an executive position. I told him I just wanted to paint. He said I was "cuckoo." Funnily, I've always thought cuckoo was a reasonable label for folks like us, no matter how sane. Just for the fun of it, we made a little educational video. We've posted it at the bottom of this letter. Last week I was trying to advise a young lady who wanted to break loose from the landscape persuasion. "It's not even me," she said, holding up a tree. "I want to do something fun, imaginative, whimsical, goofy, cuckoo." Cuckoo, I told her, is serious business. Introducing incongruity, surprise and nuttiness is not easy. Comedies are the toughest movies to make. Five fat cooks standing in a bathtub is funny only if you're not one of them, hence the stoic grins. Repetition helps. Certain species of nuttiness need to be told over and over to carry their punch. And then again, do people take nutty art seriously? Here are a few observations: Context is everything. Marcel Duchamp, the patron saint of visual humour, made art of the incongruous. In his context, a found urinal or a broken bicycle had it. "Humour is very important in my life," said
Duchamp
. "It's the only reason for living." In visual art, things change. A portrait of a clown may not be funny anymore. But the face of a clown looking out the window of a school, or other sobering institution, may be. "Chaos in the midst of chaos is not funny," says Steve Martin, "but chaos in the midst of order is." Would-be funny artists need to scratch their brains for visual puns, metaphors and, above all, transformers — things that could be other things. "It's a matter of what could be, isn't it?" said my mentee. What could be on that woodland path or coming down those railroad tracks? The comic eye, the creative eye, tries different stuff on for size. It's the ability to make previously nonexistent connections. Naïve, realistic or modern, the would-be visual humorist needs to stake out her territory and mine it efficiently. To live in the world of the imagination may be greater than in the real world. To be able to take others into that world may be the greatest gift of all. Best regards, Robert PS: "In the end, everything is a gag." (
Charlie Chaplin
) Esoterica: The thought, "I'm cuckoo and you're cuckoo" has always interested me. Accepting that others are also nuts is comforting, even heartwarming. It certainly explains a lot of things and makes negotiating more agreeable. The human race could use a bigger dose of cuckoo. In a way, the whole business of putting things on canvas is a sort of a gag. An irresistible gag. But it must be okay because we are all doing it, right? What's really cuckoo is that some of us are still reinventing the tree.
The advent of Tiki Toons
by Norm Daniels, San Diego, CA, USA I was a fairly serious cartoonist and illustrator. Then I took up the fairly serious plein air brushes about 10 years ago. Love to paint out of doors here in the San Diego and Southern California areas. Then…. bam, last spring I had a stroke and couldn't drive for several months. I was going crazy not painting out of doors and not really enjoying painting from my photo references. One day I decided to do a "toon" in oil paint. A whole new line was born. I call them "Tiki Toons" and they are just so much fun to do and truly cuckoo. Thanks for the nod to the serious business of Cuckoo, but don't tell any on that it is too serious, they all think I am having too much fun.
There are 3 comments for
The advent of Tiki Toons
by Norm Daniels
A flight to self-portraits
by Susan Holland, Bellevue, WA, USA I have always been cuckoo and more so as I age. One of the things I have done over some sixty decades of flinging paint and other media around the studio is to take a flying leap into a self-portrait. It's great to have a model who wants to sit just as long as you want to paint, and who will not be too insulted with the results. I often use up the rest of the paint doing this — or just do one or two when I am feeling blah or angry. It's freeing and also interesting to look at a bunch of these, noting different ages, attitudes, and approaches.
There are 2 comments for
A flight to self-portraits
by Susan Holland
The sucking sound of IMPROV
by Carol Lyons, Irvington, NY, USA Being part of an IMPROV group and an artist gives me the opportunity to have two types of creativity influencing each other. Both involve the "cuckoo" aspect. My baby fish woodblock,
Fying Fish
is escaping from his environment. This related to an IMPROV experience; buy in the opposite direction, going out of a close environment. For my IMPROV monologue I was given the subject vacuum cleaner. It was up to me to improvise a scene related to a vacuum cleaner. I started the action of vacuuming and then my clothes and me being entirely sucked into the vacuum bag. What a serene and quiet environment I was enjoying! The solitary atmosphere was so peaceful. After a while I was expelled from the vacuum bag. I ended the scene by saying, "All good things come to an end!"
Easel in tiny car
by Annette Rolufs, Surrey, BC, Canada Could you please tell me where I can buy the portable easel that is shown in your short video? It is exactly what I have been searching for! (RG note) Thanks, Annette. I made it myself. It was custom made to fit the seat in the Austin Seven. It'll also sit on found railings, the backs of many chairs and big dog's tails. One downside is that this model only takes 11 x 14 inch stretched canvases. For those who asked about the palette, they were from one of the Golden "Open" sets — slower drying acrylics. Indian Yellow Hue, Alizarin Crimson Hue, Van Dyke Brown Hue, Ultramarine Blue, Sap Green Hue, Titanium White. Pretty well everything can be mixed from these six. The painting in the video was actually done over two days — the changeover being when I rubbed the dry painting with a light glaze of regular Phthalo blue.
There are 4 comments for
Easel in tiny car
by Annette Rolufs
Getting a chuckle
by Christine Holzschuh, Mendon, VT, USA I love getting a chuckle at something clever about a painting or sculpture that is unexpected. I love painting images that give that pleasure as well. My joy is in doing realistic paintings (of sorts) and I find that life will present its own "cuckoo" opportunities to be captured. Painting those moments that I see when everyone seems to be passing by is what I love the most.
There are 2 comments for
Getting a chuckle
by Christine Holzschuh
The cat liked it
by Ginger Pena My cat has never paid any attention to my computer screen until this morning. When I clicked on your video and your chipper little "Cuckoo" tune started to play, he immediately perked up and became mesmerized by your brush dancing across the canvas. Thanks for starting my day with a smile! Your letters are by turns amusing or thought-provoking, but always interesting. Thank you! (RG note) Thanks Ginger. Dorothy (the Airedale) pays attention when there are cats on TV, but is mildly bored with other dogs except when they are small ones that remind her of squirrels.
There is 1 comment for
The cat liked it
by Ginger Pena
Accessing weird, wonderful worlds
by Theresa Bayer, Austin, TX, USA If your student has a good imagination, by all means I hope she puts it to use. I believe that, like drawing, imagination is a skill that can be improved on. One of my favorite exercises is to take an object and see if it can be turned into something else. "Cuckoo" is definitely more difficult than straight portrayal. This is especially true of genres like imaginative realism, fantasy, and surrealism. That's because you have to assemble it. I start with an idea from doodling or making thumbnails in my sketchbook, then I have to find the reference, which is like going on a treasure hunt. It can require many photos (I take my own or get permission), copyright free reference books, still life props, drawings from life, combined with imagination itself. In the end it all has to be combined to make a convincing composition. Some wonderful artists in this area are Donald Roller Wilson, James Christensen, Julie Speed, and Daniel Merriam. Their works range from serious to weird to whimsical, but all of them have a wonderful different take on the world that leaves me breathless.
The school of 'Wonky'
by Brenda Swenson, South Pasadena, CA, USA I am a teacher and I work hard to remind students to add play and joy to what they do. Yes, art is serious stuff but serious stuff can be fun, too! For 11 days I sketched the city of Prague carefully recording all the details of the building, streets, people… I began to feel weary of being so accurate and bogged down with details and accuracy. I stumbled across an artist who painted in a playful way. His artwork looked fun. I wanted to have fun, too! We named this style "Wonky." That day I drew everything "Wonky." What fun I had.
Fun idea pays off
by John C. Butt, White Rock, BC, Canada Recently I entered a piece of sculpture in a local juried art exhibit put on by the Arts Council. This is something that I usually don't participate in due to the time it takes to complete a sculpture in stone. However, with this exhibit in mind, I had a nice piece of African springstone on the bench, and thought why not. It's a funny thing with this nature of artwork, that you look at your material until the subject matter reveals itself. It's just something one must do with rocks. There is not a whole lot of changing of the mind while underway. Carving stone is a serious business. Most of the work I do in the harder stones is figurative, somewhat accurate, and carries what I call a "posture" that usually pulls off a convincing rendition of the human figure rather nicely. The figures that came to mind on this particular effort were in fact "funny." I decided to carve a humorous situation into a stone that I otherwise would have treated… let's say, more traditionally into figurative poses. I had fun doing this work, and very much to my surprise, it took first place in the sculpture category of the juried event.
There are 3 comments for
Fun idea pays off
by John C. Butt
Archived Comments
Enjoy the past comments below for Cuckoo…
 Featured Workshop: Ron Rencher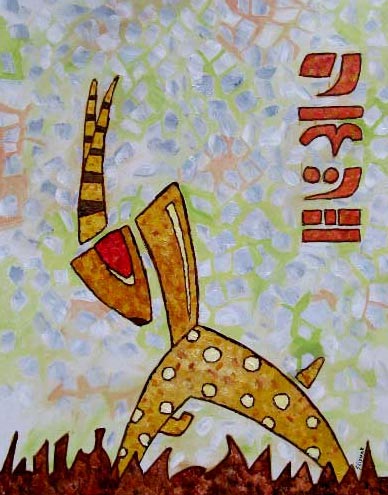 Deer 3
acrylic painting by Sridhar V Ramasami, China
You may be interested to know that artists from every state in the USA, every province in Canada, and at least 115 countries worldwide have visited these pages since January 1, 2013. That includes David Martin of Las Vegas, NM, USA, who wrote, "Reminds me of the great quotation from Orson Wells in
The Third Man
…. 'The Italian city-states suffered through wars, assassinations, political turmoil and strife starting in the 15th century and continuing for several hundred years. They produced da Vinci, Michelangelo, the Renaissance and much more. The Swiss, on the other hand and at the same time, had peace and prosperity, calm and democracy. And what did they produce?… The Cuckoo Clock.' " And also John F. Johnson of Roseville, CA, USA, who wrote, "It's good to be cuckoo." And also Marvin Humphrey of Napa Valley, CA, USA, who wrote, "I like to paint little unassuming 'cartoon' paintings."