Dear Artist, Yesterday, Nancy Bell Scott of Old Orchard Beach, Maine wrote, "Lately my brain has been overwhelmed by the many thousands (millions?) of images online. An evening can be spent wandering around cyberspace and enjoying it immensely. But very often, the next morning, entering my studio, I'm utterly paralyzed. My husband has noticed what online exposure does to me, and he thinks it's making me nuts. He's a very perceptive, creative person. I'd love to hear your own (and others') thoughts on this and what to do about it." Thanks, Nancy. It's all about procrastination. Hanging out at a cabaret or hanging on to a computer, artists will do anything to avoid going to their room and going to work. Fear of failure and fear of success are just two of the issues that lead to escapism. With the quality and variety on the Internet, today's painters face a hazard like never before.
Cabaret
) Esoterica: One warm Thursday evening last August, my neighbor George held a party at his house because his Facebook friends had reached 10,000. Only a few actual people were there; the rest, I think, were virtual. For a while we looked at fractals online and drank lemonade. George has a couple of nice Rottweilers, Sally and Betty, with whom I like to chat, but that night I had to get back to the studio computer to see if my Twice-Weekly Letter went out okay.
Nancy Bell Scott
From laptop to easel
by Shirley Fachilla, TN, USA Image overload happens to me, too, especially on Facebook where my newsfeed page often looks like a picture book rather than social commentary. I limit my visits and limit the number of images I enlarge from thumbnail to keep from being discouraged with either the quality or quantity of my own output. I try to keep my eyes and mind open when I'm on the Internet. It, like visual content everywhere, is full of different ways of seeing that can inspire new visions. Sometimes what I see jumps out and announces answers to problems; sometimes it settles in quietly, bides its time and then offers a new pathway to be explored. I found myself staring at a book jacket a day or so ago, not the front but the back which had the always-flattering author photo. It presented me with a wonderful combination of colors perfect for a painting that I've thought about making for over a year. (I have made many other paintings in that time span.) I may be forced to buy the book to have those colors in hand rather than on the Net. But then the colors may be different in reality than in digital mode. Have laptop will travel to easel!
Meditation for the creative mode
by Gerti Hilfert, Langenfeld, Germany Human beings are amazing at multi-tasking, especially women with their wonderful two-hemisphere exchange, but like a car engine our brains are not synchronized to run different gears. If Nancy's brain was stuffed with fast Internet information the night before it is still extremely busy with processing data the following day or even longer. For self-protection the brain keeps doors closed to different energies. This state makes creativity nearly impossible because different brain frequencies are necessary. Meditation helps the brain to run on lower frequencies. Perhaps even a short morning meditation in a silent, natural surrounding may help Nancy back to a creative mode. Soothing scents and relaxing music are also therapeutic. It's always up to us to arise from the ashes.
There are 5 comments for
Meditation for the creative mode
by Gerti Hilfert
You cannot have it the way it was
by Daniel F. Gluibizzi, New York, NY, USA Maybe I am looking at this differently. Nancy Bell says she is overwhelmed by images, but did not say she was a Net Junkie! There are paradigm shifts that are happening! We may be in the thick of several of them. Image saturation is clearly one of them. As a New Yorker from birth I have watched the city change and adapt, to image, and image delivery. We are currently watching the end of sign painting and seeing a new view of Manhattan, dotted with 20 story printed textilene images of teenagers in their underwear, and this will soon be replaced by LED vid walls, 30 stories high! It is not just the Internet, it is your life. Warhol was heralding it. But is it is bad? Think of the difference in painting after the invention of the electric light? Was Paris truly the arts capital of Europe or could people just finally see something at night? Right now, I am thinking of Whistler and Boldini's nocturnal street scenes. And now, of Francis Bacon and Robert Rauschenberg, who constantly talk of the power of "images." How many artists still demand north light window for their studio? Nice to have, but it won't stop you if you don't. I regret, for some, that you cannot have it the way it was. The stress that Nancy Bell faces when she brings her "night before" to her studio may be exactly what being an artist in 2010 is all about.
Perils of the Vata mind
by Loretta West, Spokane,WA, USA Many artists possess what the yogis call the Vata mind, creative, and easily distracted. I too have been over stimulated by the Web, with visions of Web pages flipping in my dreams at night. The best thing I have found for this affliction is to paint plein air where I have a job to do and I cannot be distracted with "the need to tap those keys." It clears my mind and keeps things in perspective. While waiting for paint to dry, I've taken to learning how to play the Navajo flute which, yes, may be yet another distraction, but it is soothing and helps to slow me down, especially if under a deadline. I find I can play for fifteen minutes and be more relaxed in my painting approach. I like your step program and it reminded me of an article I read where a painter would write down at breakfast all the other non painting things that needed doing and leave the list on the kitchen table, until the end of the work day when she would decide what needed the most attention and tackle them. She found that many things solved themselves while she was working.
There are 6 comments for
Perils of the Vata mind
by Loretta West
Time management, moderation and determination
by Cynthia Powell I teach digital art workshops online which means I also market online. I fall into the same routine daily and I keep telling myself I must change that routine and start including a few hours away from the virtual world I have created to accommodate my cravings. Time management is the key to victory in all things! Moderation is the second and Determination the third. Set limits as goals, make lists of Must do's and get in the studio.
Beating the Web Syndrome
by Beth Deuble, San Diego, CA, USA The Web Syndrome has real consequences: Overstimulation muddles the mind, and, as I am finding out, it is very hard on the eyes; Can dry out the eyes from too much staring. I went in this morning for a follow-up eye test and my pressures are up; no glaucoma — yet — and optical wall is nice and thick, so eye stress is suspected. As with anything we need to exercise discretion and create balance. I write a blog, am in the process of writing two books, I field email for my business, and do research on art and photography — all this online. I also have a Blackberry and use my iTouch for storing information. The virtual world is not reality and is not paramount in my artistic life. I was an artist way before the web was even invented. I am taking my own advice from my blog, Path to Well Being, and engaging reality through balance and creating harmony in my life.
Use of the Browser Timer
by My Adopted Child .com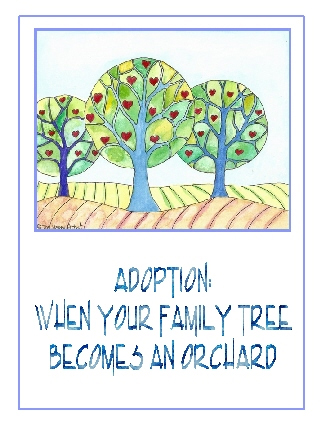 It's all about evolution. We evolved off the plains as hunter/gatherers… our survival depending upon using our senses to 'find' safety and sustenance. And we were 'rewarded' when we found it. The Internet is a perfect search and reward activity: search – click – reward! Search – click – reward! Looking for Degas' ballerina? Type that into the search window, hit search and reward! There she is on 100's of sites and images! And whether you know it or not, you just juiced your brain. Juice your brain enough times, and it's hard to stop. Fortunately there are several browser timers that work with Chrome (StayFocusd) and Mozilla (LeechBlock)… you load in a site like Facebook or CNN and set the timer to … let's say 10 minutes a day? At the end of 10 minutes, BAM! you are blocked from those sites for the rest of the day! Or from 9-5 or however you set it.
There are 2 comments for
Use of the Browser Timer
by My Adopted Child .com
Don't complain
by Haim Mizrahi, East Hampton, NY, USA I think that Nancy's "problem" is that she is not putting this problem to work for her benefit. What I mean by that is, and I think that Nancy does not have a problem that will justify her joining any group that has an A letter in it that usually harms more than helps, that if you adapt an alternative attitude that will allow you to change your style and technique constantly then this so-called confusion and a sense of feeling paralyzed will serve as an outlet to express these sensations on the canvas, you must fear never changing more than becoming an addict of any kind of Internet exposure. It is a great way to trick a potential problem that awaits you to distract you and sometimes it is also a good idea not to paint at all, wait and observe your feelings as a way of recapturing and re engaging. There are myths circling around, be careful because many things pose a danger in their name while it has nothing to do with reality. Consider yourself fortunate in the name of these difficulties and put it to use creatively the canvas will take it all in without complaining.
A natural tendency
by Paul deMarrais, TN, USA I don't think it is procrastination that is the issue here. I think it is human nature to turn any pleasurable activity, and through repetition, and turn it into a mind numbing bore. We take romance and kill it with the 'honeymoon.' We take looking at masterful paintings and turn it into the Metropolitan Museum of Art, where you can spend days wandering around room after room of masterpieces until mental and physical fatigue kills our interest. This artist's problem is focus. You can even see it in her paintings. The Internet is mecca for lack of focus and so has easily gripped her in its tentacles as it has millions of other people. A person without a focus problem can gain much from the Web. She could find an image that appeals to her and really study it and ask herself why the image appealed to her and how she could use that idea in her work in the future. The key to solving a problem is to recognize it and I believe that artist here sees that there is a problem. Why does she feel the need for mental clutter? Why is it pleasurable for her to spend hours of aimless seeking on the Web? If it is escapism, what is she escaping from? Much escapism comes from fear in some way. We are running away from something. Fear is a stubborn and cunning adversary. Artist's conflicts play out in their painting. It is our job as artists and as people, to know ourselves inside and out; to know our weaknesses and tendencies, strengths and conflicts. When we face conflict in art, often there is a blockage there. We are energy beings with an electrical flow. Most artists seek a quiet mind to enter that stream of creativity and paddle our little boats down that peaceful river. It can be tough to get to that river. There are endless diversions in life, some good and some not so good. I wish this artist luck in clearing away the debris of overstimulation and finding her voice again amongst the roar of competing voices. We need to hear our own artists' voice at all times.
There are 2 comments for
A natural tendency
by Paul deMarrais
Brain damage
by Richard Griffin, Wilton, NH, USA In his recent book, 
The Shallows: What the Internet is Doing to our Brains
, Nicholas Carr pulls together neurological research that speaks in two ways to the situation Nancy is describing. First, the research demonstrates that Internet use actually strengthens and develops the part of our brain that pays attention to distractions. That part of our brain then craves and demands distractions — which makes sustained creativity difficult. It's tough to paint when our brain will only pay attention to the painting for the amount of time necessary to click on the next hyperlink. Second, neurologically we create when our cortex pulls together disparate information stored in our long term memory. Neurologically, our long-term memory is practically infinite — but our short term memory is very small. It takes sustained attention and lots of work to transfer something from short-term to long-term memory, like filling a bathtub with a thimble. Initially our long-term memories are stored in the hippocampus, but after about 5-7 years they migrate out into the cortex. At that point they become most available, neurologically, for our brains to use to create with. So long term, and speaking neurologically, Internet use hinders our ability to create — we're not putting in the sustained attention necessary to give our brains the input they need in order to create.
Confessions of a Junkie
by Shelli Ardizzone, Bronx, NY, USA The realization, as I sit here night after night "researching" in an endless loop of images that, while eye candy are really making me dull witted. You really hit the nail on the head. My procrastination has made me a Junkie. Painting practice neglected, proposals unwritten, framing undone, submissions late for shipment, degraded eyesight, missed meals, momentum halted, and lack of sleep. Now that I know what has happened, as it really snuck up on me in the disguise of Research Activity — the full extent of the damage is crystal clear. (RG note) Thanks, Shelli. And thanks to the many artists who wrote confidential, anonymous letters along the same lines. Many of them started out: "My name is _____ and I'm a Net Junkie."
There are 6 comments for
Confessions of a Junkie
by Shelli Ardizzone
Archived Comments
Enjoy the past comments below for 'Overwhelmed by images'…
 Featured Workshop: Ron Rencher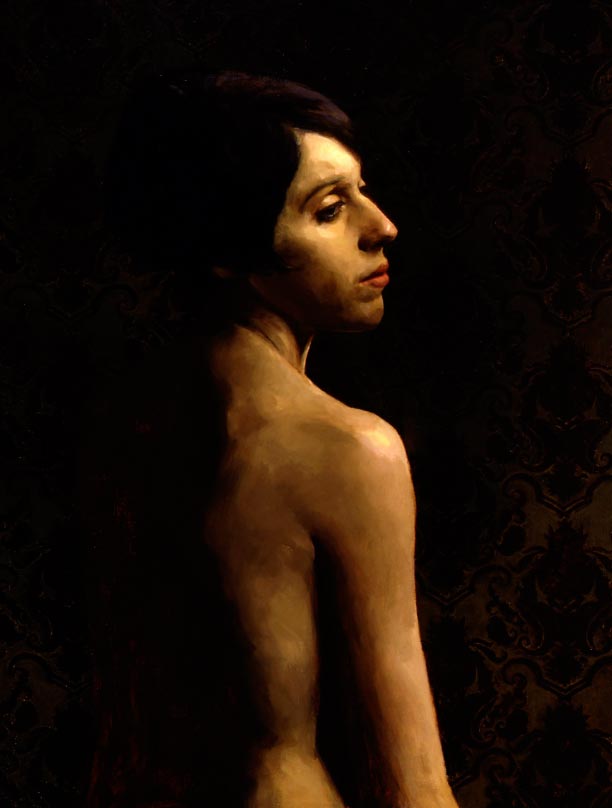 Sibyl
oil painting by Edward Minoff, New York, NY, USA
You may be interested to know that artists from every state in the USA, every province in Canada, and at least 115 countries worldwide have visited these pages since January 1, 2013. That includes Christine Debrosky of Clarkdale, AZ, USA, who wrote, "Why is it necessary to post every single thing that a person produces? I would not want to listen to every practice session, wrong notes and all, by a musician… not to mention the works in progress being posted, and asking for critical feedback." And also the photographer David Lisman who wrote, "I recall observing a couple in Barcelona atop Gaudi's Casa Mila. They each had nice Nikon Digital cameras. They were clicking away indiscriminately, shot after shot. I wondered, perhaps a bit too critically, if this couple would be able to even recognize an artistic shot once they viewed their digital images. Quantity does not guarantee quality."
Net Junkies are the new alcoholics. Artists who allow the Internet to take them where it will, throw in the towel of creative individualism. Too much non-directed exposure to the work of others humbles, discourages, and sullies our own best efforts. The result, if you stay at it long enough, can be rudderless dilettantism. But there's help. It's called NJA. Net Junkies Anonymous knows that artists procrastinate in the name of research. They get hooked. The solution is to make research a process-driven activity. It starts with the easel station. Attend to your easel before you go near your machine. As you think of your needs, put notes beside your easel. Let your work tell you what you need to study. When the time is appropriate, take your list to the machine. Be efficient and cagey. The Internet is a great slave but also a cunning master. You have to go there on your own terms. Straight out of AA, here are a few steps to recovery: Make an inventory of time spent at your various stations. Admit that you may be doing harm to yourself. Carry your spiritual awakening to other Net Junkies. Use the greater power of art itself to restore your sanity. Best regards, Robert PS: "What good is sitting alone in your room? Come hear the music play. Life is a Cabaret, old chum, Come to the Cabaret." (John Kander and Fred Ebb, from