Dear Artist,
While the art world goes bananas over a banana in Miami, Peter and I are strolling through another kind of shopping spree in Melbourne. Here, Brian Donnelly, a.k.a. KAWS, has mounted a survey of his output-to-date at the National Gallery of Victoria, packaging his beginnings as a '90s New Jersey graffiti tagger, his "interventions" with bus stop posters, billboards and cartoon icons and his present-day collaborations with Japanese toy manufacturers, global clothing retailers, a luxury brand of cognac and Paris fashion week. If it's an object of consumer lust, KAWS has x'ed out its eyes, re-appropriated it as art and re-merchandised it as a top echelon consumer good in his adjoining pop-up shop. Like Maurizio Cattelan's duct-taped banana, KAWS' re-contextualized commodities ride the coattails of the ubiquitous and deeply familiar and sell it back to us as art.
Peter and I seek refuge upstairs, in the 19th Century European galleries. Here, the oils are salon-hung floor to ceiling and ooze brushwork and subject matter so intimate they dissolve the onslaught of emptiness from downstairs. "These works, too, are about the concerns of the day," says P, pausing before Anguish, August Friedrich Albrecht Schenck's 1878 masterwork depicting a mother ewe, anthropomorphized in devastation as she protects her dead lamb from a gathering murder of crows. The 141-year-difference between Schenck's tormented ewe and KAWS' 7-metre-tall, cast bronze Gone, an homage-in-muppets to Michelangelo's Pieta, lies in the eyes — KAWS' are all x'ed out.
Across the road are the galleries for Australian art, and we link hands to savour each individual attempt to capture an independent identity and style for Australia. Tom Roberts' 1890 Shearing the Rams kicks up a dusty portrait of community, enterprise and pastoral life. Now hanging in this annex, a good walk from the KAWS spectacle, what once galvanized Australians with a mirror reflection of national values now merely enchants with a memory. Roberts, who migrated from England to Australia with his family at age 13 and later studied Impressionist and plein-air techniques in Europe, would return to Australia to organize plein-air trips into the Melbourne suburbs, including Box Hill and Heidelberg, to capture Australia's unique conditions — her light, heat, vastness and the heroism of pioneer life. Along with other artists including Frederick McCubbin, Arthur Streeton and Charles Condor, Roberts would connect Australia's newest inhabitants to their environment — founding what would become known as the Heidelberg School and Australian Impressionism.
Sincerely,
Sara
PS: "People who usually would not have been so interested in art wanted to see 'the banana.' It has opened the floodgates and morphed into an important debate about the value we place on works of art and objects in general." (Miami art collectors Billy and Beatrice Cox, purchasers of Maurizio Cattelan's Comedian.)
Esoterica: On the final day of Art Basel Miami Beach 2019, Emmanuel Perrotin, founder of the gallery that sold three editions of Marizio Cattelan's duct-taped banana Comedian for between $120,000.00 and $150,000.00 each, was forced to remove the installation due to uncontrollable crowds, risk to surrounding people and artwork and a recommendation from the fair itself. This was one day after David Datuna, identifying himself as a "hungry performance artist," ate the artwork. Luckily, Perrotin kept a spare banana in his desk in case of just such an incident.
The Letters: Vol. 1 and 2, narrated by Dave Genn, are available for download on Amazon, here. Proceeds of sales contribute to the production of The Painter's Keys. 
"We are acutely aware of the blatant absurdity of the fact that Comedian is an otherwise inexpensive and perishable piece of produce and a couple of inches of duct tape. But when we saw the public debate it sparked about art and our society, we decided to purchase it. We knew we were taking a risk, but ultimately we sense that Cattelan's banana will become an iconic historical object." (Billy and Beatrice Cox)
Featured Workshop
April 5, 2020 to April 11, 2020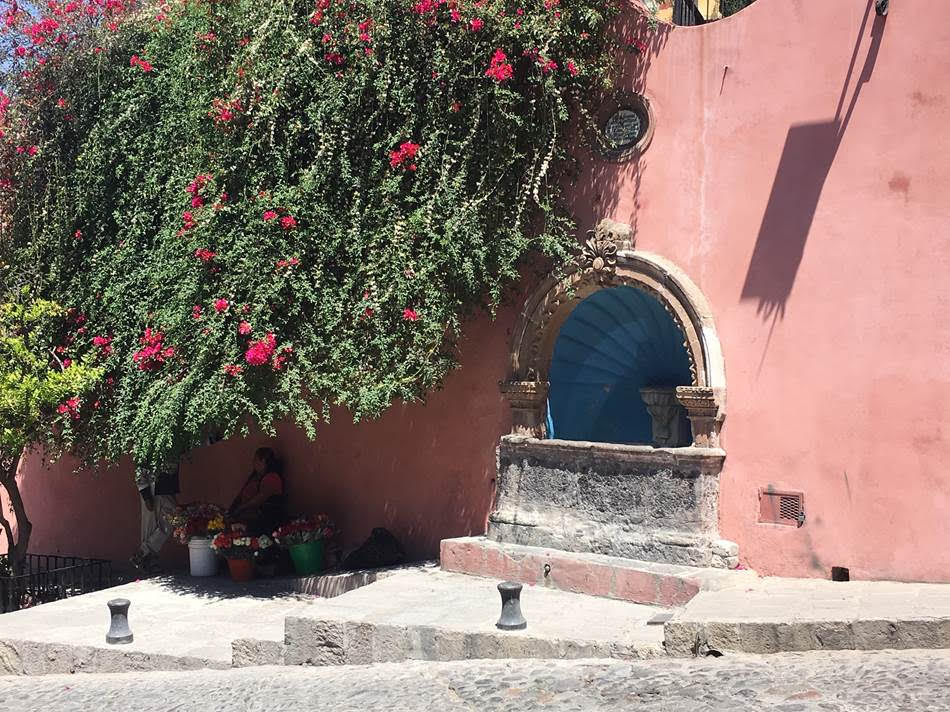 Join painter/author Ellie Harold in sunny Mexico for a week of immersion in a facilitated discovery of your deepest and most essential artist self. If you're feeling blocked, thwarted or simply longing for a more meaningful expression, the retreat is a unique opportunity to focus on your life/art purpose, discover new directions and explore next steps. You'll enjoy your own room in the charming Casa de la Noche in San Miguel's Historic Centro district, painting and writing (with materials provided), guided reflections and focused discussion with plenty of time to explore the color and culture of this vibrant art city. Created with the needs of mature women in mind, this retreat focuses on process rather than product and is for both experienced and novice art-makers. Limited to 12. Register by November 30 to receive Early Bird free shuttle. One Discounted Spot Now Open! Click here for a full description, photos and testimonials from past participants.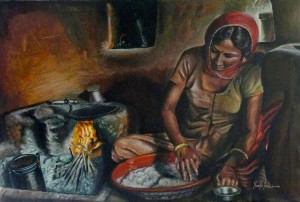 Woman preparing chappaathi
oil painting
Featured Artist
I, Ramya Sadasivam, have been practicing art since 2006. I so love to portray Indian culture, customs, day to day chores of the hard-working laborers, happy village life and life of women. I love to capture the difference in values between the shadows and bright light and also I like to capture genuine emotion.