Dear Artist,
It's been noted that young twins, left alone together, sometimes develop unique and original words and even sentence structures to communicate with each other. An idiosyncratic language, a condition known as "ideoglossia," is also sometimes found in only one person. I've noticed it myself when I've been confined for long periods on my own in remote places. At one time I started calling my large soft brush a "spleeb."
Idiosyncratic forms of visual art are commonplace and desirable. Developed over time, the individualist artist can lay claim to a style, although it may not be copyrighted or patentable. While uniform agreement on the meaning of words is appropriate for communication between humans, each artist is well advised to explore a unique visual language and develop it.
After that recent blog-radio interview, many artists asked how to go about speaking in their own tongues. Here are a few thoughts:
Don't be afraid to fall back and take your own counsel. You are the only person you will have to live with significantly, and you may as well get to like and trust yourself.
Always be open and curious as to what you may be doing wrong. Little wrong things that you can get to like can send you on the track of something new or original.
Wear a different cap when you sit back and contemplate your work. You'll notice nuances, touches and subtle ideas that were not evident when you were in the middle of it.
Be prepared to take risks. You need to be able to get your brush around what you're up to, but if you don't swing out, you'll never know what's out there.
Be prepared to fall in love. Sometimes love creeps up on you and you hardly know what's happening. Just like luvvy-duvvy talk between couples, so too does a unique language of creative love manifest between an artist and her work. Love smites you during the act of discovery and the exercise of process. As you do your work, you discover what you love to do. Thus blessed, you will need to do it again. Do it again and you can claim it as your own.
Best regards,
Robert,
PS: "If a man does not keep pace with his companions, perhaps it is because he hears a different drummer. Let him step to the music which he hears, however measured or far away." (Henry David Thoreau)
Esoterica: I'm laptopping you from a deep woods not far from my studio. Morning and evening, Barred owls, seldom seen in the tall cedars and firs, call to one another. Deep-throated or sometimes high-pitched, the story's the same: "Who, who, who cooks for you?" This year there are three distinct voices — perhaps it's a young one who joins in. Maybe I'm putting too much meaning into things, but the kid seems troubled, difficult, petulant, annoyed, spoiled, lazy. Sometimes the parents take a long time to respond. Speaking to them in Owlish, I advise the parents to migrate, but they are too stuck in their ways.
This letter was originally published as "In search of ideoglossia" on December 9, 2011.
The Letters: Vol. 1 and 2, narrated by Dave Genn, are available for download on Amazon, here. Proceeds of sales contribute to the production of The Painter's Keys. 
"Art is the thrilling spark that beats death – that's all." (Brett Whiteley)
Featured Workshop
February 26, 2020 to March 4, 2020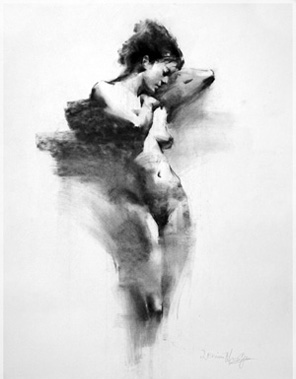 Learn from the Master! The way to do accurate drawing with painterly approach. Join us for this 7 day retreat with 4 day workshop in magical settings of Mexican back country with one of the best instructors of drawing the human figure. From short pose gesture and anatomy studies, to long pose painterly approaches, students will learn step by step the drawing methods, human proportions, anatomy and much more. Live model with small class size will insure lots of personal attention.
Henry Yan has been teaching at Academy of Art University in San Francisco for more than twenty years. His book, "Henry Yan's Figure Drawing – Techniques and Tips" published in 2006, has been widely used by art students and professional artists in the US and internationally.

Casa Buena Art Retreat is a calm and beautiful place to relax and explore your creative energy. Non painting partners welcome.
For more info check http://www.casabuenaartretreat.com/Retreat_HenryYan.htm
or contact Jane at janerom@shaw.ca
Featured Artist
I am a painter. I am delighted to be a painter.