Dear Artist,
Since my father's death, my mum and I have engaged in an activity I'll call, "anecdotes you may not have heard before." In it, we tell each other stories about my dad — mine usually involve things he taught and told me, while hers are about her husband, the Human Artist. Our activity always honours an unspoken understanding that keeps his heroic role in our family — and my creative universe — intact. My mother continues to mother me at her highest expression. I honour her with my dedication to my work and gratitude for her vital role.
Last week, I told my mum about some of my father's advice, and she replied with delight that she hadn't heard it before. I was remembering that when I was in my early thirties and making some difficult decisions about life's creative storyline, my dad suggested that whenever possible, I should choose the constructive, rather than the destructive path. He wholeheartedly rejected the tired myth that an artist must construct a negative drama in order to be interesting or legendary. He motioned towards his own life, one that included an attraction to harmony over discord — one that kept our family close and his work at the ready, with his painting subjects focused on honouring what which he loved most — the environment and the designs and nobleness of nature and the beauty of small details.
In 2008, 42-year-old Australian painter Adam Cullen asked 19-year-old Erik Jensen to move into his spare room and write his biography, luring him with the promise that he had a deal with a publisher. Erik, then an ambitious young writer for the Sydney Morning Herald dove into what would become a four-year-long black hole of mind-games and myth-making by Cullen, who was alone and self-destructing with use of heroin and alcohol. As it turned out, there never was a deal, but when Cullen died in 2012 at age 46, Jensen assembled a portrait of the artist in ten chapters and published it as, Acute Misfortune: The Life and Death of Adam Cullen. In it, Jensen described a likeable man from an uneventful, suburban Sydney upbringing, but one who worked hard to cultivate a repellent personality through destructive habits, all in an effort to build what he believed was a suitable artistic persona. Cullen's bad behavior eventually eclipsed his paintings — one of his last, self-inflicted devastations was his own trial for weapons possession. Cullen's still-celebrated work, in museum collections and adorning a Melbourne hotel named for him, tapped into universal Australian themes including crime, masculinity and animal-human connections. Near his end, though, it risked devolving into pastiches of his own earlier sparks of a more honest Australian portrait.
Sincerely,
Sara
PS: "Endurance is more important than truth." (Adam Cullen)
Esoterica: Melbourne sparkles with early summer breezes and jubilant patio sippers. Immersed in Cullen's loose drips in a portrait of Ned Kelly's emaciated horse, I acquiesce to Adam Cullen's painterly commitment to his own form of method acting. At 35, he entered Australia's most revered prize for portraiture — The Archibald — and won. In this victory of recognition, Cullen upended what was once reserved only for the conservative end of the Australian art establishment. Like the outlaw Ned Kelly, in his own makeshift armour, Cullen made his name and then orchestrated his own spectacular shootout.
Thomas M. Wright's 2018 film adaptation of Erik Jensen's book, Acute Misfortune is here.
The Letters: Vol. 1 and 2, narrated by Dave Genn, are available for download on Amazon, here. Proceeds of sales contribute to the production of The Painter's
"It had to come to this." (Ned Kelly)
Featured Workshop
November 20, 2019 to November 27, 2019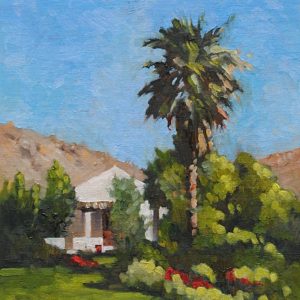 Join Canadian artist Sheree Jones as she shares her passion for painting "from life" at this idyllic coastal retreat.
This workshop is designed for experienced beginner & intermediate oil (and acrylic) painters.
The small group size guarantees plenty of one on one instruction.
While you're busy creating art, your friendly hosts at Casa Buena will be working hard, ensuring that your stay is a memorable one.
Outstanding food, accommodations, and field trips will satisfy your desire for both comfort and adventure. Non painting partners welcome.
For more information visit:
http://www.casabuenaartretreat.com/retreatSheree.htm
or contact Sheree:
sheree@shereejones.com
Featured Artist
Shawn's paintings evoke the feelings of the West Coast, its shores and islands, ponds and lakes.