Dear Artist,
If you've ever taken a cruise you may be familiar with Park West. Compared to Sothebys and Christies, with about 50 auctions a year between them, Park West holds 300 a week. "We're the biggest art auctioneers in the world," says our host Tom. He's a good-looking guy — white shirt, tie, suspenders. Today it's overcast and the theatre on the "Rhapsody of the Seas" is packed. There's free Champagne.
Tom takes a few minutes to tell us what he knows about serigraphs and lithographs, and how they're still originals. He tells us about the 15% buyers' premium, framing, shipping, financing, investment value, free credit for one year, and the "take it with you" policies on some special works. He makes it clear that Park West bypasses the layers of middlemen and dealers and offers work directly from the artists' studios. He tells us about the "on land" prices that people normally pay, and the minimum bid that we cruising connoisseurs can have "stuff" for. He calls it "stuff." He soon has the fun crowd waving their bid-cards.
Tom's big sellers are Peter Max "the greatest artist alive today," Thomas Kinkaid "sold more art than all other artists combined," Chen "the one-hair-brush-guy," and Krasnyansky, who Tom loves to get his mouth around and calls "Kras" when he's in a familiar mood. "Kras, remember, is the guy who changed his style."
Prices are generally affordable — in the low hundreds, with some withdrawn for not getting their minimum bid. Still, Tom is affable, pleasant and funny. He has some of us in the palm of his hand. He auctions some items faced away as "mystery" works. People still bid on them. Sometimes, when there're lots of bids he stops the bidding and lets everyone have one. One Tarkay goes to twenty bidders. Every once in a while Tom brings out a heavyweight: "Ten thousand to anyone 'on shore' but someone privately offered us $6590 for it this morning." He opens it up, nobody bids, and it goes to the unknown bidder who we are told is right here in the audience.
Looking around at my fellow cruisers, some of them on their fourth glass, I see the unmistakable glint and shine of baby collectors, the mouth-froth that comes when money is well spent and investments are made that "can send the kids to college."
Best regards,
Robert
PS: "I have to tell you that we are very definite on this — there can be only one per person of these. In other words, no one can buy five and pay for their cruise." (Tom)
Esoterica: Interspersed among the prints are limited edition photos and memorabilia of celebrities: John Lennon, Pete Rose, Woody Woodpecker, Betty Boop. These do well. A "hand-signed" Pete Rose baseball bat "in a shadow box frame — you know how much they cost," goes for $320.

Crap
Dee Poisson, Alberta, Canada

How could you sit through 'that'?! No wonder we can't sell our originals, no one has any money left after buying the crap! So, now Mr. and Mrs. Cruiser have this wonderful (in their minds) copy/investment of something that they think is going to be passed onto the next generation. I can't sell them an original because then I would have to go through the process of re-educating them about the difference between an original and a copy. They won't believe me because Tom is much more "believable" than I (and better looking), they bought the copy cheaper than my original would be (what a deal), and they will have to face the fact that they have been duped. No one wants to admit that they have been duped. Besides, the copy looks nice over their couch. (One can only hope that it is hung in a south-facing window.)

Junk
Jerry Lucey

I read your letter on the Park West ship auctions to a good friend who was formerly one of the top dealers in the LA area and he said that he felt almost all the offerings from these auctions were junk with little or no future value. His reason — the items they offer are also available all over the net. His point was that any reproduction done in high numbers would never hold their value over the years. He made the point that he has a major collection of Currier and Ives prints collected by his parents which now have a value about what they sold for way back when…and if adjusted for inflation they represent a nice loss. He felt selling artwork on ships was a great business idea, but had nothing to do with creating more than wall decorations.

Ideal targets
Joe Blodgett

You may have noticed that, as the cruise ship proceeds on its journey the prices of art-works diminish and on the last day they just have a sale — no auction or excitement, just 40, 50, 80 percent off. This is also an effective ploy as travelers are tired and bored toward the end of a cruise, and if they've made anything at the casino, or even if they haven't, they may decide to do something about a picture they have been admiring. These tourists are the ideal target — they are captive, often poorly informed, and Park West has the advantage of repetition. That is, potential customers are constantly walking by works that catch their eye — on the way to and from the bar, theatre, dance hall, swimming pool, casino or the restaurant.

Cost not an argument
Anonymous

Often it is argued that the sort of prints that you see sold on cruise ships are worth about what they cost to produce. Even those that are hand touched by monkeys with a few strokes to give them an original look, come in for the most part at less than ten dollars a sheet. But then again so do originals. I rarely pay more than ten dollars for a canvas, and the cost of paints (for me at least) is minimal. The intangible cost is the time I put into my painting — sometimes several weeks. The big objection to these on-board prints is that they are not slaved over, even though their hustlers would like you to think that they are.

Feeding the ship
Anonymous

Even though Park West lets people think that their only profit is the 12% commission that they tack onto every sale, this is not the case. Even at the bargain basement prices of 60 or 100 dollars there is lots of profitable markup. They also do it in volume. As is the case with the on-board casino, this extra markup goes to feed the ship. For example, by far the majority of the popular cell-animations that are sold aboard the cruise ships are of the mass-produced serigraph type — they just happen to be screened onto mylar.

How to earn a living at it
Liz Reday

I had a friend that sold art to the cruise ship trade. He had a buddy do a bunch of giclees then he worked some wonder over them with an etching press. They looked pretty good but he had to do hundreds of them and the price per piece was peanuts. Overall though he made more than a few thousand bucks on the deal so he was happy enough. Using a machine, etching press, digital or whatever, would be the way to go with trying to earn a living making cruise ship art. There is a market on those ships for first time art buyers. Me, I'm going back to painting, and leaving commerce behind thank goodness.

Withholding the sarcasm
Jamie Lavin

Just today, a cruise line sent a brochure, and right now, I'm sitting in front of the computer, burning to death each little piece I tore it into! Oh, I know, it's a little silly, but Oh Man, give me that room full of people and I'll sell them so many paintings that aren't reproduced enough, it would make my dealers' heads spin! I have to believe, seriously now, that the Kinkaids and the other "limited editions" that are on these ocean-liner auctions are very good for our business in one respect: I feel like their activity helps people to envision themselves as "Appreciators of Art," a brand-new title that I think came about sometime in the '70s, when we all began watching and waiting for our prints to go up in value; kind of like my Delorean Car — you may have seen me in it — haha. I think that some people will pass up the ocean auctions and proceed to ask around the water cooler, or investigate an "open studios" weekend in their area, and some might attend one of those art fairs. Anyway you slice it, awareness is advertising, and advertising will bring some results, and results go to the bank. Friends of mine came back from a cruise and asked me to come over and talk to them and their "cruise friends" about what they bought. He told me I'd be surprised and the hidden meaning was that I'd congratulate him on his new investment. I'm a cad. I flew with the illusion; I did not want to cap their trip off with sarcasm and leave them feeling floused. I spoke of some of the artists I knew of, and recommended conservation mounting in each framing job, for as I pointed out, "come on; you think they're gonna give the art and the frame away too? My parish priest sentenced me to 20 Our Fathers, 10 Hail Marys and to copy 50 pages of notes under all the photos in the book he had of Vatican Art. My guardian Angel threw the 1976 editions of Haddad's and New York Graphics catalogs at my head, nearly rendering me sense-filled once more.

"Good homes"
Bruce Strangeland

Thanks for the amusing letter about Park West. My wife and I attended an "on shore" auction in Berkeley, CA run by these folks. The patter and atmosphere were the same as you felt. We ended up buying two pieces which still hang in our dining room. We've never heard again of either of the artists. We haven't attended one of their events since. Now I do my own watercolors and have fun placing them in good homes.

Rip-off report
Jo Appleton, Duncanville, TX, USA

Someone who is really put off with Park West… since I don't know what his "chain of authority" is I don't know how legitimate his beef — if I were really concerned I would check with Sotheby's as to their opinion on these people. A rip-off report is at

Contact info?
Louise Zjawin Francke, North Carolina, USA

It would be helpful if you would include contact info for those of us printmakers who have shown internationally and have a good track record. I would personally be interested in auctioning my prints of birds, dogs, cats on such voyages. Thanks.
(RG note) Park West Gallery, 29469 Northwestern Rd., Southfields, Michigan, USA 48034, phone 800 521 9654.

Try on land
Lori S. Lukasewich

The description of the floating auction was positively creepy and depressing. I hope the baby collectors are not too discouraged when they wake up with their hangovers the next day and see what they've done. Perhaps they'll be intrigued enough to seek out some art on land.

Favourite letters
Mary Tod

I've been subscribing to the letters for almost a year and I was delighted when you gave us the opportunity to print out the whole of 2003, one to a page. During the last week I have read them again, a few at a time, and I would like to give you a list of my favorites. I would also be interested in knowing if other readers have done this and what their favorites are. I must say that they are all treasured and I look forward to Tuesdays and Fridays knowing that I will be informed about something that is sometimes new to me, sometimes not, or even that I may be a bit amused by the wry humour that sometimes doesn't appear on the first reading. Very clever indeed. The letters seem personal, they make me think, and through them I think I know Robert, and through him I know better what I think.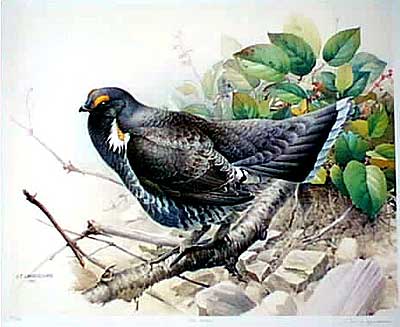 Blue Grouse
watercolour painting by
James Fenwick Lansdowne, Victoria, BC, Canada
You may be interested to know that artists from every state in the USA, every province in Canada, and at least 115 countries worldwide have visited these pages since January 1, 2003.
That includes J Bruce Wilcox who wrote, "This letter leaves me speechless."
And also Doran William Cannon who wrote, "Mary and I took a twelve-day cruise around the Mediterranean on the SS Rotterdam. Great time, there was a casino as a hole for your money, an art gallery, but no auctions. Selling Thomas Kincaid, the worst rip-off of the 20th and now the 21st Century is the tip-off on 'Tom' and his Park West shell game."
And also Louise Giroux who wrote, "Is it possible to receive the French letter instead of the English one?
No Featured Workshop
No Featured Workshop