Dear Artist,
Over the last while I've been sitting down with a few of my dealers. Some are wonderful characters whom I've known and worked with for decades. They're actually a bunch of sweethearts — I let go of the bad actors years ago.
Looking through gin martinis, to each of them I said, "I get such a kick out of painting and such joy just sending 'em to you, why don't I just start giving 'em to you and let you keep all the money." Funnily, they all eyed me through their gin martinis and agreed this was a good idea.
Fact is, some dealers would get paintings for free if they could. The grapevine is full of stories of dealers paying peanuts for art they later sell for cashews. Owners or inheritors of potentially valuable art should be aware of this. It's a jungle out there. Always get a second or third evaluation from the competitors.
That's one of the reasons why firm consignment pricing and predetermined percentages for living artists is a good thing. It keeps everybody honest. Once an artist strikes a deal with a representative, relations can run on with felicity for a long time. With no inventory investment, and only framing and gallery overhead to deal with, dealers can let their imaginations soar. Confident they have control in their bailiwick, they are willing partners. Given info about your projects, they share your magic and build collector relationships for you.
The British shock-artist Damien Hirst has had dealers who have worked to establish his reputation and stratospheric prices. Hirst is currently trying a new marketing angle. He's personally requisitioned two days with Sotheby's in London this coming September. Bypassing his dealers and going to auction will greatly knock down the cost of selling his art. Question is, will people still pay millions without dealer advocacy? Dealerless, he'll be taking a chance. We'll see. Beating dealers out of their share of the glory may be possible only when egos are bursting and the numbers don't matter any more.
For those of us with more modest aspirations, fair and honourable dealers are an artist's best friend. They leave you to concentrate on what you do best. The free drinks flow both ways.
Best regards,
Robert
PS: "The judicious management of an artist's career by a dealer who identifies the favoured collectors who will be permitted to acquire material in conditions of secrecy gives way to the triumph of the highest bidder on the public stage. Damien has demolished the moral barrier by using auctions for distribution and profit. Other artists will follow suit." (Roger Bevan, art critic)
Esoterica: I'm sorry to report that art does not have to be good to be well sold. (In art, the word "good" is so arbitrary that only critics and fools try to define it.) Art with commercial legs has other features. These features often include perceived rarity, consistency of style, widely-based demand, celebrity hype and shock value. Unfortunately, odious marketing terms such as "branding" and "product identification" are part of the game. It ain't the stock market, but it ain't a pure play either.

The golden rule
by Wayne Potrafka, Portsmouth, VA, USA

As someone who plays both sides of the fence (an artist represented by other galleries and as a gallery owner representing a couple of hundred artist/fine crafts persons), I see clearly the difficulties and challenges for all concerned. We would never abuse the good will of those we represent, and it is very hurtful to find that an artist has worked behind our backs to deal directly with a customer that we have recruited. Most of us out here understand that we are all in this together and do our best to play by the golden rule.
There are 2 comments for The golden rule by Wayne Potrafka

'No worries' friendship
by Natasha Isenhour, Socorro, NM, USA

I could not agree more that the fair and honorable dealers can be your best friend. For me, some have taken some time to build trust with me and others have been terrific right from the start. They inform me right away when something sells, they pay on time and hold openings for and promote my work on a regular basis. One bad dealer can affect your relationships with the ones that are actually interested in advancing you and can negatively affect your momentum in your career. A difficult or "secretive" dealer breeds distrust and an artist most certainly drags that uncertainty into their relations with the other galleries.
With regard to your last paragraph, when a dealer is concerned about the occasional sales I make in my studio I routinely tell them "no worries" — the price was the same as in their gallery and I consider it a happy accident to sell that way. I also say that my job is to paint and their job is to promote and sell. We both earn our 50% and if either doesn't live up to that commitment, then it comes time for both of us to move on.

Freewheeling independence
by Brett Busang, Washington, DC, USA

I have yet to meet a dealer who is interested in anything other than his or her own reputation. In moderation, self-interest is absolutely necessary and a good thing for any two-person relationship. But it is so excessive in art dealers — most of whose backgrounds make them suitable for party going and little else — that the equality you appear to take for granted is rarely possible. They dictate and the needier artist follows along, striking the best bargain he or she dares to. I have no sympathy for mediocre painters who are "exploited" by dealers; they are lucky to be exhibiting under any circumstances. But my long and casualty-ridden experience seems to demonstrate that the freewheeling independence exhibited by Mr. Hirst is a sound strategy. He is, however, in a far more privileged position than most of us. I don't know any artist who has the means to commandeer Sotheby's for a weekend. But it isn't a bad idea. If you get no cooperation from one quarter, you must seek it in another.
An artist-dealer relationship is not always possible — even when at least one party is willing to meet the other in an atmosphere of mutual respect and consideration. From my perspective, the more dealers are challenged, the better service-people they are likely to become. ("When banks compete — or get the stuffing knocked out of them from time to time — you win.")

Price control
by TJ Miles, Spain

I have controlled my prices over the last 14 years as a professional artist. I have found it to be the best way to keep consistency in an otherwise volatile market. If for one year you sell exceptionally well, galleries and representatives can be tempted to raise your prices and profile to overly-inflated levels. This of course gets them the 'quick kill' in the market place, but in reality doesn't really do you any good in the long run.
I have a number of standard-sized canvases and boards that I always work to, but no matter what the length of time or amount of research that goes into each painting, always charge the same price for that work, with only the correct yearly cost of living increase, depending on the popularity of my work in that year. It means that investors in my work know they're not getting ripped off as they can go to any dealer at that time and get exactly the same-sized painting for exactly the same price. All they have to do is pick one that suits their individual tastes.

Trusted business partners
by Coulter Watt, Quakertown, PA, USA

I've recently been invited to join the Newman Galleries in Philadelphia. It is a 5th generation gallery established in 1865 and I couldn't be happier. Newman Galleries has a stellar reputation by both artists and collectors. Artist self-representation is possible, but dealers thin the crop and weed out the harvest of paintings because they understand the market, their clients, and can then speak with confidence about the works. Good, honest art dealers are our trusted business partners — art happens on the easel, commerce happens in a gallery — so a solid relationship with a good dealer is one that should be strongly nurtured and protected. Otherwise, you'll spend a great deal of time self-promoting and trying to sell your work rather than painting.

Don't abuse the Gift
by Holly Friesen, Mont-Tremblant, QC, Canada

I struggle with Art as a commodity on a regular basis, as I think many artists do.
Art is NOT business. Art is a gift to the artist and to sell the gift just seems unethical at times, like Jesus charging to heal or something. Our world has gone crazy with equating "success" with how much we "have" materially to the detriment of our Art and souls.
It is not that I don't want to sell my work but I feel that if the selling becomes more important than the actual work that the "gift" is being misused, even abused. I recently read a great book by Lewis Hyde called The Gift and he discusses this predicament that artists continually find themselves in. I have found that so-called dealers are more interested in the money than the art itself and will spin any story or marketing tactic to sell facile and simplistic artwork at astronomical prices. I think every artist must find their own way through this jungle of untruths and my way has been to create an "Art Barn" with a group of painters and sculptors. We exhibit and work in a hundred year old barn for the summer. We sell our work directly to people but our first mandate is to touch souls.
There is 1 comment for Don't abuse the Gift by Holly Friesen

Group of like-minded artists
by Bonny Current, Wolcott, CT, USA

I am a full time art teacher — which I love and am very grateful to have; I also paint and exhibit my work locally with modest success. I feel very fortunate to have hooked into a co- op gallery in which we have 12-14 artists, who are wonderful. We pay a monthly fee to cover expenses and give 15% of our sales back to the gallery. Times are leaner these days with our biggest weekends being the ones where we hold an "event." It has been a very good move for me — but we do lack the push of a dealer to hype our work, we advertise and keep an extensive mailing list and have a great location on a main artery and we also maintain a website. It is nice not to have to deal with a middle person — but I sense that it may be the next step for me if I want to make that all important move into profitability. I think the co-op thing is a good adjunct to other venues for selling and getting my work out there and would highly recommend it to those who can form a great group of like-minded artists — the camaraderie is great too!.

Direct connections
by John Ferrie, Vancouver, BC, Canada

Becoming a well established and successful artist is the one thing we all aspire to but as you have extolled us with the virtues of having good agents, you have scratched the surface of "the bad actors." Everyone is your teacher and it is all part of an incredible journey. It has been my experience in the art world that there is a phony around every corner. I even had to sue an agent once… as devastating as that was, it made me listen to my gut more and become more instinctual. I have been representing myself for a number of years. I think people are savvier and buying directly from an artist makes for more of a connection. I am a huge fan of Damien Hirst, but his work has become more about owning a piece of him. I would personally give my right arm to be at the Sotheby's sale or at least have the catalog.

Finding a dealer
by Kathleen Thurston, Cincinnati, OH, USA

Funny this arrived right now, as my daughter just delivered the bulk of her work to me to hold onto until she finds a new place. She is very talented, her work is on store bought canvas and is in acrylic; mostly abstract. It is complex and some of her pieces look like imagery from microscopes or body interiors; you'd have to see it to appreciate it…talking about it simply doesn't do it justice. I really envy her facility with color; whereas I think too much, she just does it. It's fantastic. Do you have any suggestions on finding Cincy a dealer or getting her feet in the door of a gallery?
(RG note) Thanks, Kathleen It is best if she does it rather than you. The most effective connector nowadays is a simple website. Dealers are used to taking a quick look on the Net to see if work is of interest to them. It's easy, with no obligation for them. Just phone or drop in on dealers to let them know the place to look. A simple, and in some ways better solution is to take a premium link on The Painter's Keys website. This is just as fast for potential dealers to click on, plus, because of the high volume on our site, it will pick up thousands of hits from other parts of the world.

Publicity
by Janet Lee Sellers, Monument, CO, USA

I wish you would write something about publicity. I am on the board of our local art association and our Publicity Director only advertises (with a written article) in our local newspaper. We have a wealth of fine artists as well as artisans in our community and I feel that if we don't advertise outside the paper how can we help these folks grow with their art? My comment is: If we don't advertise outside the local paper how will we grow?
(RG note) Thanks, Janet. That's something worth writing a letter about, even though I don't really believe in ballyhoo. It may seem particularly Luddite of me, but I've found that quality work does its own publicity. That being said, your group should try to encourage high profile, quality outsiders to join in at the time you have group shows. This helps toward the "osmosis effect" — publicity by association. Further, individual members ought to be encouraged to bring in a few bodies each, thus expanding associative collecting. This is both the beauty and the disadvantage of collective shows — democratization and the shotgun effect. Shows work best and are easiest to publicize when they focus — either on a specific artist or a specific theme. Publicity of any sort is easier to get when a specific artist is interviewed about a specific opus.

Legacy of artwork
by David White, Calgary, AB, Canada

A good friend of mine and a very good artist recently passed away leaving his widow with over a hundred oil paintings and pencil sketches in frames and countless others not framed but in stacks in his art room. I think that the art is very good and deserves to be shown and I think much of it could sell. Many of the artist's friends would purchase a piece and the general public would enjoy his art as well. The friend did not sell (much) of his art when he was alive. This sounds very similar to the van Gogh letter of a few months ago. How does someone approach a dealer with something like this? Thoughts?
(RG note) Thanks, David. It seems this is a common problem these days. Check on the Internet and inquire around to see if there are any extant connections — former dealers, shows held, other venues. If there are, contact the suitable people. If not, cold turkey by walking into local galleries and show them photos of the work and perhaps a couple of originals. It's a lot easier to show someone else's than your own. Dealers who work with historical art rather than consignment art are the best bet. Regarding sales to former friends, I'd try the commercial route first — it helps establish decent values. After all else fails, I'd offer the work to friends at a nominal price, perhaps to raise cash for one of his favorite charities. When I'm asked to perform this service I generally ask permission to go through and weed out poorer quality work, so that just top stuff remains for distribution.

Archived Comments
Enjoy the past comments below for Dealer relations…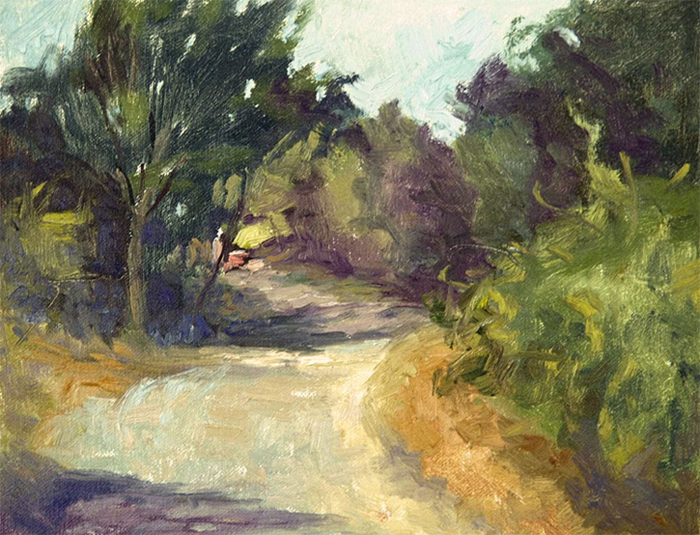 Station 16
oil painting, 8 x 10 inches
by Anne Darby Parker, USA
You may be interested to know that artists from every state in the USA, every province in Canada, and at least 115 countries worldwide have visited these pages since January 1, 2013.
That includes Laudine Borges of Ventura, CA, USA who wrote, "I woke in the middle of the night haunted by the jungle out there and went to the Internet for a break in the nightmare. And here is Robert's message. You never know when you have helped someone who reads your messages."
And also Paul Kane of Bloomington, IN, USA who wrote, "It's like in the music business – some of the greatest talents in the business have been those who discovered talent, because THEY LOVED IT."
And also Heather Boyd of Winnipeg, MB, Canada who wrote, "This area receives a great deal of foot traffic, as compared to the actual gallery, I certainly hope it has the effect of raising awareness and appreciation of quality art in the general population."
No Featured Workshop
No Featured Workshop