Dear Artist,
Here's an alternate to easel painting that's worth thinking about. Working with small canvases or panels on the lap, while unprofessional in appearance, has some features not available in traditional painting systems.
Apart from the fact that in some places it's not possible to work with full paraphernalia, lapworking provides surprising spot-on accuracy — more than in arm's-length easel or pochade-box painting. Rotation of the work, tilting, and holding it out are also quick and easy. Apart from the lap, stability can be had by resting the support against the edge of a table or perhaps an inactive fishing rod.
Specific effects as well as more controlled brushwork are two benefits. For artists who need impasto, the work can be quickly tilted to the light to see evolving texture. At the same time, washes, run-downs and watery blends work like a hot damn when you have this kind of tilt control. As longish straight lines tend to wobble, horizons and other straights can be laid in with a home-made, clip-on bridge.
Lapworking is by no means the final answer, but it's particularly useful where work is started on location and finished in the more controlled environment of the studio. You might find that the "hobby-horse" feel of lapwork generates the languid ease that helps get you into the "zone." While it appears nonconforming and casual, ideas and motifs flow remarkably well. Further, when the work is already in your hand, it becomes easier to put it down and pick up another. In lapwork there's a feeling of embrace as you move lovingly here and there, following whims.
All processes from musical composition to philosophy can be victimized and limited by systems that are tried and true. In our game it's often the departures from the norm that bring about style and flair. I stumbled on lapworking while trying to paint in close quarters. Lately I've found it to be valuable in places where there are acres of elbow room. As Confucius said, "An inconvenience is an unrecognized opportunity." Also, bystanders take you less seriously when you appear to be only fooling around. Believe me, this can be a good thing.
Best regards,
Robert
PS: "It is a bad plan that admits of no modification." (Publilius Syrus) "More of me comes out when I improvise." (Edward Hopper)
Esoterica: The high size for lapworking is about 12 x 16 inches. Beyond this, panels and stretched canvases become too cumbersome for most artists to hold with one hand. Stout watercolour paper (even the 140 lb stuff) starts to flop when wetly handled. Mounted watercolour papers (such as cold-pressed panels or Ampersand Aquabord are the answer. You'll feel so good about lapworking with them that you'll start throwing them around like Frisbees.

Running colours
by Anne Copeland, Calimesa, CA, USA

I am a fiber artist, and I sometimes paint my pieces. When I decided to do this little series on "The Secret Life of Trees," I found the best way to do a watercolor-like technique was to work on my lap. I have used at various times a large-size cutting board, the cardboard at the back of my sketch paper, or even a handy piece of foamcore. It allowed me to create a watercolor-like effect without the paint running down the wet cloth where I didn't want it to go. I found it actually very comfortable. I am not sure I could do my work in an upright position because of the nature of the medium. I suppose if I started to use canvas to do my work, I could do it differently, but for now, this technique works very well for me.

Miniature masterpieces
by Carolynn Frances McDade, Benton Harbor, MI, USA

It was a pleasure to see your Lapworking article arrive in my mailbox. I am a small format watercolor artist, and most of my paintings range from 8″ x 10″ down to 2.5″ x 3.5″ in size. The 2.5″ x 3.5″ paintings are, specifically, Artist Trading Cards, or ACEOs (Art Cards, Editions and Originals). ACEO's are collectible, miniature works of art and are very popular with artists and collectors alike (primarily at eBay where their current popularity originated, but their charm and affordability have caused an explosion in popularity). Everyone who sees these miniature works of art seem to be fascinated with them. I've introduced my artwork to several people over the last year and a few have become collectors. In fact, I have had friends and visitors to my home who were so taken with these little works of art; they wanted to own them at first sight!
My "studio" is in a small corner of my room, so I am accustomed to working on a table top or from a foam board on my lap. I rotate and work on my little paintings from every angle… it does make for more exacting work, and since I'm usually a "tight" painter, the smaller works of art are just perfect for me. I have been creating ACEOs for about a year. In that short time, many collectors all over the United States, the United Kingdom, Australia, Canada and Switzerland now own my original, little treasures!

Critical conscience
by Donna DeGroat, Charlottesville, VA, USA

Having spent some time in Finland, I initially thought that "Lapworking" might be information related to employment in the Finnish province of Lappi or Lapland. Realizing that I wasn't being offered a rare opportunity to work with reindeer, I continued reading. I have been "lapworking" for some time. Sometimes my best work has its beginnings in my lap. There is some kind of rare intimacy that occurs working in this fashion.
If I intend to lapwork, I often choose to sit in places where adequate lighting is compromised. Using a small Ott-Lite True color behind or to the side of me usually solves this problem. It seems to me that one's ability to hold the canvas, manipulate the canvas, and communicate with the canvas is enhanced.
There is a painting that I need to do and have not begun. I have been thinking that I needed to begin the painting in my lap. Ironically, some hesitancy set in as my critical voice asked if "real" artists would start their work in their lap. Thank you for hushing the critical voice. My intention is to begin the painting this evening and entering the intimate world of Lapland.

Small pieces in the lap
by Sandy

I too work in my lap for small pieces and have found there are many advantages. Canvases (mostly square) 6×6 inches up to about 9×9 are all done in my lap, sometimes two at a time positioned side by side which provides a quick way to note interesting observations and changes. They go fast so there aren't many problems with weather, time, my focus, or interruptions. I can go into a parking lot to paint on the way back from my usual location. The car door ajar, on my butt, captivated with no easel to fuss with.
One other thing that occurs with these small pieces in my lap is an almost voyeuristic intimacy in the final product: no two people can share the view; the looking of it, to the same effect, one is always off angle. The painting manipulates the viewer (which sometimes doesn't benefit the painter!) because it causes them to "come closer my friend, look at me" and in shows they can disappear into the wall against larger paintings which do not dictate a relationship like that. However, anything larger than a 9×9 inch canvas I seem to be struggling against the limited range of my anatomy, the chair, focal distance and no step back.

A magic show
by Jack Dickerson, Brewster, MA, USA

In the lap- I take a very large pad of paper to do charcoal sketches, especially of trees and seascapes. I used to think I was being very seriously observed… But have found out that people are only curious. I really don't think they have any judgmental intentions at all. 99.9% of onlookers are simply curious and interested in something that 98% of people simply can't possibly comprehend how we artists make this happen. We all know that the majority of the time, our viewers think that what we do is magic. People like to watch a magic show, as they don't see how we make it happen. So the next time anyone is painting around a bunch of people, remember this. They are not there to judge, or to criticize. Those are perhaps our own insecurities. They are there simply to watch how this amazing thing (for them) unfolds.

For the sake of art
by Mary Buergin, New Boston, NH, USA

I was able to paint on a precipice with winds that wouldn't accommodate my easel but there I sat, for hours, able to really absorb the light and colour. Although I wasn't able to take a step back often from the piece, I focused more on accurate colour and value mixing. The painting wasn't half bad but the down side was my derriere was killing me!

Emergency painting bag
by Nancy Bea Miller, Philadelphia, PA, USA

All my plein air work is done by lapworking; I just didn't know there was a term for it. I call my lap-working gear my emergency painting bag. I keep it full stocked at all times, in the back of my car for those unexpected moments when there's suddenly time to paint. Nothing beats this system for speed of set up and lack of conspicuousness. And as you say, the sheer intimacy of contact with the panel in your hand and palette on your lap is wonderful!
The one occasional problem is finding a place to sit. For that reason I keep a small 3-legged folding stool laid across the top of my painting bag. If I am hiking to paint, I transfer the painting bag to a large back-pack and am able to strap the stool to one side of that. Soggy ground, sharp rocks and ant-covered logs need be no problem if you've brought your own "lap-maker." If I do end up finding a nice smooth rock or other comfortable perch, I then use the stool as a small side table to hold my brushes or rags etc. I've seen other lap-painters sitting on blow-up cushions on the ground but haven't tried that myself. Of course that has the advantage over my folding stool of being virtually no weight to carry and packing down to just a few inches after use.

Handy system
by Janet Lee Sellers, Monument, CO, USA

I have a handy lapwork system that is really simple. I take an ordinary 3 ring binder, fill it with sketch, watercolor, or a canvas sheet, and flip the covers together/ open so the front and back create a lap desk, complete with inclined work surface on top, and flat on the lap at the legs. I put in a zippered pencil case upside down, because with the notebook open for lap work, the case is actually faced up while working. An extra water bottle serves for the water media paints (even my oils are water soluble).
To view the painting during the work — take a 10-foot look as I call it — it will stand up on a table, chair, the ground, or convenient tree branch. For oils, bring a cheap plastic box frame the size of the canvas, fix the canvas sheet on top of the notebook with a clip, and cover it to go home — reduces the chance of smearing. I have been known to duct tape the box on for safety, too.
There is 1 comment for Handy system by Janet Lee Sellers

Just the right angle
by Stephen King

Never having tried smaller paintings until reading a book on the subject, I purchased a supply of 5″ x 7″ canvas covered masonite panels on which to experiment with oils. Realizing these do not work well with a traditional easel or box, I cut a sturdy piece of cardboard to approximately 11″ x 14″ using double-faced tape on the back of the panel to attach it to the cardboard. I enjoy painting the small canvas with a painting knife and was well pleased if not surprised by the flexibility of moving and turning the board to just the right angle for my stroke. It is not the prettiest or most professional looking set-up, but I have not found a better method for ease of control. I still do mostly larger paintings on studio easel or plein air box, but always look forward to my "relaxing" times with small panel and laptop painting.

Activating lapwork
by Marilynn Brandenburger, Decatur, GA, USA

I've been lapworking for years. I love the intimacy I experience by actually handling the work as I make it — the sort of tactile pleasure craft-workers experience. Lapworking also gets me up and moving more than when I'm at my easel. I paint, hold the work out to assess it, get up out of the chair to set it up and view it at a distance, pick it up and sit back down. Up, down, up, down. That keeps the blood flowing and the muscles from freezing up. Gotta be good for the circulation and hence the creative juices.

Painting oils on the fly
by George Perdue, Georgetown, ON, Canada

Here is a sample of my version of lap painting. The little black box contains everything I need to paint oils on the fly — here in London. This approach is the result of painting in Killarney Park last year lugging a French Easel on some tough trails in the heat. I have been using loose canvas or thin (1/16th inch) wood panels. Bigger sizes I have to carry outside the box, but up to 8×10 inches fit inside and carry easily when wet. The whole thing fits inside a back pack along with water and a snack. It works great and produces some really fascinating small pieces that look fantastic framed and a lot of pieces that can be the reference material for studio work. Now if I can just find a way of getting to some of these places without a footprint I'll be home free.

Fun with the feet up
by Valerie Norberry, Kalamazoo, MI, USA

Oy Vey, from lap-dancing to now lap-working? Sounds like a plan. I myself use a clip-on drawing board for my house portraits and sit in an easy chair with my feet up. I don't worry too much about my angles being absolutely 90 degrees on the house frames. Sometimes I use an envelope for a straight edge. This is art, not drafting, although I did learn some of that, as well. My drafting table tends to serve as a kitty bunk bed, I have a small cat bed on it and my Himalayan, Princess, often naps there. My place is just too crowded to use the table as I should, so I resort to the Masonite, lap or hand-held drawing board, that has a cut out handle and clips, these can be obtained from the art store for about $10.00, fully made.

Poorly prepared grounds
by Sharon Rusch Shaver, Gallatin, TN, USA

What is a poorly prepared ground? I always oil paint on a surface that I have prepared with a color thinned with Gamsol or some kind of turp. I have wondered and worried that the layers I add later may pop off, and have done that, if under any stress. If painting lean over fat is the way to go, how should I be preparing my ground! 30 years I have been painting and I don't even want to think about what I have done that you consider "poorly."
(RG note) Thanks, Sharon. Your Gamsol and turps, while not standard, may be fine depending on how absorbent your favorite surfaces are. Grounds and primings are one area where an artist should not scrimp. Excellent info can be found by reading the specs for various grounds. My remark came about because I was watching someone working in oils on an unprepared chunk of construction-grade plywood. This sort of surface sucks all the binding (linseed, in this case) oil out of the paint and into the wood. It was an extreme example of painterly badness.
There are 4 comments for Poorly prepared grounds by Sharon Rusch Shaver
Archived Comments
Enjoy the past comments below for Lapworking…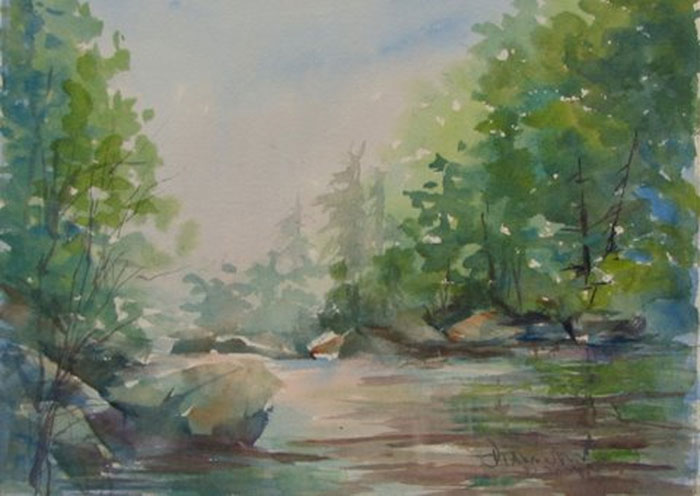 Chestatee bend
watercolor painting
by Diane Mize, Georgia, USA
You may be interested to know that artists from every state in the USA, every province in Canada, and at least 115 countries worldwide have visited these pages since January 1, 2013.
That includes Marilena Fluckiger of Vancouver, BC, Canada who wrote, "Oh, my… at first, I thought you were writing about lap dancing! Then I realized you weren't. Then, I thought, wait… maybe you are! 'In lapwork there's a feeling of embrace as you move lovingly here and there, following whims.' "
And also Ellie Siskind who wrote, "The pieces I am presently working on, 14 x 24 inches, are so easy to manipulate either flat on my work table, on the easel sitting or standing; I will try lap as well."
And also Karen R. Phinney of Halifax, NS, Canada who wrote, "I am off overseas in a couple of months (by plane, not ATV!!), and will paint en plein air while there. I thought of taking my easel, but now I will just "lap paint," because I only intend to take 8×10 inch and 9×12 canvas boards anyway (got to keep the weight/bulk down!)."
And also Sharon Pitts of Montclair, NJ, USA who wrote, "I just returned from teaching a watercolor workshop in France and did all my painting on my lap. A handy tip is to wear sandals and use the openings in the shoe to hold your brushes. Working outdoors and on one's lap definitely adds freshness to the work."
No Featured Workshop
No Featured Workshop