Dear Artist,
Recently, I quietly conducted a personal experiment in streamlining my art life. Like a big purge, after almost three decades of living a philosophy of multi-tracking, flexibility and expansiveness, I narrowed the scope and range of my activities to see if it would intensify what was most creatively meaningful and satisfying. The process came with terror, guilt and a fear of loss and failure.
According to Silicon Valley leadership consultant and author Greg McKeown, the key to living a fulfilled life is identifying our own highest point of contribution. In his book Essentialism: The Disciplined Pursuit of Less, Greg lays out a plan for finding our vital calling and cutting out the rest. Clearing obstacles, says McKeown, fosters our best work and enriches personal connections. For an artist, his system feels both obvious and a warm nudge to protect and advance creativity. If the goal is to live at our highest expression, here are a few ideas:
Focus: For artists, especially in the beginning, it can be easy to believe that any opportunity is worth exploring. Working is good and builds skills and knowledge while honing a voice, but unsteered, it can also dilute purpose and the potential for mastery. "We are not born focusing," my dad would tell me. "It's an acquired skill that requires initial effort and constant upgrading."
Streamline: "Just because I was invited didn't seem a good enough reason to attend," writes McKeown about his own lack of social and professional discipline. He suggests getting good at "no," its secret power percolating in our beliefs about what is actually of value. You might need to do some forensics on what gets your attention. Ask yourself where your calling — art — sits on the totem pole. After a bit of practice, you can expedite time-consuming deliberations and speed up the process.
Edit: If you don't prioritize your life," writes Greg, "someone else will." He says that what you don't do is just as important as what you do. In being your own editor, you get to design your life as you would any composition — to serve and work for its best purpose. "An editor is not merely someone who says no to things. A three-year-old can do that," writes McKeown. "Nor does an editor simply eliminate; in fact, in a way, an editor actually adds. What I mean is that a good editor is someone who uses deliberate subtraction to actually add life to the ideas, setting, plot and characters."
Sincerely,
Sara
PS: "You cannot overestimate the unimportance of practically everything." (Greg McKeown)
Esoterica: Less, but better: Now fill up your consciously designed life with more of what brings you the most satisfaction. In art, this can be both terrifying and electrifying. Ask yourself, "What can be?" A lovingly constructed routine will cement habits for future effortlessness. "Essentialists see trade-offs as an inherent part of life, not as an inherently negative part of life," writes Greg. "Instead of asking, 'What do I have to give up?' they ask, 'What do I want to go big on?'"
The Letters: Vol. 1 and 2, narrated by Dave Genn, are available for download on Amazon, here. Proceeds of sales contribute to the production of The Painter's Keys.
"Focusing isn't just an optical activity, it is also a mental one." (Bridget Riley)
Featured Workshop
February 26, 2020 to March 4, 2020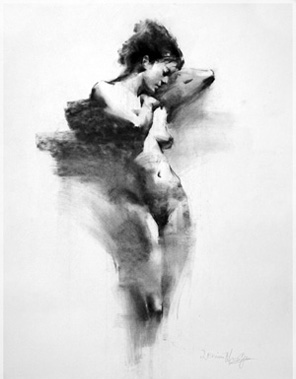 Learn from the Master! The way to do accurate drawing with painterly approach. Join us for this 7 day retreat with 4 day workshop in magical settings of Mexican back country with one of the best instructors of drawing the human figure. From short pose gesture and anatomy studies, to long pose painterly approaches, students will learn step by step the drawing methods, human proportions, anatomy and much more. Live model with small class size will insure lots of personal attention.
Henry Yan has been teaching at Academy of Art University in San Francisco for more than twenty years. His book, "Henry Yan's Figure Drawing – Techniques and Tips" published in 2006, has been widely used by art students and professional artists in the US and internationally.

Casa Buena Art Retreat is a calm and beautiful place to relax and explore your creative energy. Non painting partners welcome.
For more info check http://www.casabuenaartretreat.com/Retreat_HenryYan.htm
or contact Jane at janerom@shaw.ca
Featured Artist
There's a hush… a palpable electric presence radiating from some of the paintings in New York City's Metropolitan Museum of Art and in the galleries of the Frick Collection.