Dear Artist,
This morning, Janet Morgan of Brooklyn, N.Y., wrote, "My husband Gregory Frux and I will soon be leaving our jobs to become full-time artists. We've been doing some brainstorming. We both have projects and trips in our wish-books. We've done residencies and will most likely do more. Have you any thoughts on changing from having very little time to having lots of time for art?"
Thanks, Janet. What fun that both of you are taking the leap at the same time. People with mutual joys and mutual concerns always have lots to talk about. Like twins you get to read each other's moods and anxieties — valuable, but at times problematical. We creators are also islands unto ourselves and generally need some degree of independence. "Let there be spaces in your togetherness," said Kahlil Gibran. Here are a few thoughts:
It's still worth a try to coordinate your projected work zones and your travel zones. A bicycle-built-for-two is most fun when creative couples cycle in unison. Residencies, often an interference to creative flow, nevertheless open the doors of possibility. As a free unit you can be completely self-governing. Freedom from the eight-hour-grind gives the opportunity for round-the-calendar work and travel. The trip's the thing. Yesterday, my daughter Sara phoned from Paris. She has temporarily swapped her New York studio for a Parisian one. No money changed hands. She flew on points. "Dad," she explained on the phone, "You always told me that you can solve your creative problems by taking a trip." She's over the moon about the 10th arrondissement, the new studio, the Pleyel Grand, the drapes, the cutlery and Tiki the singing cage-bird that came with the place. Travel reboots.
With regard to the idea of having lots of time — be warned by British scholar C. Northcote Parkinson: "Work expands to fill the time available for its completion." Lots-of-time only comes to those who manage it. As John Lithgow pointed out, "Time sneaks up on you like a windshield on a bug." In art, there's so much stuff, so little time. Whole days can simply evaporate. Time may be a gift, but time's not infinite at any time. "Time has been transformed," said Kahlil Gibran, "and we have changed; it has advanced and set us in motion; it has unveiled its face, inspiring us with bewilderment and exhilaration."
Best regards,
Robert
PS: "Love and art do not embrace what is beautiful but what is made beautiful by this embrace." (Karl Kraus, 1874-1936)
Esoterica: Partners need to be the best of friends. Partners also need to partner with the greater community. Congratulations Greg and Janet. Without your day job you will be better able to embrace the joy. It's the best. "I still find each day too short for all the thoughts I want to think, all the walks I want to take, all the books I want to read, and all the friends I want to see." (John Burroughs)
This letter was originally published as "Lots of time" on August 9, 2005.
The Letters: Vol. 1 and 2, narrated by Dave Genn, are available for download on Amazon, here. Proceeds of sales contribute to the production of The Painter's Keys.
"How I have walked… day after day, and all alone, to see if there was not something among the old things which was new!" (Thomas Cole)
Featured Workshop
November 20, 2019 to November 27, 2019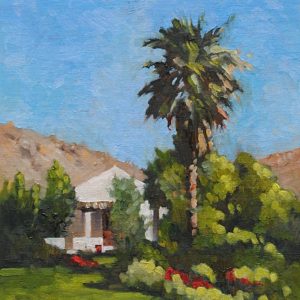 Join Canadian artist Sheree Jones as she shares her passion for painting "from life" at this idyllic coastal retreat.
This workshop is designed for experienced beginner & intermediate oil (and acrylic) painters.
The small group size guarantees plenty of one on one instruction.
While you're busy creating art, your friendly hosts at Casa Buena will be working hard, ensuring that your stay is a memorable one.
Outstanding food, accommodations, and field trips will satisfy your desire for both comfort and adventure. Non painting partners welcome.
For more information visit:
http://www.casabuenaartretreat.com/retreatSheree.htm
or contact Sheree:
sheree@shereejones.com
Featured Artist
Robert's technique includes a tradition of strong design with patterns of color and form, with a pervasive sense of personal style. Grand themes are transposed onto small panels and larger canvases in a manner similar to members of the Group of Seven. Most of Robert's work is in acrylic. He has also done considerable work in oils, watercolour, and silk screen printing.