Dear Artist,
When asked about her writing process, Toni Morrison described a ritual of rising early — a habit she developed by being a mother. "I always get up and make a cup of coffee while it is still dark — it must be dark — and then I drink the coffee and watch the light come," she said. "Writers all devise ways to approach that place where they expect to make the contact, where they become the conduit, or where they engage in this mysterious process. For me, light is the signal in the transition. It's not being in the light, it's being there before it arrives. It enables me, in some sense."
Morrison said that people had told her that she was adept at writing, but she felt that their criteria might not be the same as hers, and it wasn't until she was 46, while writing her third book, Song of Solomon, that she began to see that writing was the central part of her life — that what was going on in her mind when she was writing was what made her feel as though she belonged in the world. "I belong here and then all of the things that are disparate and irreconcilable can be useful," she said. "I can do the traditional things that writers always say they do, which is to make order out of chaos. Even if you are reproducing the disorder, you are sovereign at that point. Struggling through the work is extremely important — more important to me than publishing it."
Morrison said that one of the most important things artists need to figure out is when they're at their creative best. She suggested asking questions like, "What does the ideal room look like?" and "What do I need in order to release my imagination?" For her, it had always been a cleared space at her desk, with a cup of sharpened HB pencils and a yellow legal pad at the ready. Getting the first draft was achieved in this manner. "It has something to do with work," she said. "I am not sure that it's better work, as a matter of fact, than any other kind of work. I'm not convinced that it is. I think it has been handled and received more elegantly, but I'm not sure that it's better. I'm not sure that I wouldn't be just as happy if I were capable, and I am not, of making one perfect chair that would hold a human body properly. And I approach my work the same way I expect chair-makers to approach theirs."
Sincerely,
Sara
PS: "If you find a book you really want to read but it hasn't been written yet, then you must write it." (Toni Morrison)
"As you enter positions of trust and power, dream a little before you think." (Toni Morrison)
"The function of freedom is to free someone else." (Toni Morrison)
Esoterica: Chloe Ardelia Wofford was born in 1931 in Lorain, Ohio, the second of four children to a welder and a homemaker. A self-described "pretty good reader", she attended Howard and Cornell Universities and then began teaching English at Howard, where she met and married Jamaican architect Harold Morrison. She was 33 and pregnant with her second child when she and Harold divorced, in 1964. "I wanted to see what it was like to be a grown-up." Morrison took a job editing textbooks at Random House, where she would become the first black woman senior fiction editor, advancing black literature by nurturing a generation of African-American writers. In 1970, at age 39, Morrison published the first of her own 11 novels, The Bluest Eye. In 1983, she retired from editing and moved into a converted boathouse on the Hudson River near Nyack, New York. She also returned to teaching English, ultimately as professor emeritus at Princeton. In 1988, Morrison won the Pulitzer Prize for her novel Beloved and in 1993 the Nobel Prize in Literature. She has also been awarded the National Endowment for the Humanities' Jefferson Lecture, the National Book Foundation's Medal of Distinguished Contribution to American Letters, the Presidential Medal of Freedom and the PEN/Saul Bellow Award for Achievement in American Fiction. "I do not make a distinction between the artist and the other world, the 'real' so-called workaday world," she said. "I do not subscribe to the theory of the artist as a sort of separate aesthetic being sitting in the ivory tower suffering and talking about beauty. It is work, it is hard work and there's a lot of it, and there's a lot of it that needs to be done, but that's exactly what it is. It is not sitting under willow trees and being inspired." Toni Morrison passed away on August 5, 2019. She was 88.
"I know how I feel. My feelings are the result of prejudices and convictions like everybody else's. But I am interested in the complexity, the vulnerability of an idea. It is not 'this is what I believe,' because that would not be a book, just a tract. A book is 'this may be what I believe, but suppose I am wrong…what could it be?' Or, 'I don't know what it is, but I am interested in finding out what it might mean to me, as well as to other people.'" (Toni Morrison)
The Letters: Vol. 1 and 2, narrated by Dave Genn, are available for download on Amazon, here. Proceeds of sales contribute to the production of The Painter's Keys.
"I know the world is bruised and bleeding, and though it is important not to ignore its pain, it is also critical to refuse to succumb to its malevolence. Like failure, chaos contains information that can lead to knowledge — even wisdom. Like art." (Toni Morrison)
Featured Workshop
September 23, 2019 to September 27, 2019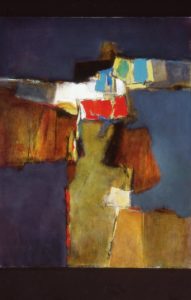 Never be without a design from which to create an abstract painting. Taking images you see on your daily walk, while shopping or in your home… dissecting them into shapes and value to produce abstract paintings that sell.
Held at Gwen Fox's private Art Sanctuary in Taos, New Mexico.  Her 100-year-old adobe home is the perfect environment to inspire and renew your creativity.
There will be private critiques that empower, glorious breakthroughs while basking in a safe environment in which to grow as an artist.
This workshop will fill fast.  Limited to 10 artists.  Each artist will have their own table.
Featured Artist
Christine Hanlon, whose work has been compared to that of Edward Hopper, creates 'urban landscapes which quietly exude atmosphere.'