Dear Artist,
Peter and I threw a couple of small bags into the Wrangler and headed for the back road. We skirted Joshua Tree and peeled off onto one of the dirt tracks behind Wonder Valley, passing through a spotty outbreak of settler's shacks, some now re-inhabited by those not wanting to be found. The track, navigable by an outsider only by the grace of Google, cuts through Route 66 and its trading posts: Bagdad, Siberia, Klondike and Cadiz. An extra large homemade sign reading "TRUMP PENCE" flanks a 5-acre parcel of early Toyota chassis. Once inside the Mojave National Preserve, we slipped into a lush and enormous forest of Yucca floating like a carpet above the scrubland, skylined by a moonscape of distant dunes.
We exited the Preserve on the north side and joined up with Interstate 15 and its rash of Vegas-bound Angelenos. After cresting a small elevation near the dry lake bed at Jean, Nevada, a row of neon totems — first seen as tiny, then monolithic on approach — cut into the desert sky like a set of skewered, day-glow marshmallows. I recognized the stacks from their online persona; deliciously photogenic colourblocks set against a cobalt dome. Standing in a location already pedigreed with previous, historic land-art moments, the anomaly beckoned with a spiritual whimsy as we pulled up, our dust-cloud settling in the makeshift parking lot.
"Seven Magic Mountains" by New York-based Swiss artist Ugo Rondinone, with the help of The Art Production Fund and The Nevada Museum of Art, found its beginnings inspired by Hoodoos — those phenomenal natural rock spires that rise from the drainage basins of canyons in the American West. Rondinone's pillars — limestone boulders cut from a local quarry, stacked to 35 feet high and painted to be disguised as artifice — stand like aliens on the outskirts of Las Vegas. According to Rondinone, his magic mountains function as a link between the unapologetic wildness of the desert and the proud drag of Vegas.
Sincerely,
Sara
PS: "You don't have to understand art, but you have to feel it." (Ugo Rondinone)
Esoterica: Ugo Rondinone was born in 1963 to Italian parents in the Swiss resort town of Brunnen on Lake Lucerne. After studying and working in Zurich, he moved to New York in 1998 and eventually set up a studio in Harlem, fine-tuning an interest in what he calls a "mental trinity" of the natural world, romanticism and existentialism with colourfield op art, sculpture and conceptual installation. After five years of planning, "Seven Magic Mountains" was finally realized when Rondinone's totems were moved, intact, from their nearby quarry to their current site near the Jean dry lake. Having originally planned a more humble set of piles, Rondinone admitted that he needed to amp up the installation's impact when he arrived at the lakebed. "Size doesn't mean anything out here," he said. "The scale makes everything look small. That's what you quickly figure out in the desert."
The Letters: Vol. 1 and 2, narrated by Dave Genn, are now available for download on Amazon, here. Proceeds of sales contribute to the production of The Painter's Keys.
"Stacking stones is such a universal impulse, an activity that has gone on around the world as long as humans have been here." (Ugo Rondinone)
Featured Workshop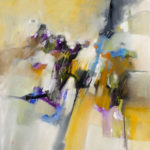 Dancing with Goliath — Workshop/Retreat Taos, New Mexico
August 27, 2018 to August 31, 2018
In this retreat you will delve deep into color, design and value. An artistic retreat that allows you to stretch your painting abilities while having the freedom to find your personal creative voice.
Come join me in Taos, New Mexico for this special retreat filled with tons of art information, art tips, artistic growth and creativity.
Watch the evening New Mexico light caress the adobe walls filling the air with a soft apricot glow… it is this light that inspires us to enter our soul.
If you have any questions please feel free to email Gwen at gwen@gwenfox.com or call 575-751-0183.
Featured Artist
Christine Hanlon, whose work has been compared to that of Edward Hopper, creates 'urban landscapes which quietly exude atmosphere.'