Dear Artist,
American sculptor Robin Antar says, "Life is an empty square unless one fills it up with matter." Life is also just waiting for our design. Last Saturday my family joined old and new friends, artists and collectors who had gathered to celebrate a personal connection with Dad's paintings. Wet eyes and tender smiles met in front of painterly mountain peaks rising behind dove-grey clag, scumbled islets and weathered totems, their silvery cedar breathing from the canvas. I saw the sparkling faces of the local art chapter — torch carriers for the collective cause. Love was in the air — love of art and the art life — shared by a collection of people witnessing the revelation of a life composed and executed from a thoughtful design. "Design is the application of intent," says Robert L. Peters, "the opposite of happenstance, and an antidote to accident." Peters, a designer and conservationist, has been living, since 1982, in an ultra-low-energy, passive solar house of his own construction. "I get just as excited about building a birdhouse as when providing strategic counsel to a client," he says. Design informs his every manoeuvre. And what about people? "Design creates culture. Culture shapes values. Values determine the future," says Peters.
A life by design is within grasp –- so is a world. As artists, we're already in the practice of understanding how to be true. Our lives are devoted to developing a craft, not to be victims of aesthetic, philosophical or functional accidents. "The details are not the details. They make the design," said Charles Eames. Agency is a powerhouse — in the microcosm, it's on the picture plane. But the brave among us design inward and then outward to involve the workings that shape our global landscape. "A man," wrote 19th century author James Allen, "sooner or later discovers that he is the master-gardener of his soul, the director of his life."
Sincerely,
Sara
PS: "Life is your art. An open, aware heart is your camera. A oneness with your world is your film. Your bright eyes, your easy smile is your museum." (Ansel Adams) "I am not afraid of storms, for I am learning how to sail my ship." (Louisa May Alcott)
Esoterica: Robert L. Peters was born the middle son of Mennonite missionaries in Steinbach, Manitoba in 1954. At the age of 3 his family moved to Frankfurt. After studying art and religious studies in Switzerland and the U.K., Robert volunteered with an African Relief mission before returning to Canada to begin life as an artist and illustrator. Winnipeg-based Circle Design, under the direction of Robert L. Peters, has built brands, identities and communication globally and has also designed many Canadian postage stamps, first day of issue covers and philatelic collectibles. Circle's work has been recognized and collected worldwide and has won over 60 awards for design excellence. At home in the woods of Eastern Manitoba, Robert has no need for a powered furnace. He does, however, have a climbing wall. "Here is a test to find whether your mission on earth is finished. If you're alive, it isn't." (Richard Bach)
[fbcomments url="http://clicks.robertgenn.com/design-life.php"]
Featured Workshop: Gaye Adams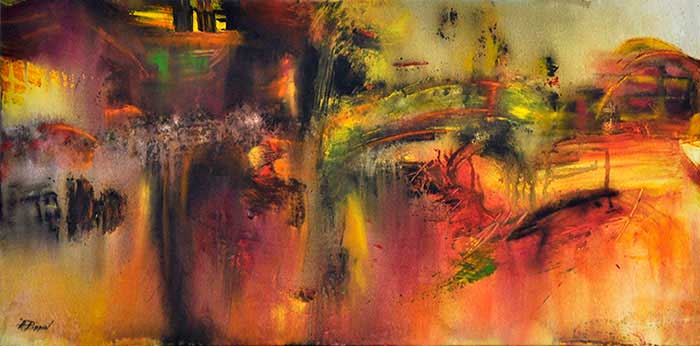 untitled
acrylic/oil on canvas, 15 x 30 inches
by Aleta Pippin, Santa Fe, New Mexico, USA
You may be interested to know that artists from every state in the USA, every province in Canada, and at least 115 countries worldwide have visited these pages since January 1, 2013.